(Previously: Cannstatter Volksfest and the German Jonas Brothers.)
We decided to leave Germany a day early. To go to Switzerland, that is.
Isn't that one of the most attractive aspects of Europe? It's just so easy to jaunt across the border and into another country full of its own cuisine and architecture and charm.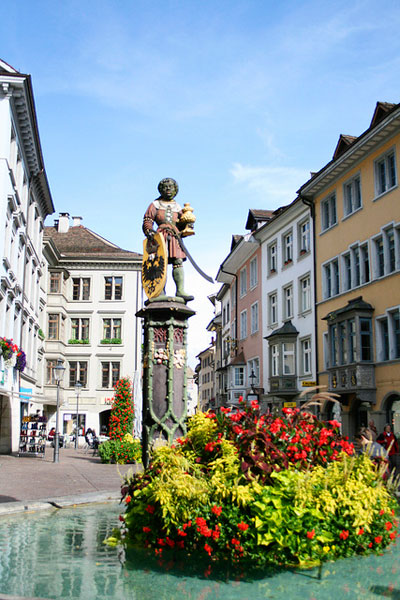 We drove two hours south from Stuttgart to Schaffhausen, a city state of the Middle Ages. The old part of the city has buildings covered with frescoes and fountains around every corner.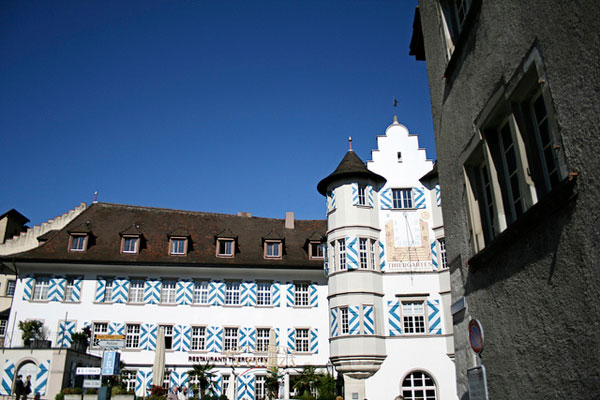 The Benedictine monastery of All Saints sits in the city center and dates back to about 1045.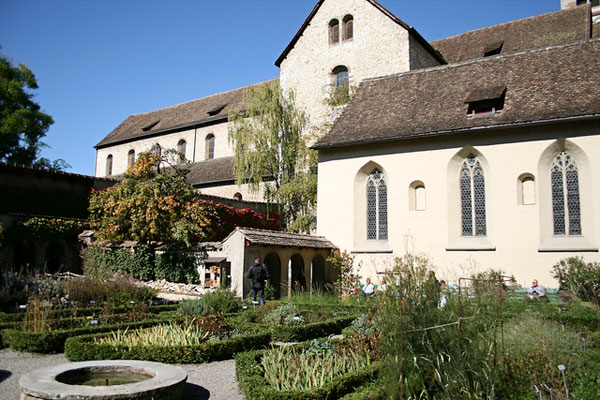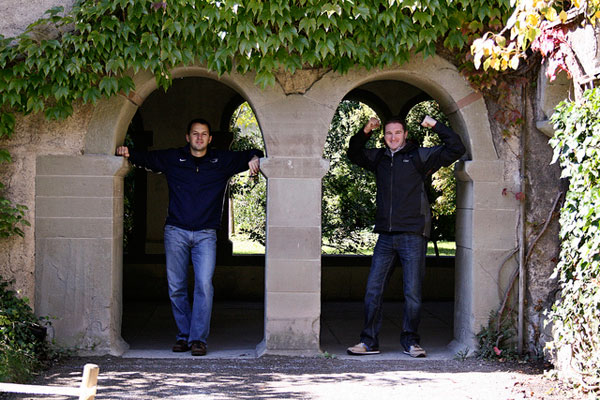 The Swiss people are sophisticated and chic, and so are their buildings.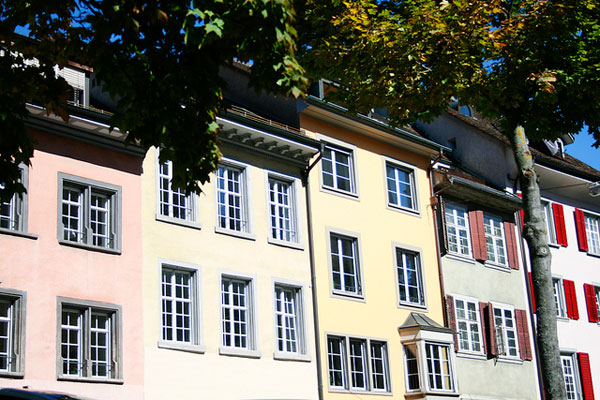 We didn't have an itinerary to follow in Schaffhausen, so we wondered up and down streets and in and out of churches. And then we found a staircase leading through a vineyard.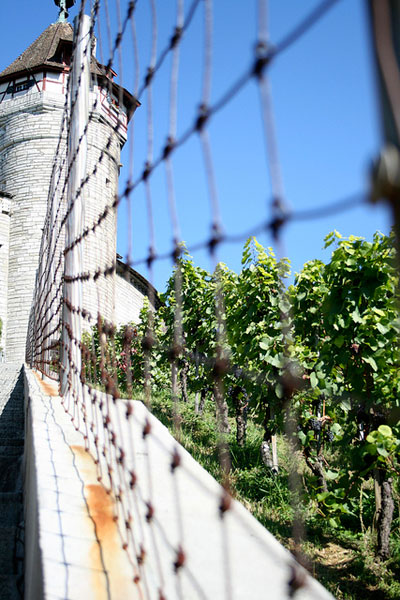 It led to Munot, a 16th century fortification, and a stunning view of the Rhine River and city of Schaffhausen.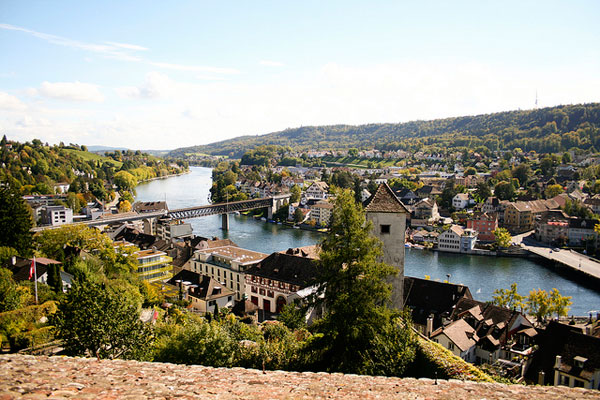 Our lunch was simple: hard rolls with ham and Swiss cheese, followed by gourmet chocolates …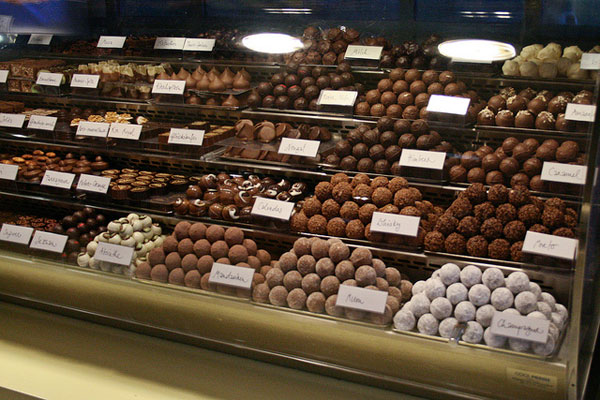 … which Nick washed down with water from one of the many fountains. He said it tasted similar to Saratoga's springs.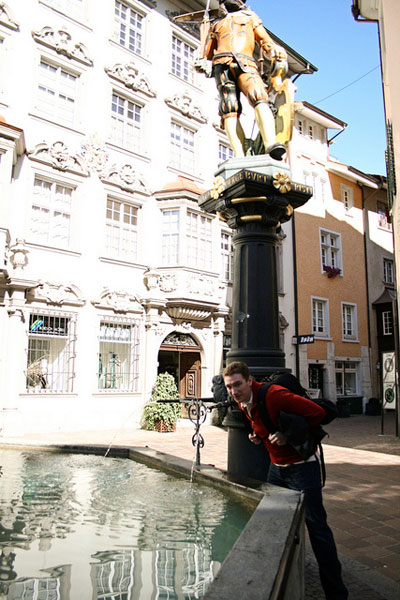 Before we left Switzerland, we made one more stop.
The Rhine Falls are the largest plain waterfalls in Europe. We took a boat to the falls and climbed a narrow set of stairs to view the river and the Schloss Wörth castle.
Okay, so it wasn't as dramatic as Niagara, but there was more chocolate involved.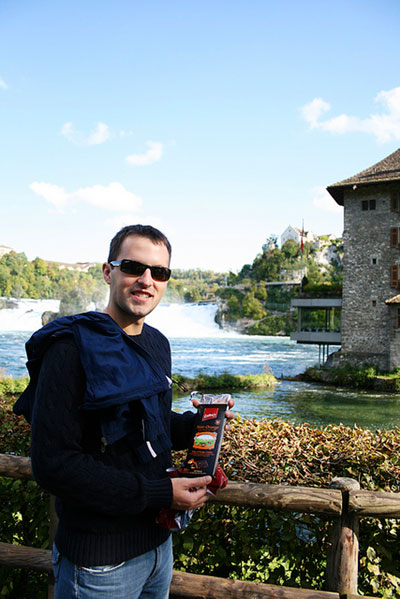 We got back to Stuttgart just in time to meet Nick's brother, Jon, for dinner. (Unfortunately, he spent most of the week at work, and so we were happy to have some time with him!) We rounded out our trip with — what else — schnitzel and brats and beers.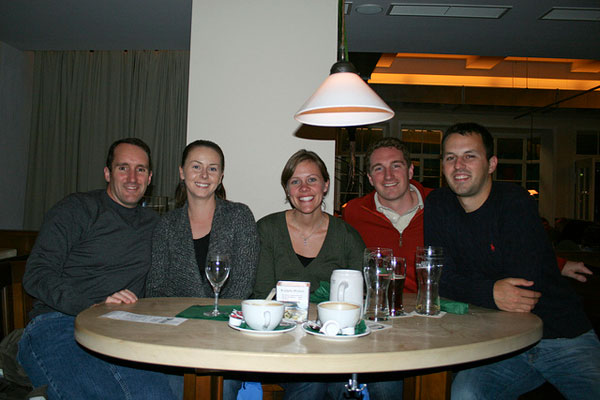 I can't tell you how many times during our trip that Nick exclaimed, "I'm home!" I may not have been born in Deutschland, but I felt wholeheartedly welcomed by its people. We both hope to return some day to explore more of its mountains and castles and gasthofs. And because my dirndl deserves a few more wears.
Thanks for following along!
Rothenburg ob der Taber: the best preserved medieval city in Germany
Rothenburg ob der Taber: the wall that surrounds the city
Benediktbeuern and Bad Heilbrunn: the Alps and Nick's godmother
Bad Tölz: Nick's birth city
Munich: freunde and brezen and biers
Oktoberfest: dirndls and lederhosen
Schwangau and Neuschwanstein Castle: plus cowbells
Füssen: the end of the Romantic Road
Stuttgart: with our brothers
Cannstatter Volksfest: and the German Jonas Brothers
Schaffhausen and Rhine Falls: to Switzerland on our last day