We had one more sight to see on our way out of Montreal: Parc du Mont Royal.
Mount Royal (mont Réal in Middle French and Mont Royal in present French) was first discovered by Jacques Cartier in 1535. It is the mountain for which Montreal is named.
The park is one of the city's largest green spaces. There are numerous hiking trails, a lake, and even a small ski slope. The most visited spot is just a 10-minute walk from the parking lot: Kondiaronk Belvedere, a semicircular plaza with a chalet, overlooking downtown Montreal.
It was hazy when we reached the top, and we could barely make out the skyline, the bridges, and the river. It was not difficult, however, to clearly see the rain clouds that were steadily rolling in.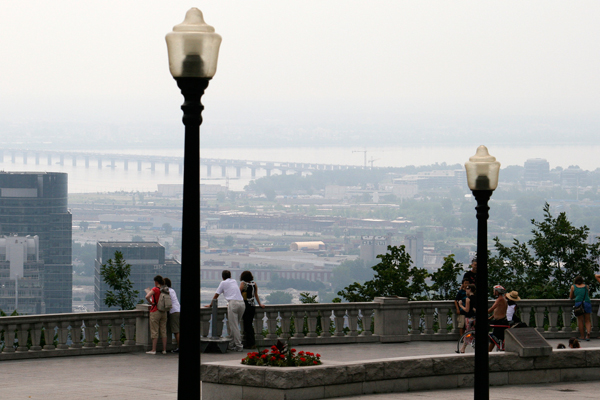 Just as we started our short decent, the sky opened up and the rain showered down. We ran from the cover of one tree to the next until we finally reached our car — completely soaked.
Fortunately, we had a seven-hour drive to sufficiently dry our clothes (and frizz my hair).
We pulled into the Days Inn at Niagara Falls just as the sun was setting. We were upgraded to the honeymoon suite, which included a fireplace and a red heart-shaped jacuzzi tub. I kid you not. I'm sure it was a hot spot in the 1970s, but, man, was it cheesy.
We didn't choose the Days Inn for its romance, of course, we chose it for its location.
The next morning we walked across the street and onto the Riverwalk. Nick was less than thrilled that I wanted to walk the roughly 4km for our first view of the Falls (to his defense, we hadn't yet showered or eaten). He tried to run away from me, but eventually he gave in and posed for the camera.
We passed quaint B&Bs with colorful gardens and a stone church on a corner. And just as we walked under Rainbow Bridge, we saw Niagara Falls in all its glory. It wasn't as tall as I'd imagined, but the mist was sure impressive.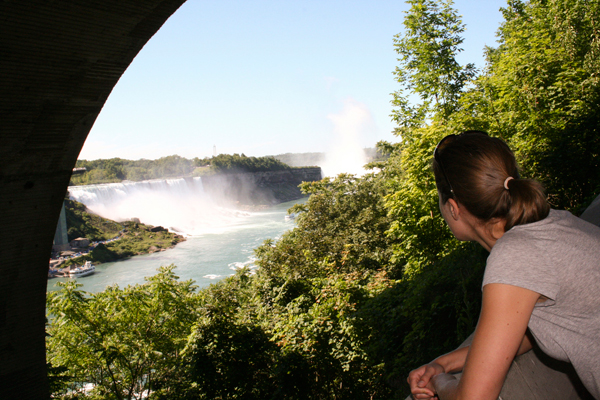 By the time we got back to our hotel, ate breakfast, and showered, it was after noon and time to head back to the Falls. We got a tip to park a few blocks from River Road to avoid paying $20 in fees, and we felt so proud of ourselves for cheating the tourist trap.
And, oh my, what a tourist trap it was. I didn't take any photos besides ones depicting natural beauty, but trust me, there were many, many manufactured spectacles. Picture high-rise hotels and chain restaurants, Ripley's Believe It Or Not and the Guinness World Records Museum, arcades and gaudy souvenir shops.
We walked as quickly as we could through the crowds of screaming toddlers and agitated adults and purchased our tickets for the Maid of the Mist. It's the one attraction I definitely recommend doing.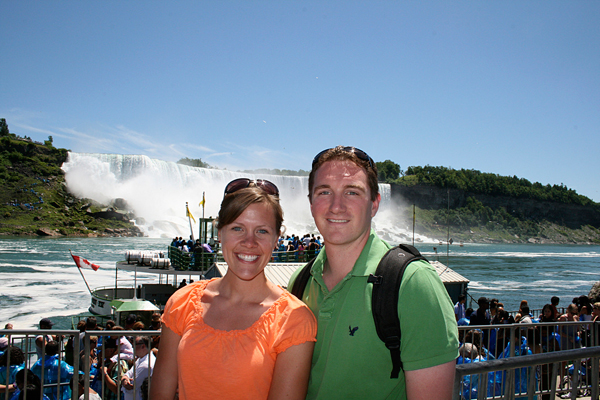 The boat ride was brief, but we sat for several still moments under the mist of Horseshoe Falls. It was pretty incredible — the pure, powerful sound of hundreds of thousands of gallons of gushing water.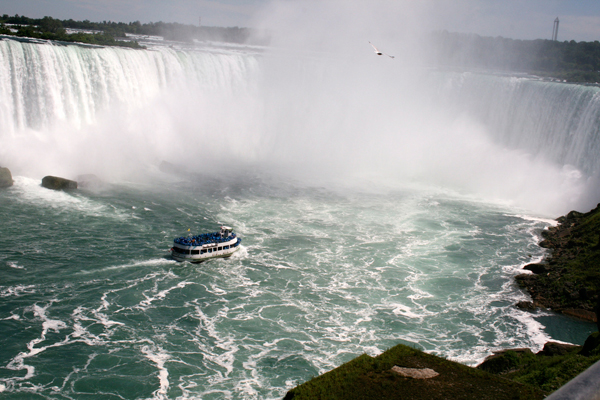 And despite the commercialism, I do believe the views from the Canadian side are more attractive than those from the American side.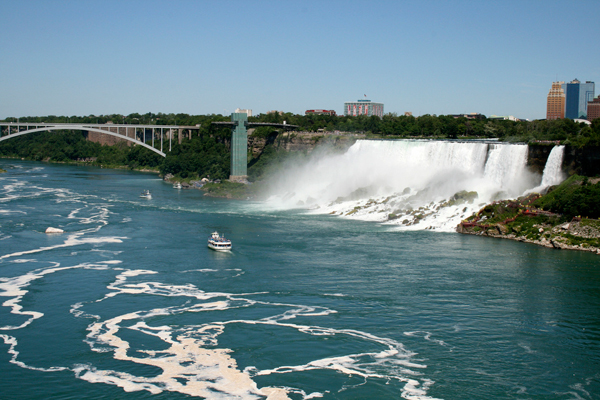 So what did we do that evening? We found a more intimate and comfortable town nearby.
Next up: Niagara-on-the-Lake