(Previously: The end of the Romantic Road.)
One of the most wonderful things about our trip to Germany — aside from the romantic castles and cobblestone streets, the liters of beer and pretzels as big as our heads, and the cowbells — was that we got to share it with friends and family.
We met Nick's godmother in Bad Heilbrunn and both old friends and new friends in Munich. And we spent the last leg of our trip in Stuttgart with family.
Sister-in-law Robyn met us at Europcar where, sadly, we said Auf Wiedersehen to our Audi. Then we were off to the infamous Rittersport factory.
The vibrant screens of color and minimal shelving units inside the store were a stark contrast to the baroque castle and elaborate flower boxes we had seen in Bavaria the previous day.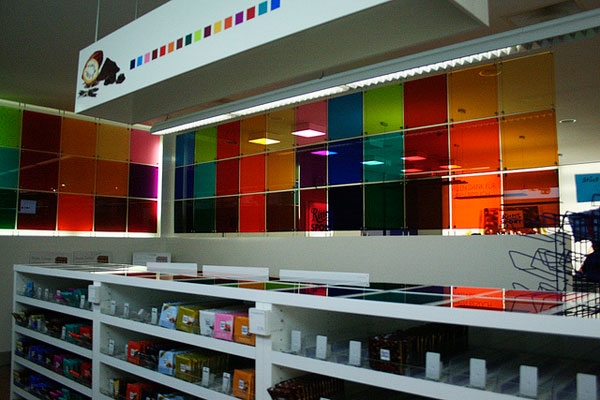 Surprisingly we limited our purchases to just four bars for us — milk chocolate nougat, dark chocolate with hazelnuts, peppermint, and strawberry creme — and gift boxes of minis.
Next stop was Hundersinger Str. where Nick lived during his elementary school years. (Interestingly, his oldest brother, Jon, is currently stationed on the base where he graduated from high school!) Nick has fond memories of this house — from the fruit trees in the backyard to the "biggest and coolest playground" down the street (which, sadly, is no longer as big or as cool as he remembers).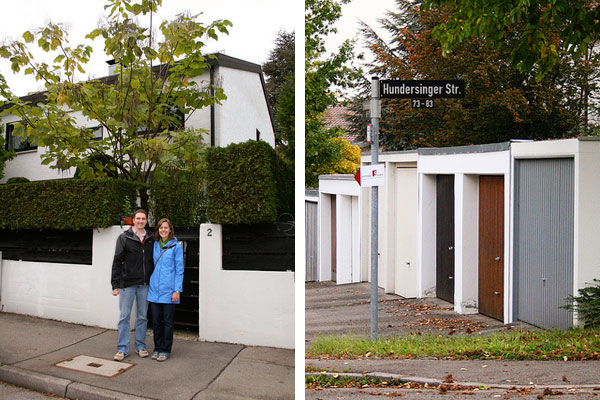 We returned to the military base early that evening for dinner and a special cake for the birthday boy. The Sachertorte is the famous Austrian chocolate cake made only in Vienna and Salzburg; Robyn picked it up at the specialty market in Stuttgart. So good!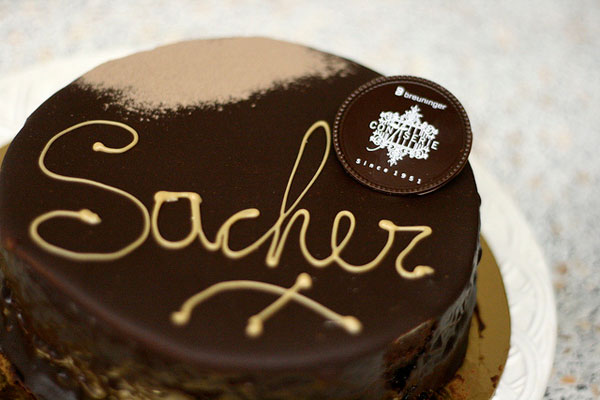 Later that evening, following dinner and dessert, Robyn and I went to the airport to pick up another family member — my brother, Andrew, flew in from London for the remainder of the weekend!
We started off early the next day with a trip to downtown Stuttgart. Andrew enjoyed his first brezel — and Nick is eleventh — at the Markthalle, where we also drooled over the gourmet cheeses, meats, and spices.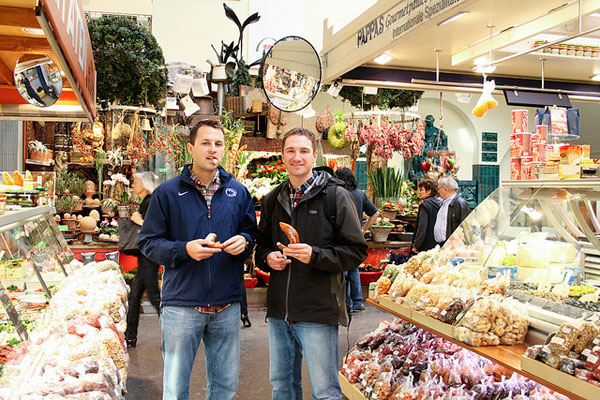 And believe it or not, the outdoor market was just as impressive! Set up outside of the Rathaus, the produce selection was incredible. Sweet, juicy peaches and plums. Spicy, tender greens. Piles of chanterelle mushrooms and zebra tomatoes. I was in heaven. If only my kitchen was nearby.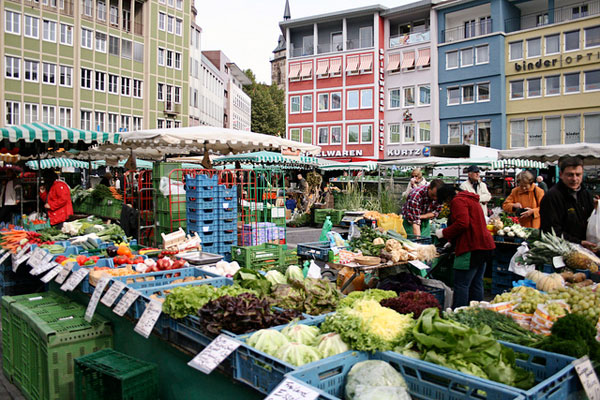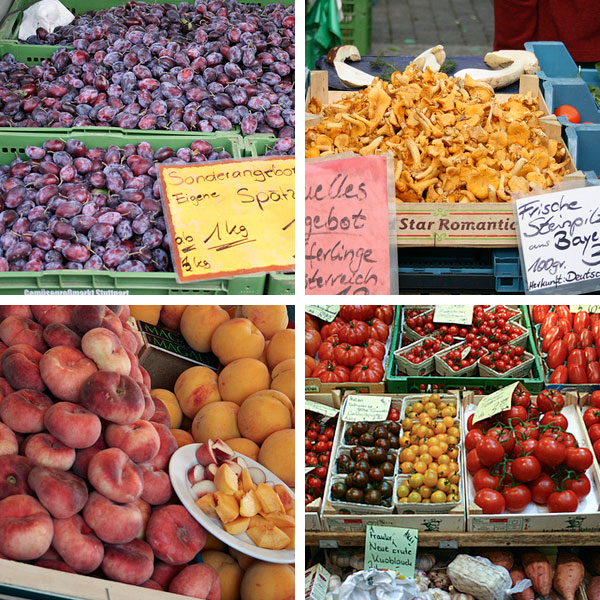 After perusing the market, we went inside the Rathaus (City Hall) for a quick look. Aside from the model of the Stuttgart 21 Project (a controversial new public transportation line), we were fascinated by the open elevators. I don't think we'll ever see these in the States.
Next stop on our whirlwind tour of downtown Stuttgart was the Altes Schloss (Old Castle), which dates back to the 10th century …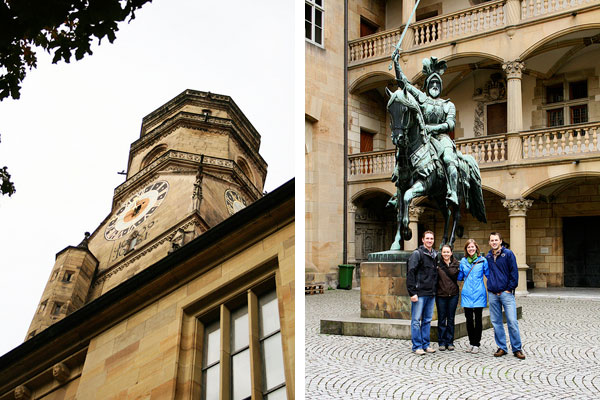 and the Neues Schloss (New Castle), which was completed in 1807. Not so "new" in American terms, right?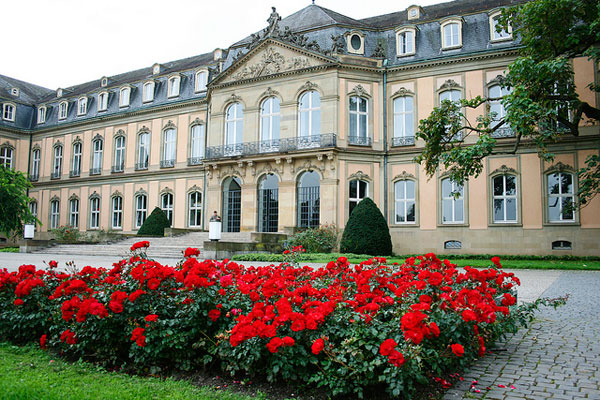 We had the pleasure of spending our morning in Stuttgart with two lovely ladies: Heidi and Sibylle. They are German sisters who Nick's parents befriended in the 1980s while they were stationed in Stuttgart, and now they have "adopted" Jon and Robyn. They sent us the most beautiful crystal dessert platter for our wedding, and we were so happy to finally thank them in person,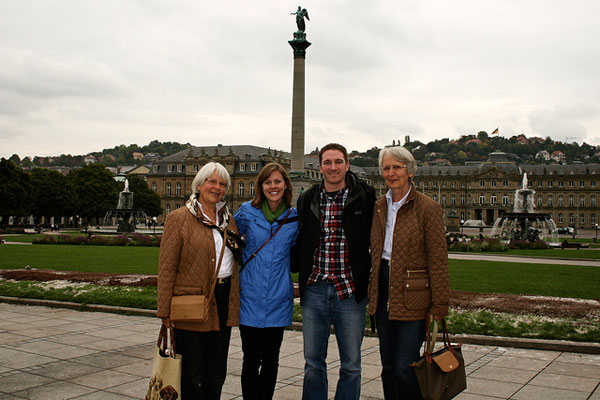 (Andrew got sidetracked on our way to lunch, and I had to photograph him in front of his German employer.)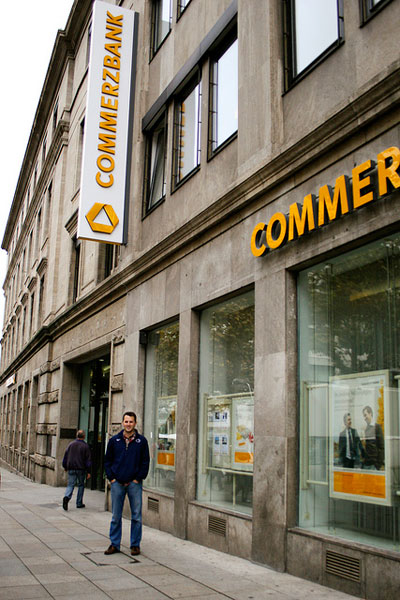 We enjoyed a leisurely lunch at Ochs'n Willi. It was cozy and crowded inside, and the food was filling, as only German food can be. Andrew had the crispy leg of pork with Semmelknöedel (bread dumplings), and Robyn was served the most gigantic baked potato I have ever seen. Nick sampled the traditional Schwabien dish, Maultaschen (noodle dough stuffed with meat and cheese), and I enjoyed the Kleine Pfifferlinge (chanterelle mushrooms with herb cream, served with bacon Semmelknöedel).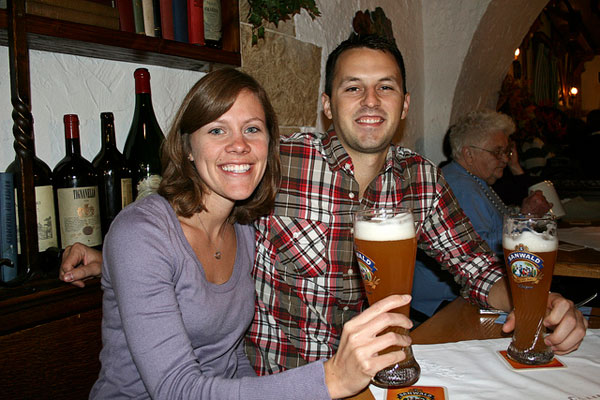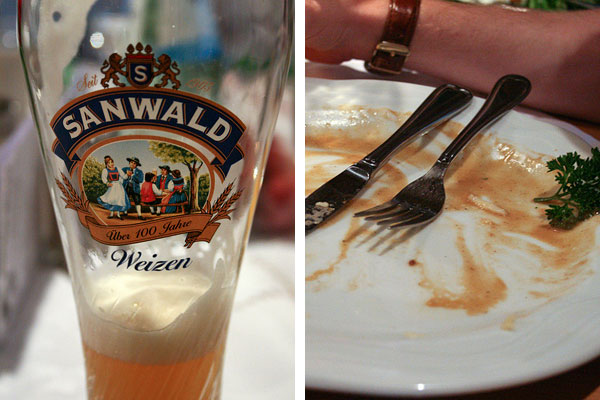 We really should have had a lighter lunch because … Up Next: the Cannstatter Volksfest with chicken halves, multiple liters of beer, and the German Jonas Brothers!