Schwarzwälder Kirschtorte (Black Forest Cherry Cake) is a dessert commonly found in southern Germany, and one that we made a few months ago. But it would have been time consuming to slice and serve during our Oktoberfest party, so we turned the traditional cake into a cute little cookie.
The ingredients are basically the same, but instead of a fluffy cake, you get a dense cookie. Really, it's close to the consistency of a brownie.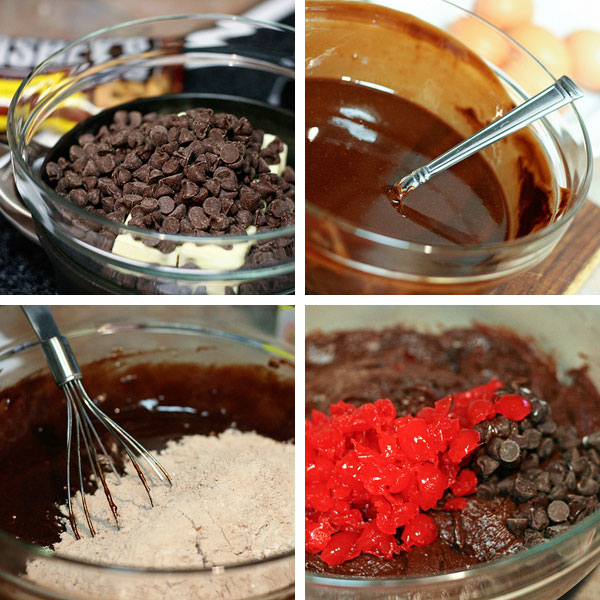 The batter includes chunks of cherries and chocolate chips that melt perfectly while baking.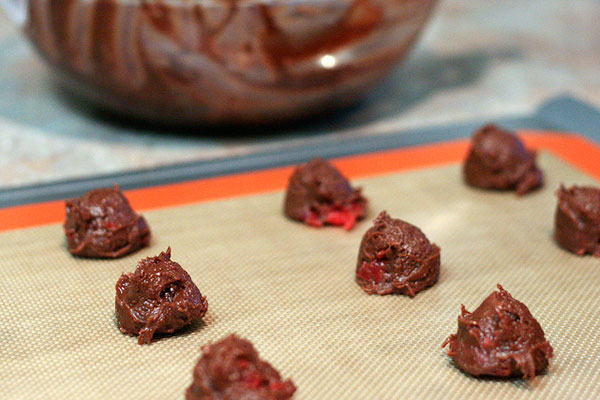 We couldn't help but sample one straight out of the oven, and it was delicious. In fact, I think I preferred the cookie without any frosting. But that wouldn't have been very festive, right?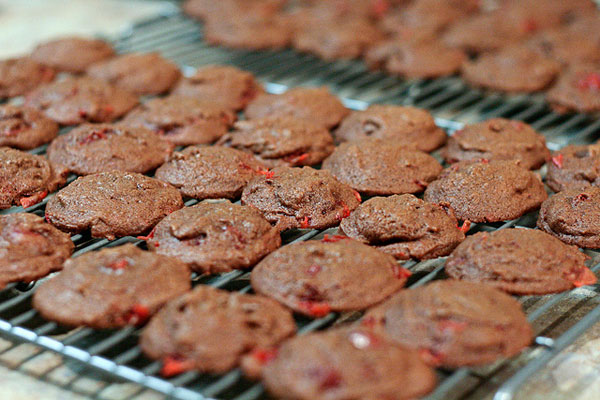 So I whipped up a simple frosting of butter, marshmallow cream, confectioners sugar, and cherry juice. And I got to break in my new pastry bag.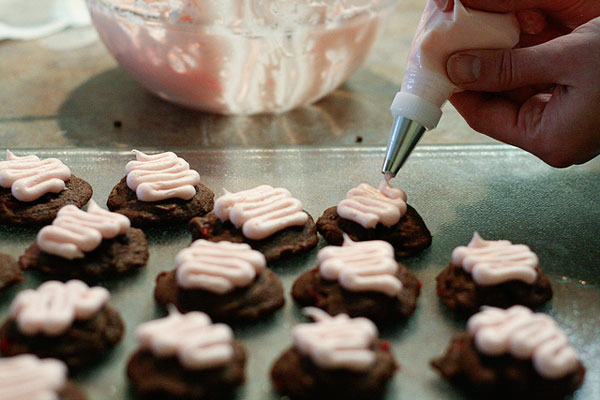 After the frosting set, I stored them in an airtight container until just before our guests arrived. Thanks to my sister for so neatly arranging the display!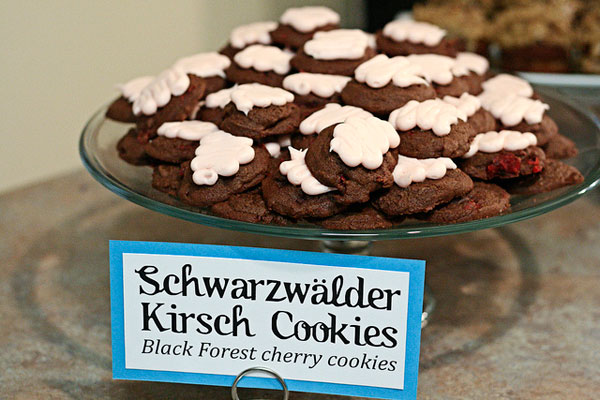 The Germans sure nailed this flavor combination. Who doesn't love sweet chocolate and tart cherries?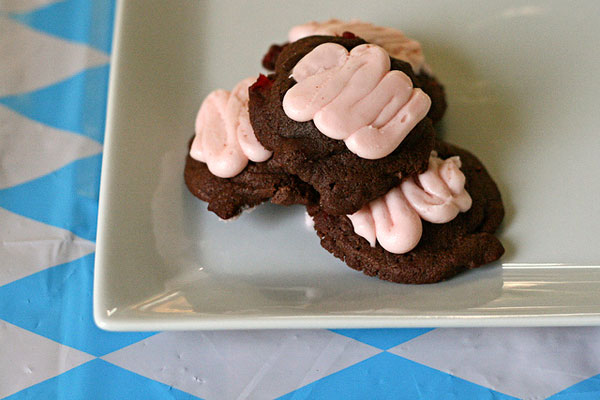 Black Forest Cherry Cookies
Makes 4 dozen cookies.
Ingredients for Cookies
2 1/2 cups all purpose flour
1/4 cup unsweetened cocoa powder
1 teaspoon baking powder
1/2 teaspoon salt
2 sticks (1 cup) butter
1 1/2 cups (9 oz) semisweet chocolate chips
1 cup packed light brown sugar
2 large eggs
1 teaspoon vanilla extract
1 jar (10 oz) maraschino cherries, drained (reserve 2 juice for frosting), dried with paper towels, and chopped
Ingredients for Frosting
3/4 stick (6 tablespoons) butter, softened
1/3 cup marshmallow cream
2 cups confectioners sugar
2 tablespoons maraschino cherry juice
Directions
Preheat oven to 350°.
Whisk flour, cocoa, baking powder, and salt in a medium bowl until well blended.
Melt butter and 1 cup chocolate chips in a medium saucepan over low heat; stirring constantly. Remove from heat and cool 10 minutes. Whisk in sugar, eggs, and vanilla until blended. Add flour mixture and stir until smooth. Stir in chopped cherries and remaining 1/2 cup chocolate chips.
Drop tablespoons of dough 2 inches apart onto ungreased baking sheets.
Bake 10 to 12 minutes until toothpick comes out clean. Remove to rack to cool completely.
For frosting: Beat ingredients in a medium bowl with mixer on medium-low speed until fluffy. Add 2 tablespoons cherry juice. Pipe or spread frosting onto each cookie. Let frosting set about 2 hours.
(adapted from Woman's Day)