Schwarzwälder Kirschtorte is the traditional dessert of southern Germany. Literally, it means "black forest cherry torte," and it consists of whipped cream and cherries between layers of dark chocolate cake. Kirschwasser (a clear liquor distilled from tart cherries) is often added, and the cake is typically decorated with chocolate shavings and maraschino cherries. Obviously we had to serve this following wienerschnitzel and homemade spätzle on Saturday night.
This recipe comes from a 28-year-old German cookbook that was given to us by Nick's mother. (Thanks, Mom Wiley!) The cake is not complicated, but it does include techniques I've not tried before.
First, it uses shaved bars of dark chocolate rather than cocoa powder. It also includes almonds, which next time, I will toast first and ground more.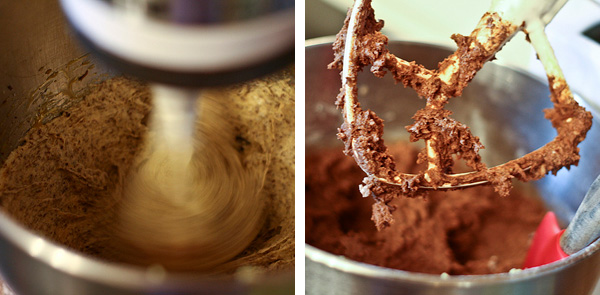 After combining the butter, sugar, egg yolks, vanilla, dark chocolate, almonds, and flour, the whipped egg whites are gently folded in to produce a sticky, dense batter.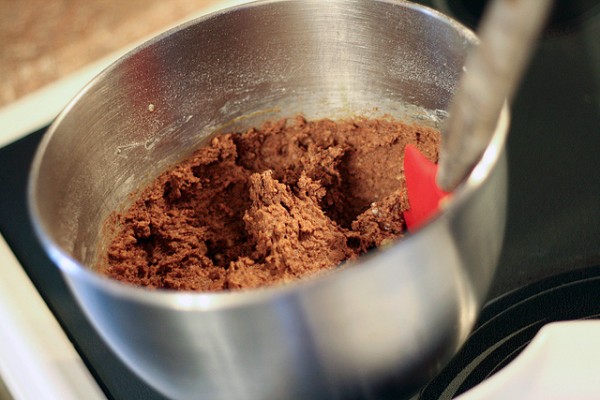 Next, we could not find Kirsch at the liquor store, so we substituted a cherry wine. It was sweet and tasty, but likely did not produce as powerful of a punch as intended.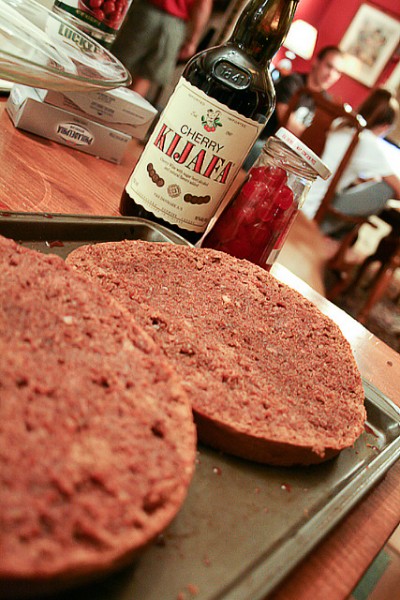 And lastly (in the spirit of full disclosure), I forgot to buy heaving whipping cream at the grocery store and so had to create a frosting of my own. I resorted to the standard buttercream, which I think was too heavy for this cake. (The recipe below includes the original whipped cream filling.)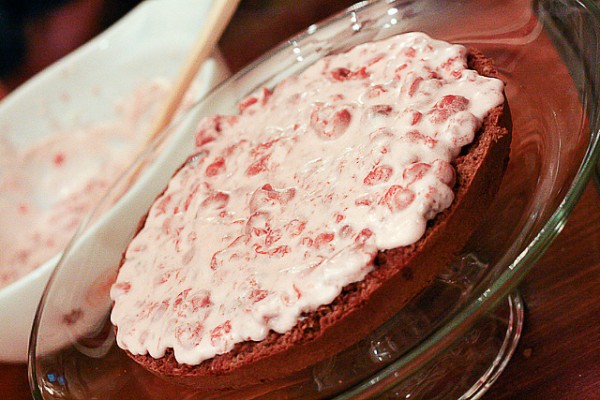 Overall, I'm glad we attempted this dessert, but I do need to make some alterations and try again to really pay homage to this classic German cake.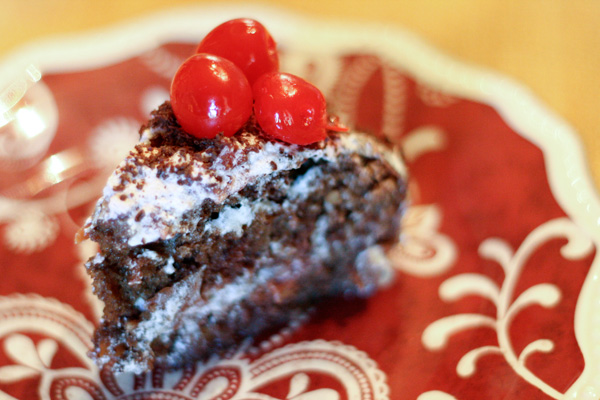 Black Forest Cherry Cake
Ingredients for Cake

4 oz butter
1/2 cup sugar
6 egg yolks
a few drops of vanilla essence
4 oz dark chocolate, grated
1 1/4 cups ground almonds
1 cup self-rising flour
6 egg whites, beaten stiffly with 1 tablespoon sugar
butter and flour for greasing the pan
1/4 cup Kirsch
1/4 cup cherry syrup from preserved cherries
Ingredients for Filling and Topping
3 cups heavy whipping cream
1/4 – 1/3 cup powdered sugar
3 tablespoons Kirsch
1 1/2 lb preserved sour cherries, chopped
dark chocolate and maraschino cherries for garnish
Directions
Preheat the oven to 350° F.
Cream the butter and gradually add the sugar and egg yolks. The mixture should be light and frothy.
Add the vanilla, chocolate, almonds, and flour. Then fold in the egg whites.
Pour the mixture into a butter and floured springform pan. Bake for 45 minutes to 1 hour.
Cool for a few minutes, then remove the cake from the pan. When completely cool, cut the cake horizontally into 2 (or 3) slices.
Mix the Kirsch and cherry syrup together and pour onto the cakes.
For the filling and topping, whip together the cream, sugar, and Kirsch. Fold in the cherries.
Spread each layer evenly with the whipped cream mixture and assemble the cake. Spread the top and sides with the remaining cream.
Sprinkle with dark chocolate (curls or shreds) and top with cherries.
(adapted from German Traditional Cooking)