(Previously: We arrive at the best preserved medieval city in Germany.)
Night Watchman Tour
Following our evening nap, we begrudgingly pulled ourselves out of our warm twin beds and headed toward the Marktplatz to meet Hans Georg Baumgartner and about 60 other tourists. Hans Georg, the Night Watchman himself, arrived just minutes before the Town Hall Clock (circa 1635) struck 8:00. With lantern in hand, he described the scene taking shape on either side of the clock's face. Apparently Mayor Nusch's legendary drinking prevented him from saving the town in 1631 during the Thirty Years War, and his behavior is remembered several times throughout the day via mechanical drinking figures.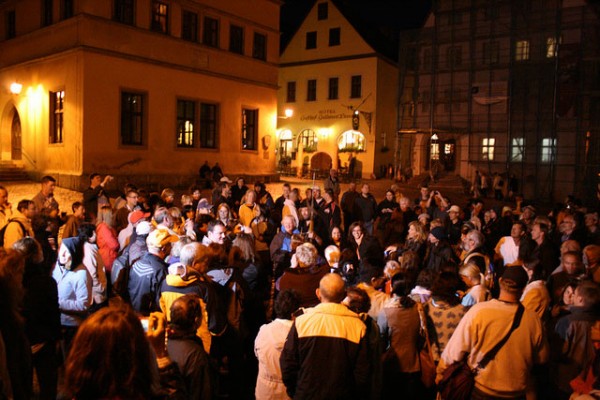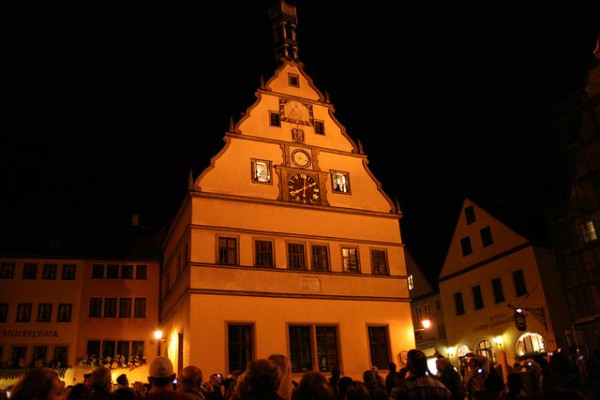 Hans Georg then led us through the moonlit city and told the history of Rothenburg — in his own animated and often humorous way. From its prosperity as a "free imperial city" during the 10th century to the Thirty Years War and the Black Plague of the 17th century. Rothenburg "fell asleep" with no advancement or attention until European artists rediscovered its preserved charm during the late 1800s. Tourists flocked to the walled city, and laws were established to prohibit change to structure and architecture. Then in March 1945, during WWII, 16 planes dropped bombs over Rothenburg. Fortunately, complete destruction was avoided thanks to a US Army General and a German Military Commander who recognized and appreciated the city's rich history and saved it.
The tour was fantastic and we (along with Rick Steves) highly recommend it to anyone visiting Rothenburg.
German Breakfast Sandwich
After a solid night of sleep, we headed downstairs for breakfast. Gasthof Goldener Greifen included a morning meal with the price of our room, but this was not your standard American continental breakfast. We enjoyed coffee and orange juice, a big basket of at least six varieties of bread, fresh plums and pears, and a platter of meats and cheeses. Nick fixed a yummy sandwich with prosciutto, salami, gelbwurst (yellow sausage), and cheese.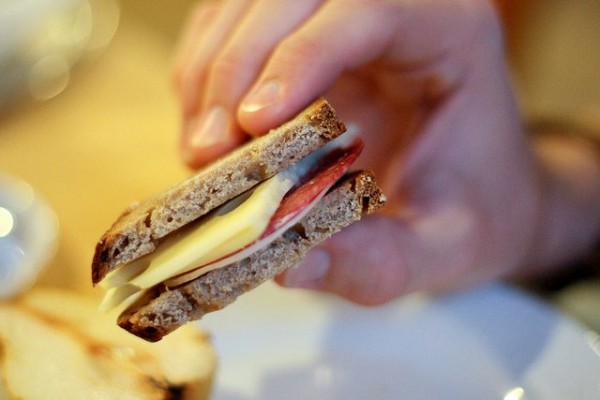 Town Wall
We then headed into the drizzle and back to many of the locations visited with the Night Watchman the night before: the Imperial Castle (circa 1142) and the Castle Gate (circa 1356), the oldest building foundation in the city dating back to the 900s, and Plönlein Triangular Place.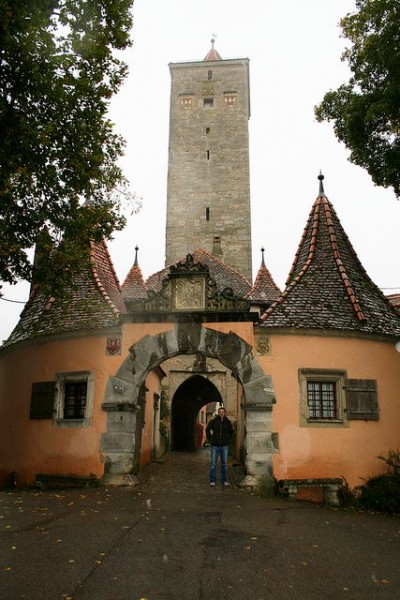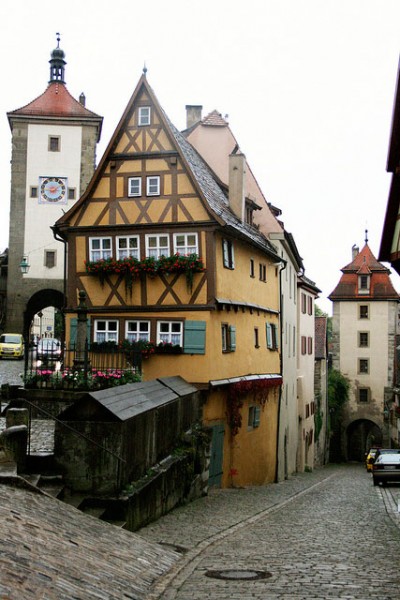 And then we found an entrance to the 1.5-mile wall that surrounds the city. It can be followed from gate to gate, tower to tower, mostly under rooftop — ideal for this rainy day. The 2,000-foot section of it that were destroyed during WWII has since been restored, with help from people across the globe, now acknowledged with commemorative bricks.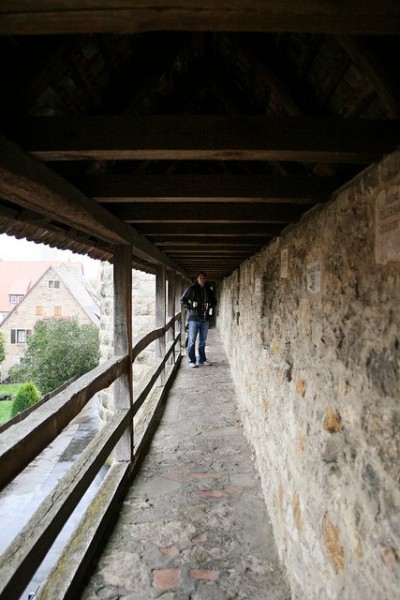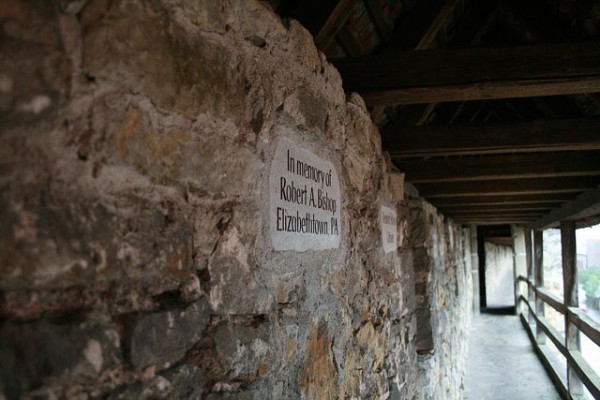 Buildings and rooftops looked vibrant against the gray sky, and the pastoral countryside was just barely visible in the distant fog. It was quiet and incredibly romantic.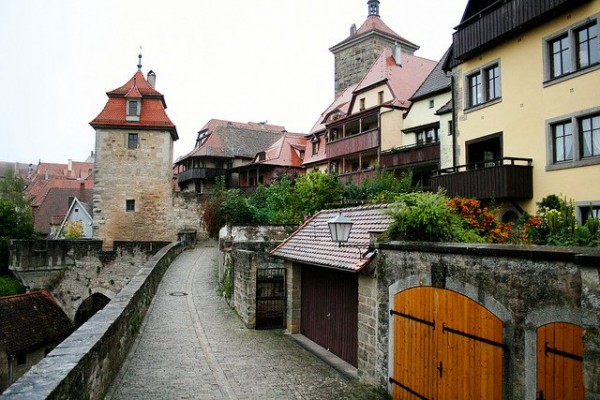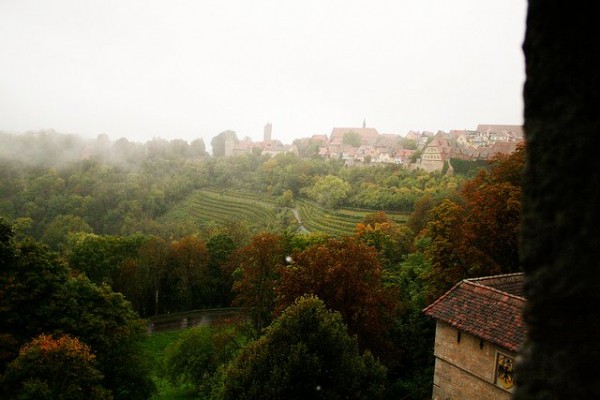 Nick led me into a deserted tower with peephole windows and cannons, and then we climbed a more visited one for a view of the enchanting city. Rothenburg ob der Tauber means "red fortress above the Tauber (River)," and it became evident why.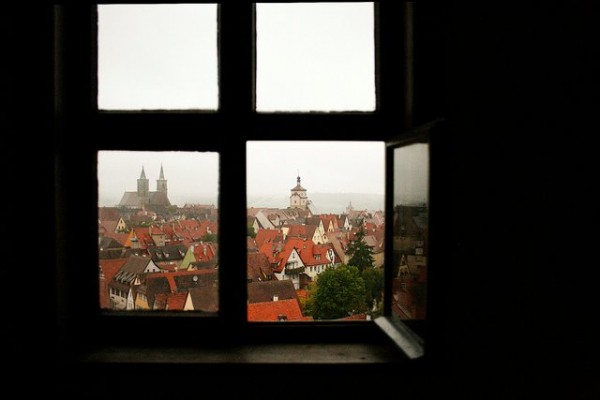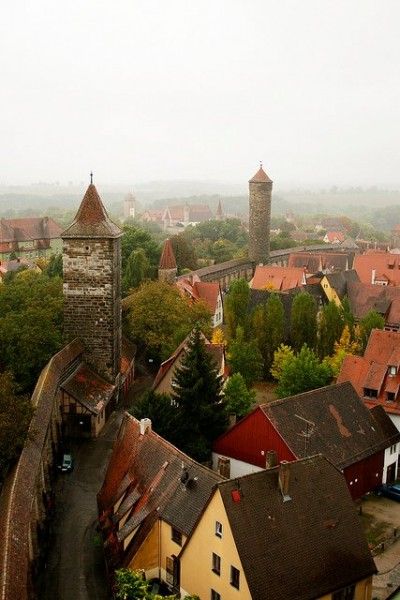 Cobblestone Streets
With just a few hours left before we were scheduled to depart for the Alps, we wondered the narrow cobblestone streets that are so easy to fall in love with. We stopped for souvenirs — a dirndl for me (more about that to come), a hat for Nick, a Bavarian cookbook (Nick insisted on buying the German version), and our first of many brezen (pretzels).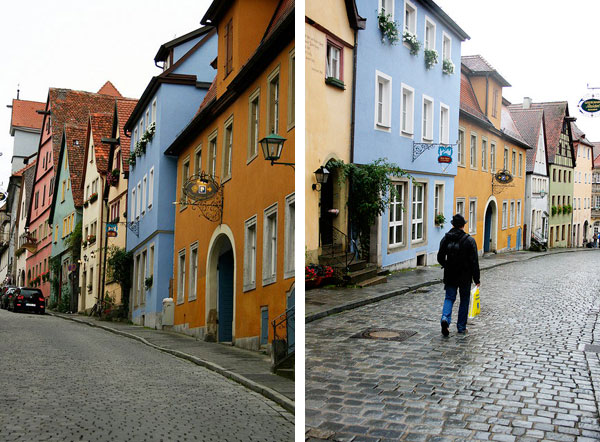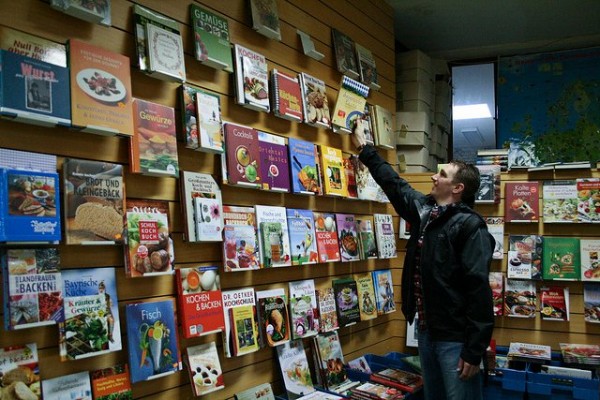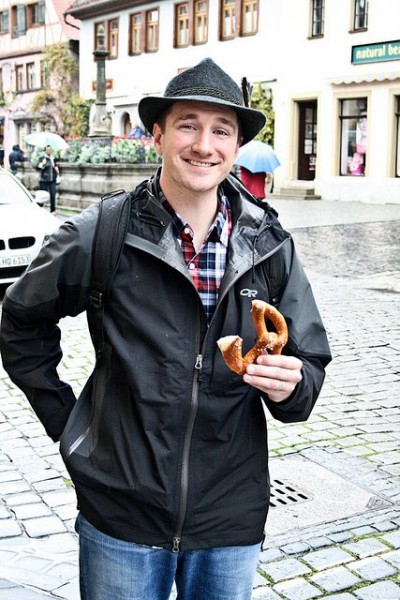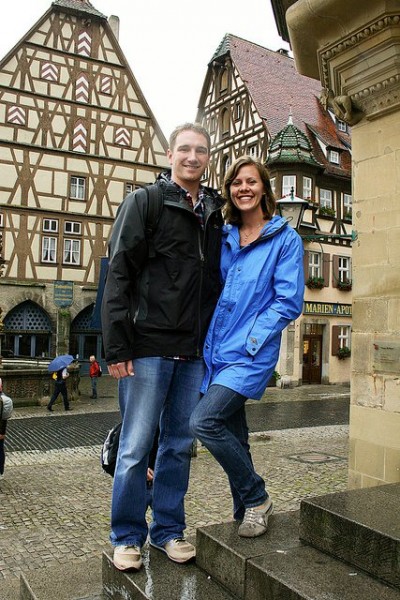 (Get used to those raincoats and that frizzy hair — they appear in nearly every photo from this point forward!)
Next up: Our first glimpse of the Alps and dinner with Nick's godmother.