I've been told I have great buns, but wait until you see my baguettes!
As I mentioned in my sourdough post, bread and beer are near and dear to my heart for two reasons: (1) they are quite delectable, and (2) their symbiotic relationship with yeast represents one of the oldest forms of biotechnology. What differentiates this baguette from sourdough is the type of yeast it uses.
Sourdough uses a "wild" yeast that is suspended in the sourdough starter, whereas "normal" breads use cultivated yeast that has been dried, preserved, formed into a powder, and conveniently packaged. Not quite as sexy, but easier to use. Warm water re-activates the yeast, which then "feeds" on sugars and starches and makes the bread rise.
This recipe is a standard bread recipe with a touch of wheat and rye flour for added flavor.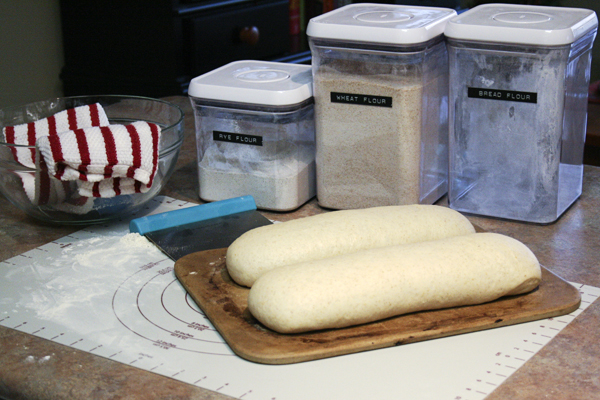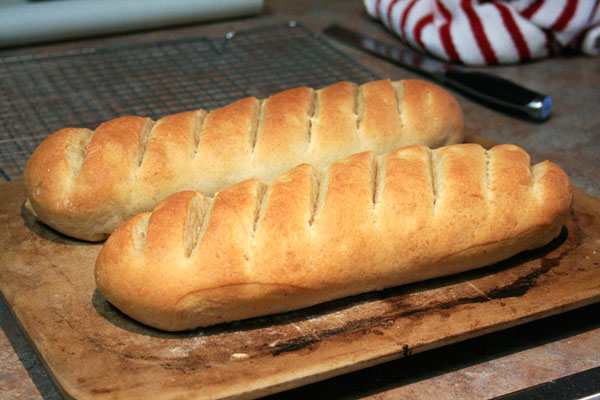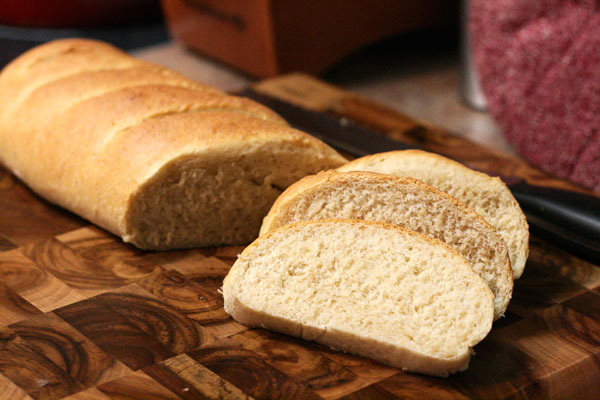 The final baguette is crusty on the outside and soft on the inside. Serve as an appetizer with bruschetta or alongside a main course of sausage and lentil soup or Cincinnati chili. Enjoy!
French Baguettes
Servings: 2 loaves
Ingredients
2 1/2 tsp (1 packet) instant dry yeast
1 1/2 cups + 2 Tbsp lukewarm water (105°F)
21 oz bread flour (4 3/4 cups)
1 oz whole wheat flour (1/4 cup)
1 oz rye flour (1 cup)
1 Tbsp kosher salt
Directions
Combine yeast and water in a stand mixer bowl. Hand whisk until yeast dissolves and let sit for ~3 minutes.
Add flours and salt, then mix with dough hook for ~6 minutes. Let dough rest, uncovered, for ~5 minutes.
Transfer dough to lightly floured board and knead by hand for 2 minutes, or until dough is smooth.
Transfer to lightly oiled bowl, cover tightly and let sit for 2 to 3 hours until dough doubles in size.
Transfer back to lightly floured board and divide in half. Shape into long loaves by gently rolling dough back and forth.
Place onto floured baking stone/pan, spray loaves with oil, cover with damp towel, and let rise for 1 1/2 hours. Preheat oven to 450°F during the last 15 minutes of rise.
Brush or spray loaves with water, then score loaves with 1/2-inch diagonal cuts.
Add 1 cup of water to a pan set on bottom rack to create steam which will keep bread nice and moist.
Bake for 12 minutes, spray with more water, then turn the pan and bake for another 12 minutes, or until golden brown.
Remove, let cool on wire rack, slice, and savor the deliciousness.
Nick's Notes
Weighing flour with a scale is much more precise than using measuring cups. Flour compacts and can lead to significant variability in the amount of flour used, unless it is measured by weight. Scales are inexpensive, roughly $15 to $20, just be sure it measures in increments of at least 1/2 oz. EatSmart is a good brand.
Proofing can decrease your rise times significantly (nearly in half)! You can use your oven to create a makeshift proofing box in your home. Turn your oven to 350°F for 1 to 2 minutes, then turn it off, and place covered bowl of dough in oven. This creates a warm, draft-free environment for a rapid increase in yeast fermentation that accelerates the rising process.
(adapted from Chef Matt Finarelli)