HER PERSPECTIVE
Best Moment: Peanut had a strong, steady heartbeat (of 150bpm) at this week's appointment. He/she even gave a little kick for the monitor, which I didn't feel, but I did hear — it sounded like a gentle "swoosh." Perhaps I won't think those kicks are so gentle when they come in contact with my rib cage, but the sound of it was oh so sweet.
We also received a special gift from Germany this week. Our dear friends, Anne and Carsten, sent Peanut's first German storybook, tea, and Ritter Sport. Thank you both!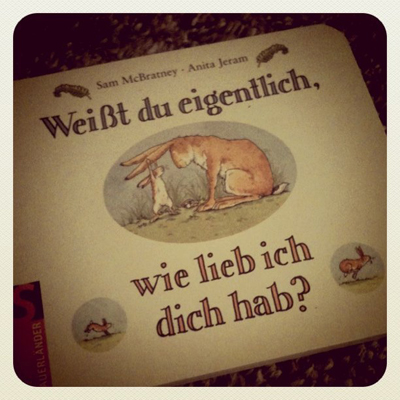 Symptoms: Tension headaches. I've had at least a minor one every day, though the doctor assures me they're common in the second trimester. I'm trying to remedy them without Tylenol, which means yoga stretches, lots of water, and neck massages from my wonderful husband.
Cravings/Aversions: Peanut butter eggs from McIntyre's. I blame it on Nick. Actually, I blame it on his grandmother who used to send boxes of the eggs at Easter time. The taste and texture (not to mention the calories) far outweigh Reese's eggs. I'm not kidding. And I'm hopeful that I'll get to tour the local factory next week for an upcoming radio story. Free samples, please?
What I Miss: I missed Nick this week when he was in Pittsburgh for a work meeting. But I kept myself occupied with episodes of One Born Every Minute. It might be my new favorite show! Nick even enjoys it. Although, without him sitting beside me, I had no reason to hold back the tears.
What I Can't Wait For: We have two special events to look forward to next month: Nick's brother earns his MBA from the University of Michigan and of one of my best girlfriends gets married in Massachusetts. So how big do you think my belly will be by weeks 20 and 21? And where should I shop for new dress(es)?
Milestones: Peanut measures 5 inches and weighs 5 ounces this week. Muscles are getting stronger, which means I'll soon be able to feel tiny kicks and punches. And he/she has eyebrows and eyelashes. I wonder if the eyes will be blue like ours or brown like our parents?
HIS PERSPECTIVE
Best Moment: Die Geschenk von unseren Freunden in Deutschland! Vielen Dank Anne und Carsten. (By the way, can we visit you two in Germany when Peanut is learning to speak?… I want our little Peanut/Erdnuss to be multi-lingual.)
Symptoms: Restlessness. I had a lot to prepare for my work meeting in Pittsburgh, but all turned out wonderfully!
Cravings/Aversions: I can't stop thinking about the nursery — and the crib in particular. I've been craving a Bonavita Hudson Lifestyle crib; it looks awesome.

What I Can't Wait For: Aside from the nursery, I can't wait to feel little kicks and punches. Peanut and I have been having conversations lately, but it's only been unilateral thus far. It would be great if he/she could give me a little nudge to acknowledge that he/she is listening.
Milestones: Peanut is now an avocado with a nice hard green skin, soft savory inside, and giant seed. Okay, just kidding, he/she is just the size of an avocado.