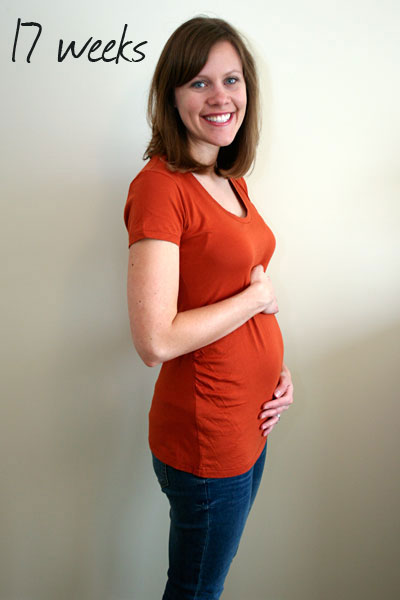 HER PERSPECTIVE
Best Moment: My mom came to visit on Wednesday. It was the first time she's seen us since we shared the news at week 12. She gave hugs and a belly rub to Peanut, then two more from my dad and sister. She also couldn't resist bringing another sweet little outfit for her first grandchild. (My dad said she's going to have get a part-time job just to support her baby clothing shopping sprees!)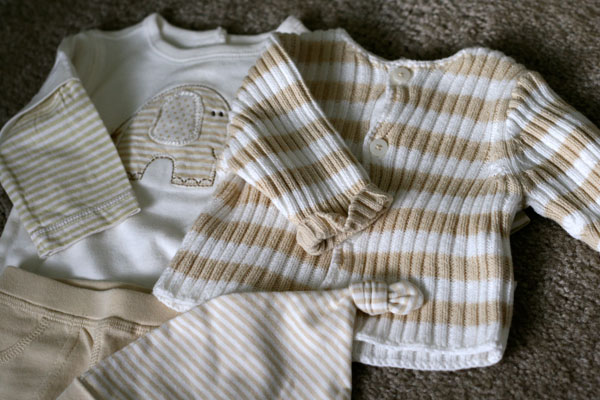 On Thursday morning the two of us headed west to Greensburg for a culinary tour organized by The Fork and the Road. We met Italian chefs, bakers, and pasta makers and sampled capicola, meatballs, mozzarella, ratatouille, pesto, olive oil, biscotti, gelato, and more. (Thank goodness for stretchy maternity pants!) Details of our tour to come.
I also received two very thoughtful gifts from women I had met on a previous tour. From tour organizer Mary: a signed copy of YOU: Raising Your Child. And from the very talented Cathy of Stitchfork Designs: a soft pastel blanket for "The Culinary Kid!" How cool?!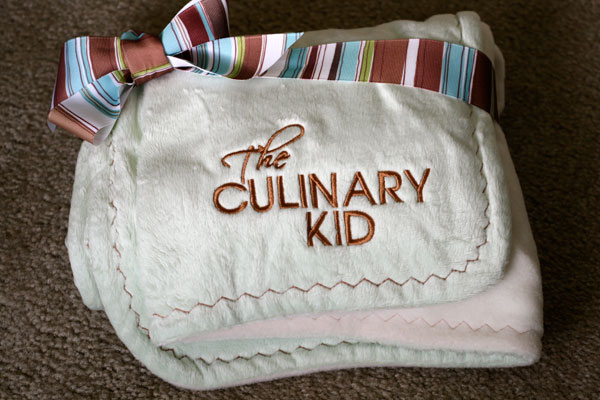 Symptoms: Still fighting tension headaches. In fact, they may have gotten worse this week instead of better. I'm slowly starting to figure out how to prevent them and control them. For example, the more often I eat, the less likely they are to appear, which means I'm back to taking bananas to bed with me. Yoga stretches and cold compresses help, too. And, as a last resort, I'll take two Tylenol.
It's all worth it, of course! Just look at this growing belly.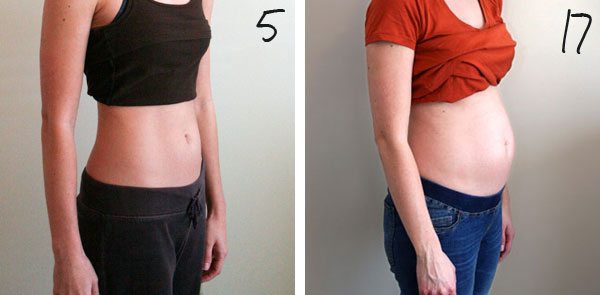 Cravings/Aversions: Strawberries, blueberries, raspberries. I can't get enough. And I can't wait until they show up at our local farmers markets.
What I Miss: Excedrin. Previously, when I had a migraine, I could pop one of these pills and be fully functional again within an hour.
What I Can't Wait For: Dresses! The bigger my belly gets, the warmer the weather turns, which means I'll soon get to break out my cute maternity dresses.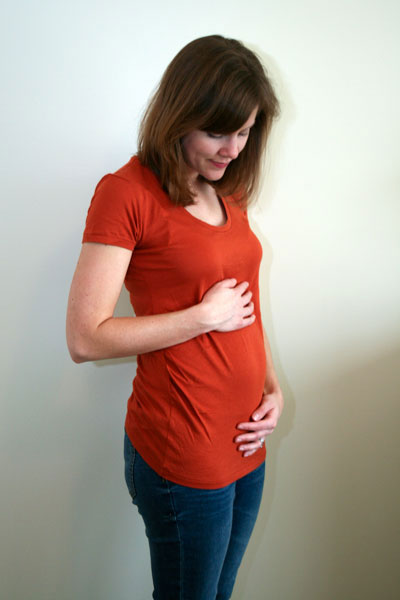 Milestones: Baby's skeleton is changing from soft cartilage to bone, and the umbilical cord is growing stronger and thicker. Peanut measures about 5 inches and weighs about 5 ounces this week.
HIS PERSPECTIVE
Best Moment: I was not invited on the mouthwatering culinary tour, but I was having too much fun working anyway. But for real, "The Culinary Kid" blanket made my week. Thanks again to Cathy from Stitchfork Designs.
Symptoms: According to What to Expect When You're Expecting (page 481), expectant dads can also experience a "shift in hormones" that can result in "surprising pregnancy-like symptoms … including food cravings, queasiness, weight gain, and mood swings"…. This explains A LOT.
Cravings/Aversions: Peanut butter chocolate eggs from McIntyre's! Thank goodness Easter is right around the corner.
What I Miss: In the past few weeks, I've noticed that my side of the bed has been getting smaller and smaller as Emily (and Peanut) sprawls out. I'm okay with this, but I miss my side of the bed. (If you're reading this Emily, I think we should upgrade to a king-size mattress.)
What I Can't Wait For: To fit back into my skinny jeans. I'm sooo close.
Milestones: Little Peanut is not so little anymore, he/she is currently about the size of a rutabaga.