I previously shared reasons why we love Pennsylvania, and I have another one to add to the list: the Laurel Highlands.
The Laurel Highlands are a region of the Allegheny Mountains located between Pittsburgh and our humble home of Duncansville. I lived in the area between ages 4 and 6, and Nick's job takes him there almost every day. But neither of us were aware of the countless foodie destinations hidden in those Highlands. Well, I uncovered a few of them last week on a tour organized by The Fork and The Road.
I first connected with Mary from The Fork and The Road after we both visited and raved about LIFeSTYLE (which I blogged about here and here). Mary is a native of western Pennsylvania who shares her passion for food through tours and tastings. She loves nothing more than a day on the road with her notebook, her camera, and her appetite. Needless to say, we got along quite well.
McGinnis Sisters Special Food Store, Monroeville (website)
I arrived at McGinnis Sisters in Monroeville on Thursday morning where I was greeted by Mary and Debbie, co-organizer of the tour, and about 15 other delightful women.
Karen Novak of McGinnis Sisters shared samples of Amish graham pretzels and apple butter from nearby Mt. Pleasant while she told us about the store's mission to stock its shelves with local products.
We then boarded the bus bound for our first stop: Fede.
Fede Artisanal Pasta, Irwin (website)
Wild Purveyors, Cheswick (website)

Owner Steve Salvi had put the finishing touches on his shop — located in an unassuming industrial complex — just two weeks before our arrival. The small dining room is painted the color of Chianti, but it's behind the massive arched door where the magic happens.
Fede, which means "faith" in Italian, produces tagliatelle, orechiette, ravioli, gnocchi, and more for high-end restaurants in and around Pittsburgh. During our visit, we enjoyed trenne (triangular penne) with sweet marinara sauce.
We watched Steve toss the dish together and finish it off with fresh basil leaves, a pat of butter, and a generous sprinkling of salty Pecorino Romano. Mary also passed around chunks of raw aged Gouda from Wild Purveryors in Cheswick and sheep's milk Camembert from an artisan in Newburg. It was delicious. And it was only 10am.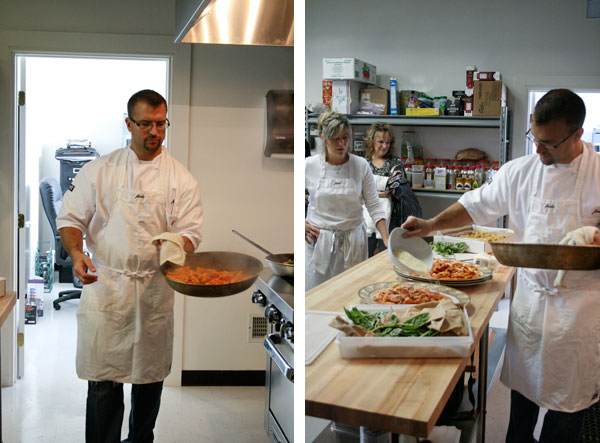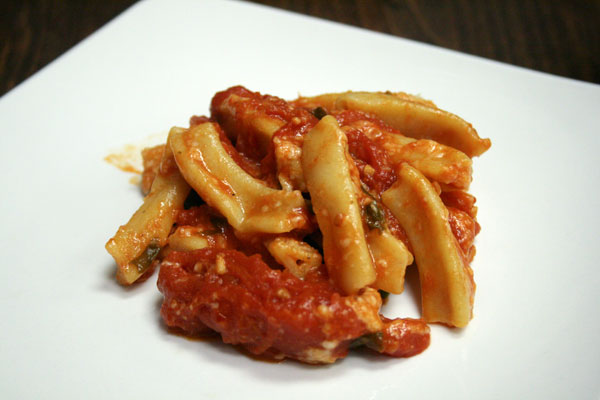 DeLallo, Jeannette (website)
Saint Vincent Gristmill, Latrobe (website)
Back on the bus and on our way past Greensburg and Latrobe, Mary shared pepperoni bread from DeLallo (where, interestingly, my dad used to buy Italian meats and cheeses) and "monastery bread" from the Saint Vincent Gristmill.
Also, my name was drawn from the hat for the Latrobe gift bag which recognized the things that made the town famous: Rolling Rock, banana splits, and Arnold Palmer.
Currant Thymes, Ligonier
Old Linn Run Coffee Bean Roastery, Rector (website)
Jayne's Main Street Café, Ligonier

Next up: Ligonier. I was generally familiar with the quaint main street after visiting a few weeks ago, but I could have wondered in and out of the shops all afternoon. However, there were just two stops on our agenda that day: Currant Thymes and Jayne's Main Street Café.
Heather Kuban and her husband, Bob, manage Currant Thymes, which is full of whimsical gifts and kitchen gadgets and food items. While browsing knit hand towels and a vibrant Emilie Henry display, we sampled a few treats: puff pastry with Brie and Meyer lemon custard, broccoli cheddar soup, and chai chocolate soup.
Kandi Newell from Old Linn Runn Coffee in Rector was also there to pour brews from the roastery run by her and her husband, Dave.
After purchasing a few goodies (French onion soup and that heavenly chocolate soup from Frontier Soups, a loose tea infuser, and a bottle of maple syrup from Rockwood), I followed the group across the street to Jayne's Main Street Café for complimentary gelatos. I chose the pumpkin, and I'm glad I did.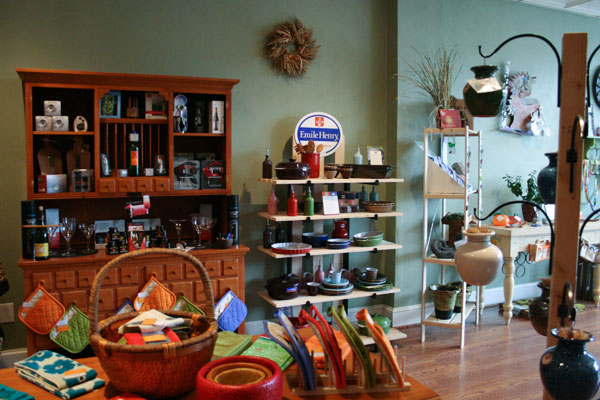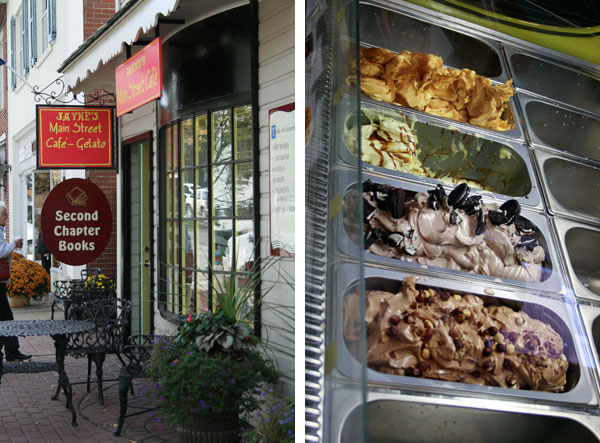 The Compass Inn Museum, Laughlintown (website)
And then we were off to a museum, which I assumed would offer a break from eating (something I rarely wish). Alas, I was wrong.
Jim Koontz, innkeeper at the restored stagecoach stop just outside of Ligonier, greeted us and invited us inside the cookhouse. We crowded around the open hearth where we were served roasted apples filled with crumbled sausage, ham and cabbage stew, and cornbread. While we ate, Jim — in authentic colonial garb — told us the history of the Compass Inn.
It has been a local landmark since 1799 and was used as a stagecoach stop from 1820 through 1862. He shared the origin of such phrases as "upper crust" and "Ps and Qs," and he showed the cooking pots and utensils used over 200 years ago. His enthusiasm about the place was evident in his stories and grins and gestures.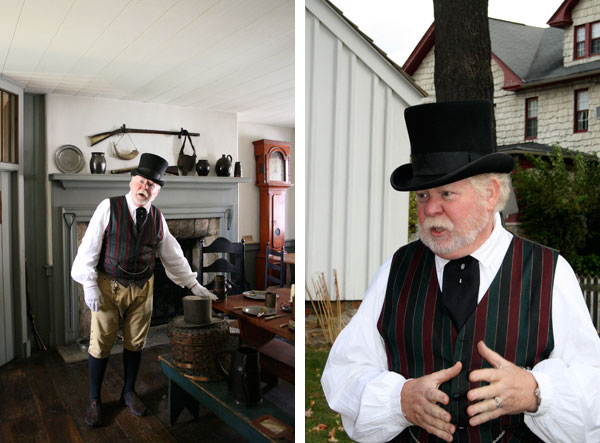 Out of the Fire Café, Donegal (website)
Glades Pike Winery, Somerset (website)
Can you believe we hadn't officially eaten lunch yet? I'm sure I had already consumed enough calories to last well into the next day, but Mary and Debbie reminded us this was a culinary tour, after all. And so, to lunch we went.
The drive from Laughlintown to Donegal took us along the Laurel Highlands Scenic Byway of 711. We passed pumpkin farms, rolling fields of autumn colors, and old estate homes. And then we arrived at Out of the Fire Café.
The café was born in the backyard of Jeff Fryer where he previously smoked salmon to sell in local markets. He turned that one popular product into a restaurant full of flavorful dishes. I ordered the creamy roasted mushroom soup (of which they make 35 gallons each week) and the "kicked up" BLT: bacon, tomato, and mozzarella on toasted Ciabatta with roasted red peppers, basil mayo, avocado, and field greens. It tasted as good as it sounds.
Mary also invited Glades Pike Winery to provide the afternoon beverages.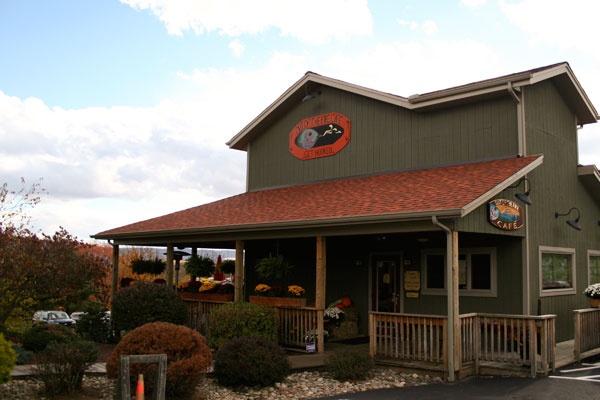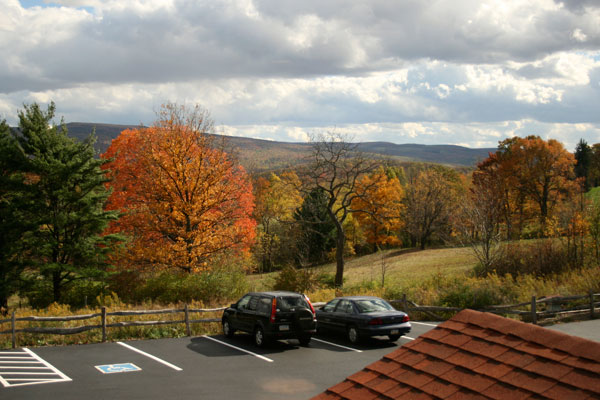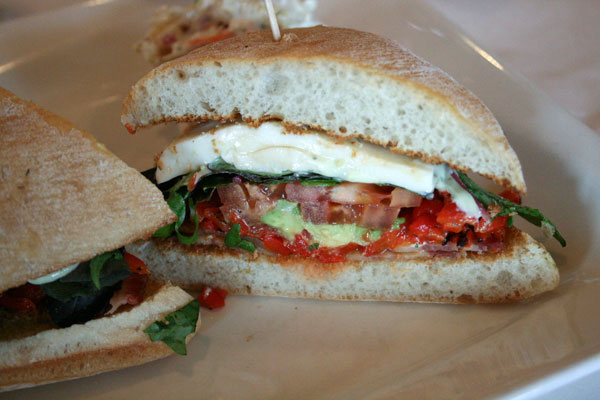 Tree Tops at Polymath Park, Acme (website)
I finished the mushroom soup and half of the BLT and thought I could not eat one more bite. Until Mary mentioned dessert. Because there is always room for dessert. The other ladies agreed.
We nearly got lost in the woods on our way to Polymath Park where three Frank Lloyd Wright-inspired homes sit on 100 acres of tranquil forest. (His famous Fallingwater is just a short drive away.) And then, down a narrow driveway and barely visible behind the tall trees, was Tree Tops.
Jodi Henry, wife of Executive Chef Mark Henry, cheerfully greeted us on the stairs of the appropriately named restaurant. The rustic scenery followed us indoors with tall framed windows, a stone fireplace, and handcrafted wooden chairs. It was cozy and warm and sweet-smelling, thanks to Chef Mark.
He already had on display a tray of sliced chocolate truffle and his award-winning goat cheese cake. The creamy cake topped with raspberries and candied walnuts and served inside a praline shell took dish of the year at Savor Pittsburgh 2010. (Watch Mark make the dish for KDKA.)
As if that wasn't enough, Mark also flambéed bananas foster for us. He sure knows how to please a room full of women.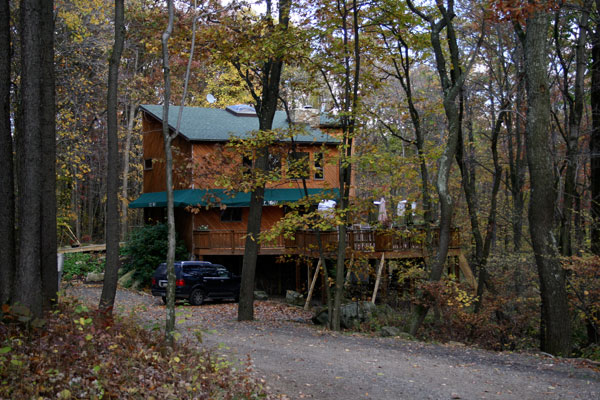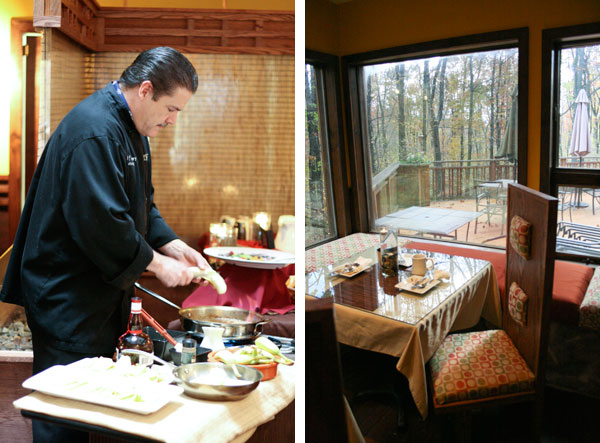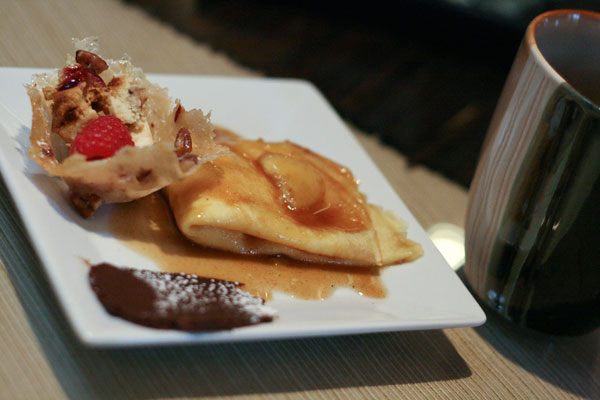 It's easy to fall in love with the Laurel Highlands — the serene landscape, the inspiring artisans, the delectable food. It's worth a trip!
A huge thank you to Mary and crew for sharing the experience with me.