On the morning of our first anniversary we paid tribute to our Mexican honeymoon with traditional chilaquiles of garden tomatoes and poached eggs. Later in the evening we drove 30 miles south to a trattoria that transported us to yet another country known for its simple, seasonal cuisine.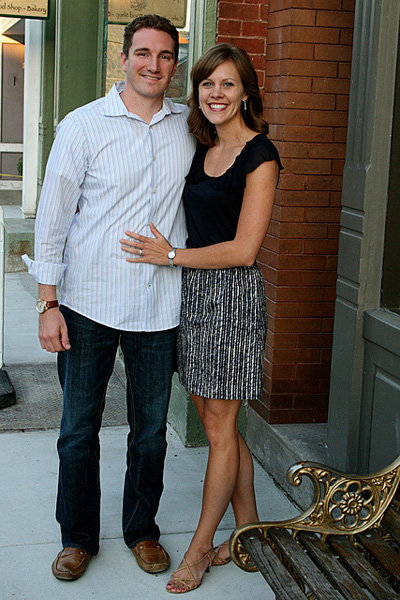 LIFeSTYLE is an Italian gem in Bedford County. It's located just off Main Street, between the 1794 headquarters of George Washington and the medicinal mineral springs, now home to a luxurious spa and resort.
During the day LIFeSTYLE sells fine Italian products like soft Tuscan linens, Deruta ceramics, aged balsamic vinegars, and artisan cheeses.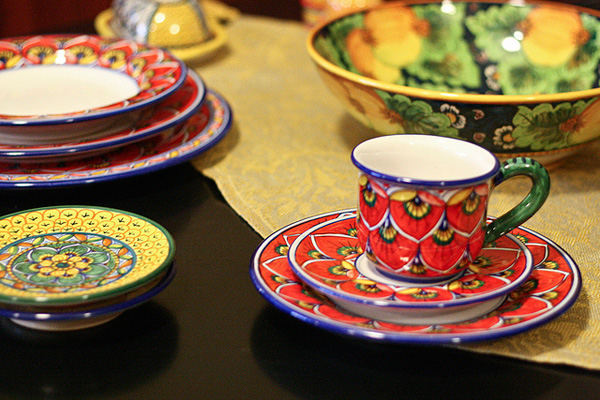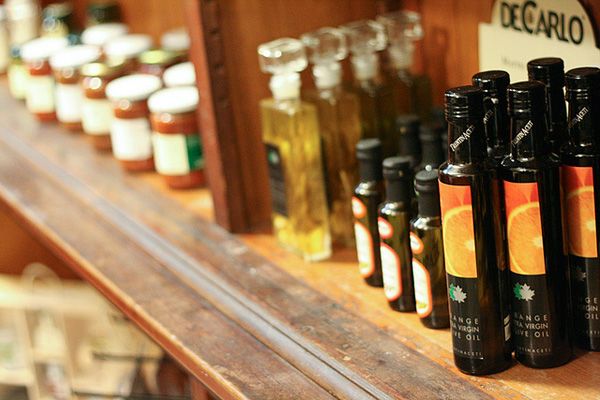 Each Friday morning they set out fresh loaves of bread, and occasionally they sell homemade ravioli. Both are so popular that pre-orders are recommended.
Then every Saturday night, the shop is transformed into a trattoria. Owners — and husband and wife — Stefano and Sarah set out one long table that seats no more than 22 customers. The menu is conceptualized that day, and the price is fixed at $45 per person, which includes service.
Stefano is a young man with a thick Italian accent and a delightful demeanor. He welcomed us with the ringing of a brass bell and encouraged us to please pop the corks on our bottles of red wine.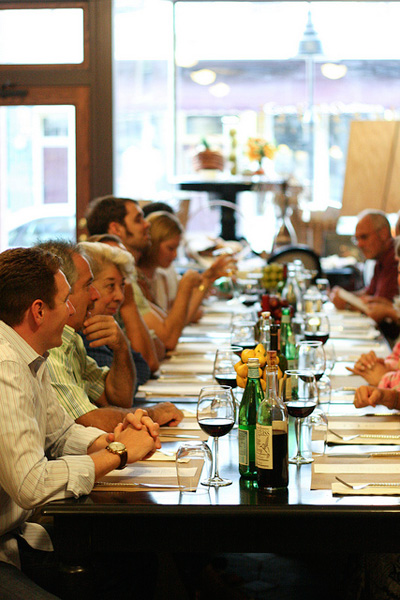 There were less than 20 people at the table that night including an architect celebrating his birthday and a bright-eyed, newly engaged couple. At the center sat a woman who grew up in London during WWII and her friend who operates an organic farm and owns three restaurants in Baltimore (The Helmand, Tapas Teatro, and b bistro). Beside us sat a couple who has raised everything from geese to guinea hens to mules. And, surprisingly, we were the only Pennsylvania residents.
While we awaited our first course, the conversation flowed as effortlessly as the wine, and we embraced the intimacy that is common in Italy's quaint trattorias.
Soon Stefano emerged again from the tiny kitchen located just on the other side of an elaborate bookcase of shop items. Before serving the antipasto, he told us he had selected the heirloom tomatoes from the market that morning. The colorful fruit was roughly chopped and arranged, along with onions, on crusty slices of bread and finished with a drizzle of 15-year-old balsamic vinegar. It was the kind of bruschetta that begs to be eaten with both hands.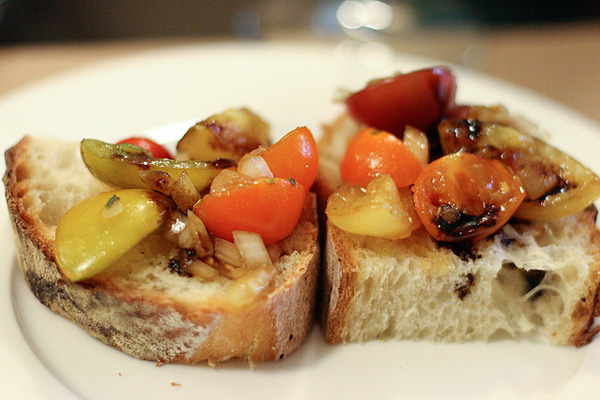 The second course was our favorite of the night: blueberry risotto. The risotto was creamy and cooked to perfection. It was slightly sweet from the local berries and a little salty from the shavings of aged Parmesan cheese. I hear their strawberry risotto is even better, which means we should make our reservation now for June 2011!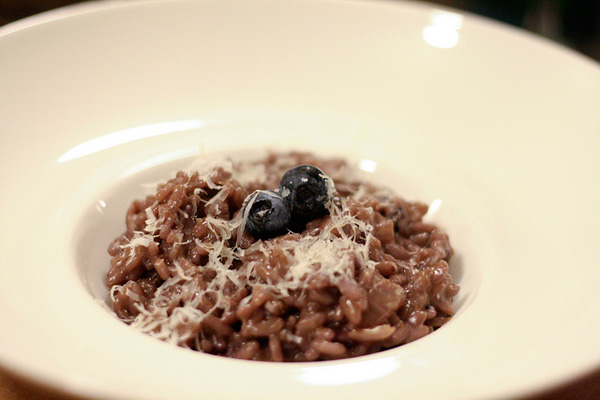 Next came the chicken cacciatore. Cacciatore means hunter in Italian and typically consists of braised chicken, tomatoes, onions, and herbs. Stefano marinated the legs of dark meat overnight and seasoned them with salty olives and anchovies. The moist chicken fell right off the bone and was served alongside mixed greens with oil and vinegar.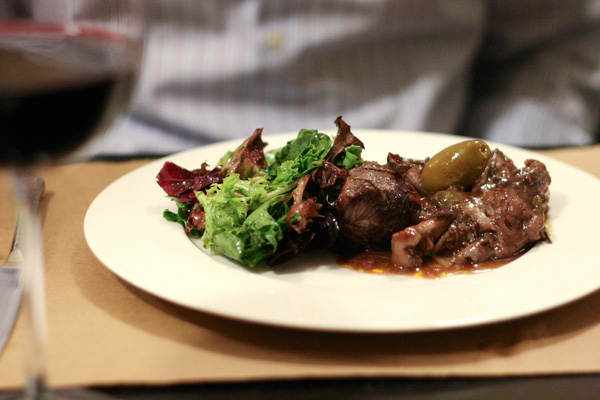 Before the final courses of the night, Stefano introduced us to his children. He said kids are commonplace in the Italian kitchen, and none of us had an objection to waving at his little boy and oogling over his newborn girl. (Unfortunately, Sarah did not make an appearance, and so we'll just have to return to meet her!)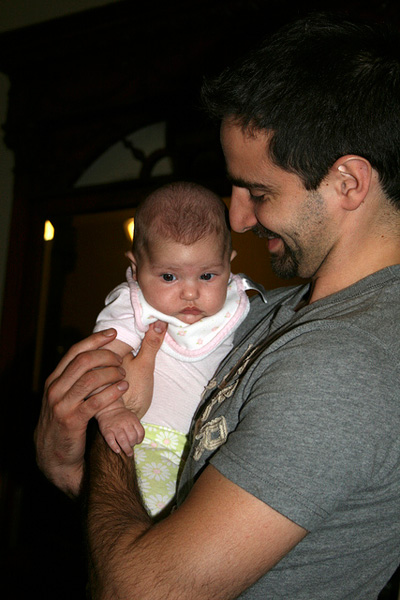 While in America we tend to pick from a cheese platter before sitting down to dinner, Italians serve formaggi on its own plate between the main course and the dessert course. (Note: I must have been so anxious to sample the trifecta of imported cheeses that I failed to get a photo.) One: Pecorino from Sardinia with white wine jelly. Two: Asiago from Verona with fig jam. Three: Pecorino from Tuscany with dark, bitter honey.
And the final course of the night was a generous slice of tiramisu, one of Italy's most popular cakes. Stefano noted that some tiramisu is made with Marsala wine, but he prefers the version made with rum. The thin, delicate cakes were dipped in coffee, flavored with rum, and layered with a whipped mixture of egg yolks and mascarpone. A dusting of chocolate on top — along with a cup of strong espresso — provided a bitter balance to the sweet, creamy layers of cake and cheese.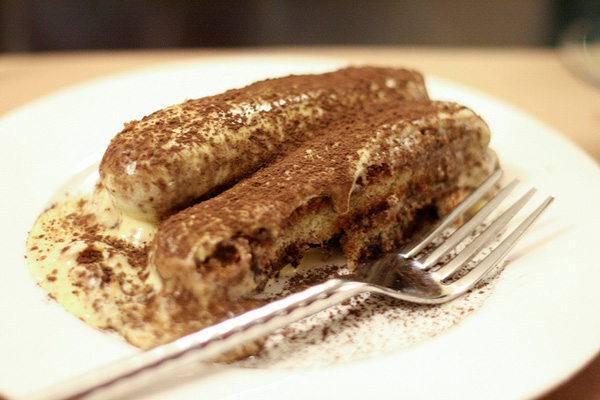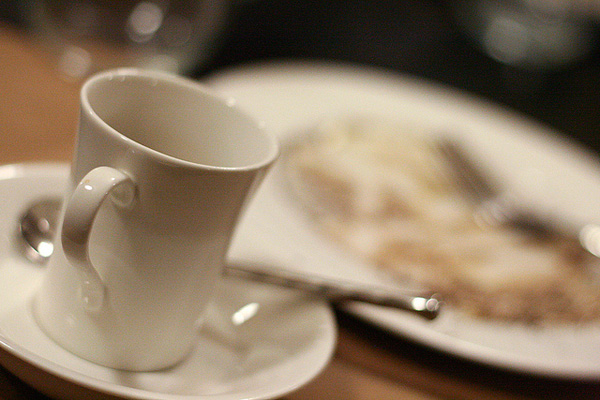 After we cleaned our plates and before we headed back north on I-99, we asked Stefano about the cooking classes offered by LIFeSTYLE once every month. The October class is not yet full, and you can bet we're calling this week to reserve our spots!
It was an absolutely ideal way to celebrate our first year as husband and wife — engaging conversation and an exceptional showcase of Italian flavors and traditions in a humble setting with gracious hosts. Grazie to Stefano and Sarah and our new friends!