My brother moved from New York City to London in January. We moved from State College to Duncansville in February. His new digs (and old, for that matter) are more travel-worthy than ours, but he was still anxious to visit our humble home on Sunday during his two-week return to the U.S.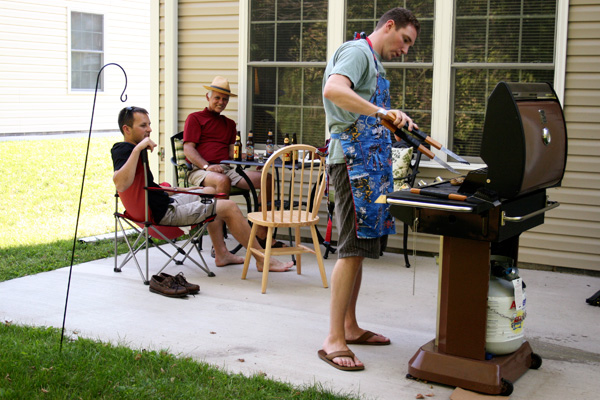 While Andrew sipped tequila (the good stuff from Mexico) with my dad on our patio, Nick fired up the grill, and I served a bowl of fresh guacamole. Then I sautéed sweet corn, tomatoes, black beans, jalapeños, garlic, and cilantro into a simple side dish.
I had told Andrew and Dad earlier in the day that we were having grilled chicken for dinner. Of course, they know us well and figured it wouldn't be just any grilled chicken. They were right.
We made Ree's tequila lime chicken earlier this summer, and we were anxious to have it again. The marinade is incredibly flavorful, and the dish comes together quickly. We topped ours with freshly grated Monterrey Jack cheese and homemade pico de gallo (tomatoes, red onion, jalapeño, garlic, cilantro, lime juice, and kosher salt).
Andrew said it was better than anything he's had at a Mexican restaurant. (He should try our chilaquiles!)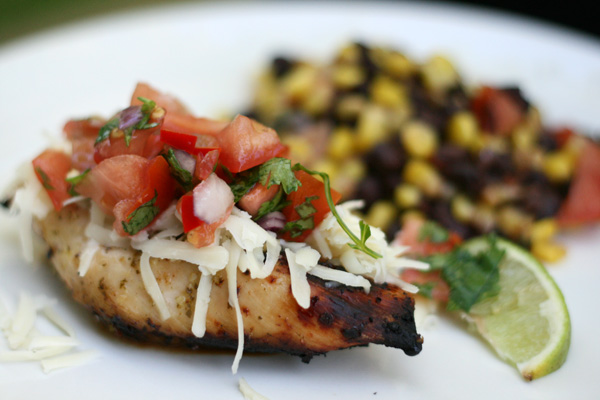 Tequila Lime Chicken
Ingredients
3 whole limes, juiced
5 cloves garlic, peeled
1 whole jalapeño, sliced
1 teaspoon kosher salt
1/2 cup cilantro
1/2 cup tequila
5 tablespoons extra-virgin olive oil
4 whole boneless, skinless chicken breasts
1 cup Monterey Jack cheese, grated
Pico de gallo
Directions
Combine lime juice, garlic cloves, sliced jalapeño, salt, cilantro, and tequila in a food processor or blender. Pulse until combined. Turn on the blender/food processor and drizzle in the olive oil until it's all combined.
Place chicken breasts in a plastic bag and pour in the marinade. Seal bag and marinate for several hours or overnight.
When ready to cook, remove chicken from bag and place it on the grill. Cook until completely done.
Serve topped with grated cheese and pico de gallo. (Sour cream and avocado would also be tasty).
(adapted from The Pioneer Woman)