Last Sunday afternoon we returned to LIFeSTYLE in Bedford. But this time, instead of finding one long table inside the quaint Italian shop, we found clusters of tables scattered throughout. And the chairs were positioned to face a sleek countertop covered with bowls of onions and shallots, bottles of oil, pots and pans, and a jar of Nutella. It resembled a small, mobile Food Network set.
We were anxious to meet Chef Matt Finarelli, our instructor for the evening, and it was easy to spot him in his black chef's coat and vibrant pants. But before we had the opportunity to introduce ourselves, he assumed his position behind the counter, and so we settled into our seats for the demonstration.
Matt is from northern Virginia and teaches occasional Sunday afternoon classes at LIFeSTYLE. Leveraging his experience as a professional-restaurant-chef-turned-culinary-instructor, he taught us how to properly slice a red pepper and braise meat. And how not to under salt pasta water or over beat cookie batter.
Matt whizzed through preparation of our four course dinner, filling the shop with smells of garlic and bacon. By the time the Peperonata was served, we were all salivating.
Peperonata is a rustic northern Italian favorite made of red bell peppers, garlic, onion, extra virgin olive oil, and red wine vinegar. The pepper strips are slow cooked and become sweet and acidic and silky. It's commonly eaten cold on toasted bread, but it could also be tossed with fresh pasta. Or eaten alone by the forkful. It's that good.
Next came the Spaghetti alla Carbonara. If you've ever prepared this dish, you know it's dangerously decadent. But, my oh my, is it tasty. Matt's version includes bacon, dry white wine, heavy cream, butter, eggs, Parmesan, and Pecorino Romano.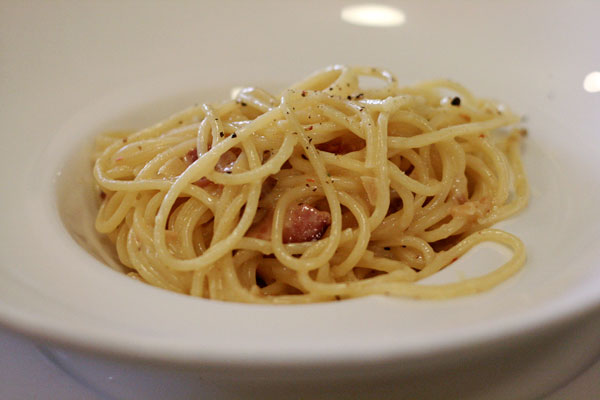 Following the Carbonara, we enjoyed Chicken Cacciatore. It was just as moist and earthy as last time.
And then came dessert. Now I'm typically a soft and chewy cookie kind of gal, and Nick is that kind of guy, so we were skeptical of Matt's biscotti. But he enticed us with Nutella.
The cookies include rich dark brown sugar, rolled oats, kosher salt, and spoonfuls of Nutella. And if that's not enough, you can turn them into cookie sandwiches with more Nutella in the middle. Matt did, and we all thanked him for it.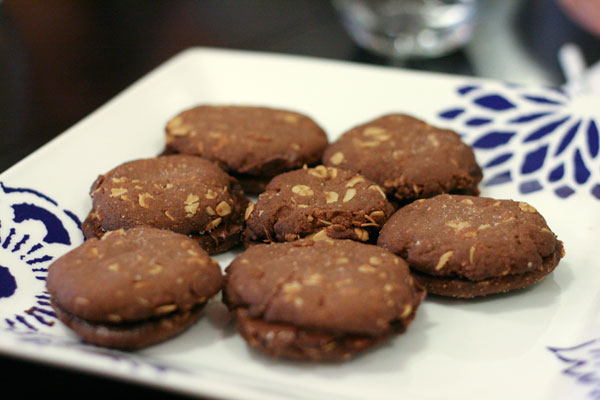 Following dinner we had the opportunity to meet Matt. We learned that he left his first career in pursuit of this one and hasn't looked back since. And when he mentioned his artisinal bread baking class, Nick's ears perked up. So this Monday Nick will be kneading, proofing, and baking with Matt in Virginia. And (hopefully) coming home with some focaccia, baguettes, and sourdough to share!
Thanks to Stefano for inviting Matt, and thanks to Matt for sharing your culinary tidbits and very tasty recipes!
(To any new culinary tour friends who may be visiting, welcome! LIFeSTYLE is a stop on Mary's next tour, and I highly recommend it!)