It will most likely be several years before Nick and I are able to make a trip to Italia, seeing as how we have a little Bambino on the way. Fortunately, my mother and I discovered several Italian treasures in our own backyard during our tour with The Fork and The Road last week.
On Thursday morning, we boarded a cozy coach bus at McGinnis Sisters in Monroeville with 16 other hungry women. We were not even five miles down the road, though, before our hosts passed around a loaf of sweet lemon cream panettone from LIFeSTYLE in Bedford and festive seven-layer cookies.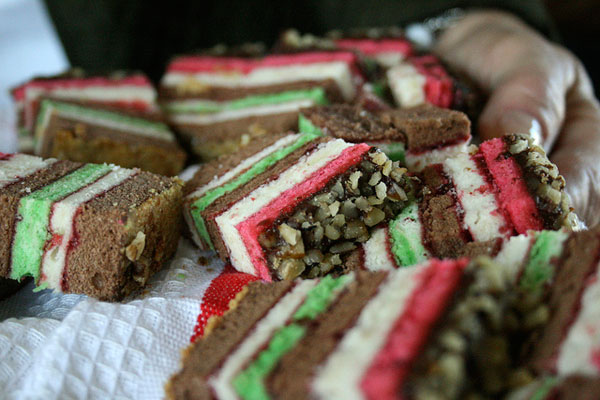 Fede Pasta
We were still wiping crumbs from our faces when we arrived at our first stop of the day: Fede Pasta in North Huntingdon. I had visited this gem during my first tour with The Fork and The Road, but it was worth a second stop … and hopefully a third, fourth, and fifth.
Owner Steve Salvi welcomed us into his shop, which is located in an unassuming industrial park. He and his team of five employees make thousands of pounds of pasta per week for some of Pittsburgh's finest Italian restaurants.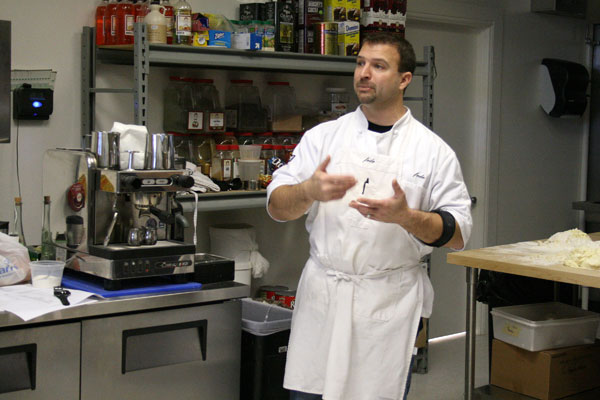 We watched one employee (along with Steve's very pregnant wife) roll and cut gnocchi made of ricotta, Parmesan, eggs, salt, and pepper. So simple! And yet I'm sure it's incredibly flavorful — it's one of their best sellers.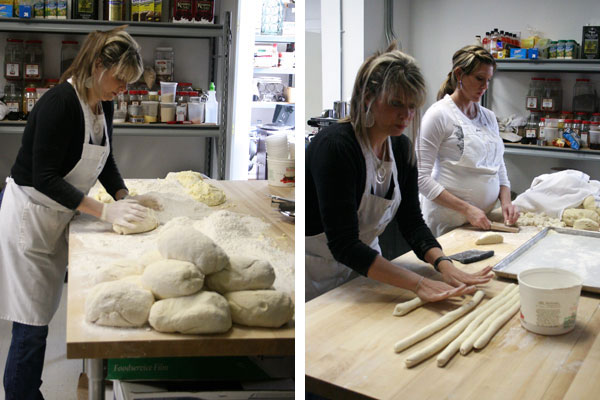 We didn't get to sample the gnocchi, but we did taste trenne — one of Fede's 40 pasta shapes — with pesto and a hefty handful of freshly grated Parmesan cheese. No matter that it was only 10am!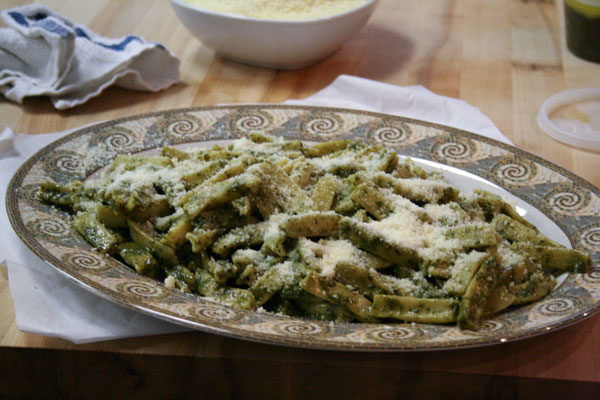 DeLallo's Italian Foods
With basil and garlic still on our breaths, we moved on to DeLallo's Italian Foods market in Jeanette. We were greeted by Anthony Dipietro, grandson of the original owners, George and Madeline DeLallo.
Now is a good time to mention that I actually lived in Greensburg, near Jeanette, many years ago. I was just a kid, so I have very vague memories of life in western Pennsylvania, but my parents still hold the hilly towns near and dear to their hearts. In fact, my dad used to purchase Italian meats and cheeses from DeLallo's, though my mom says the store has really grown since the 1980s. For instance, they now offer an impressive selection of vibrant, seasonal produce.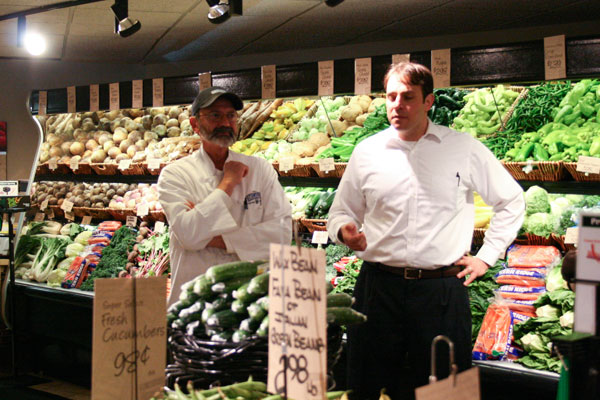 Some things have remained the same, though, like its expansive selection of olives. In fact, DeLallo's is the largest importer of olives in the United States!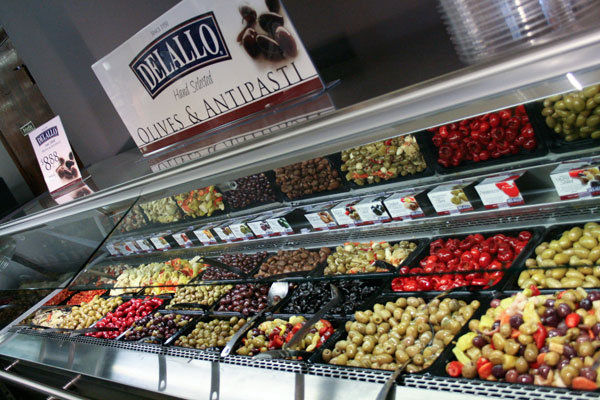 The store also prides itself on its artisan cheeses like sharp provolone from Italy, feta from Greece, and blue cheese from Oregon.
And who did we find behind the cheese counter? Mrs. DeLallo herself! This lady has certainly not lost an ounce of her Italian fire.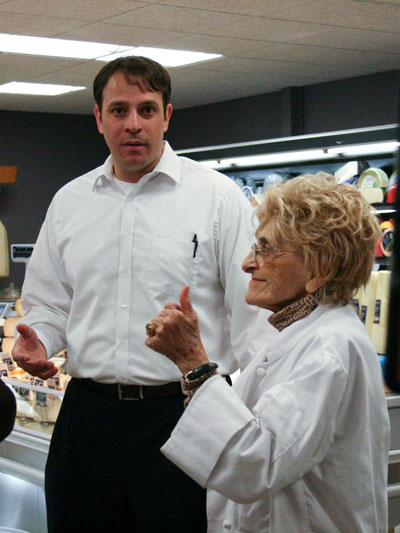 We also met Don, who was skillfully stretching and shaping fresh mozzarella and rolling it around thin slices of prosciutto. He's been doing this for almost 15 years.
Next it was on to the bakery where we met DeLallo's head pastry chef and drooled over the display of cannoli, panna cotta, and tiramisu.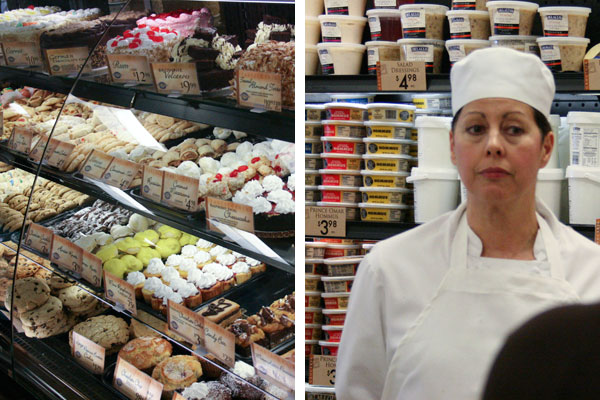 Once we were sufficiently hungry, Anthony led us upstairs where we feasted on platters of salami, sopresata, capicola, pepperoni, and more.
We each left with a gift bag of dried pasta, pesto, tomato sauce, and olive oil. I also couldn't resist buying a loaf of pepperoni bread!
Sunset Café
Our next stop was Sunset Café in Greensburg where Bob and Anna Jo Noviello welcomed us into the home previously owned by Bob's great-grandmother. Grandma Pantalone served pizza and spaghetti out of her home in the 1930s and soon after opened Greensburg's first Italian restaurant.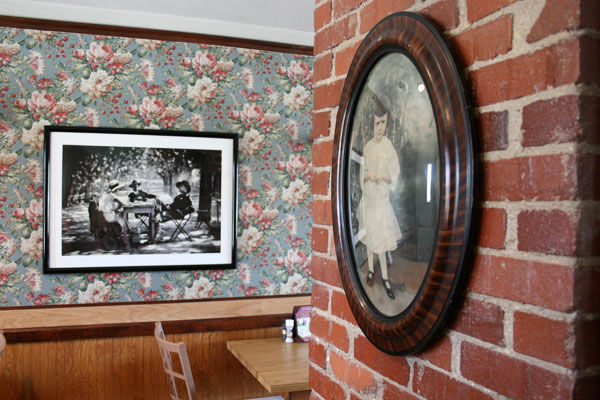 The Pantalones were one of many Italian families that settled in Greensburg, specifically in the Hilltop neighborhood of the Eighth Ward.
Many years later, Bob and his wife expanded Sunset Café and now serve a full dinner menu featuring wild mushroom risotto, seafood cannelloni, and veal saltimbocca. Anna Jo also makes over 30 varieties of biscotti — from apricot orange pistachio to dark chocolate hazelnut anise — in the basement of the restaurant. In fact, Aunt Anna's Biscotti is sold in retail stores all over the western part of the state.
Before leaving, we were each served one giant meatball smothered in sweet marinara sauce and a biscotti, of course.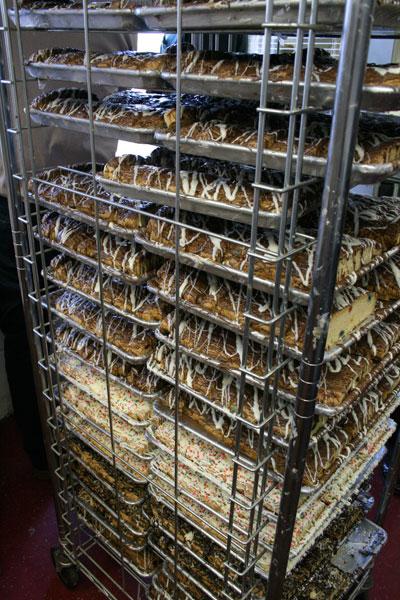 Earnest Gourmet
Can you believe we hadn't even arrived at our lunch destination yet? It's true. And before we got there, we swung by Earnest Gourmet in Greensburg to sample Linda Earnest's tomato and goat cheese tart, And then we went to lunch.
Vallozzi's
Vallozzi's is another sentimental favorite of my parents. It's been a staple in Greensburg for 33 years, and owner Ernie Vallozzi works diligently to bring the best Italian cuisine to his customers.
The elegant dining room is softly lit and full of hand painted murals and stately columns, though we sat in a bright room adjacent to the vast wine cellar.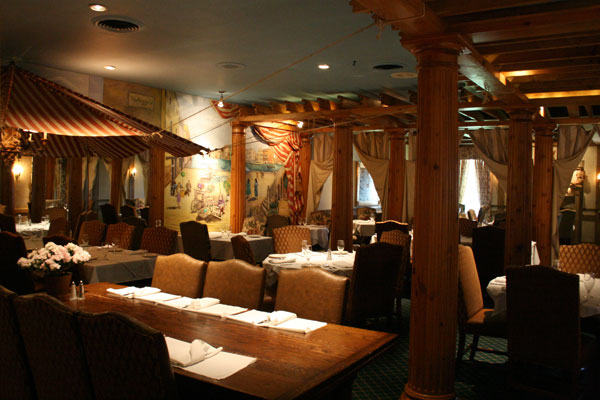 Executive Chef Jenna Mrjdenovich prepared a buffet for us including chicken with sage-cream sauce, fried cauliflower with horseradish dipping sauce, sauteed broccoli rabe, ratatouille, and fettuccine alfredo. We were also poured samples from their wine collection, which sadly, I left untouched.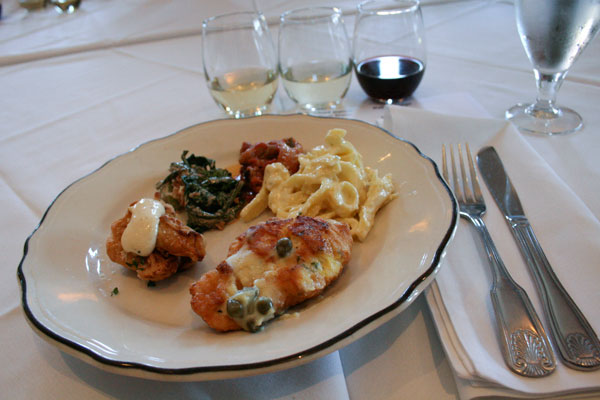 Rizzo's Malabar Inn
From Vallozzi's we drove along a rural country road past a skate park and a lama farm until we arrived at Rizzo's Malabar Inn in Crabtree, a landmark for over 70 years. Rizzo's happens to be right across the street from Carbone's, another restaurant owned by third generation Italian immigrants. And apparently the two still compete to serve the town's best spaghetti sauce.
Rizzi DeFabo, co-owner of Rizzo's and grandson of the original owners, described to us his beautiful arrangement of Easter cookies and pastries like ricotta pie and pizzelles. It was almost too lovely to eat! Almost.
The pizzelles were especially delicious and made by Rizzi using an iron press passed down from his grandmother. In fact, the lattice design exactly matched the lace linens on the table, also a family heirloom.
But the highlight of dessert, for me, was Rizzo's ever-popular nutella gelato. Oh. My. Goodness.
It's unbelievable that we consumed as much food as we did. But we're champs. And I've never been more thankful for my stretchy maternity pants!
Thanks to Mary Miller of The Fork and the Road for planning another fantastic tour and for introducing me to such talented and passionate local artisans. Thank you to the chefs and restauranteurs and shop owners who so graciously welcomed us and served us such delectable food. And thanks to my mother for sharing the day with me! Grazie! (Nick, I promise to take you back to each of these places in the very near future.)