My culinary companion spent a total of 16 days in New York training for his new job. Despite the wintry weather, he was able to come home for one weekend in the middle of his trip. He arrived at our doorstep just as I pulled a loaf of bread out of the oven. I sliced the bread, ladled the soup into bowls, and poured glasses of red wine.
This lentil and sausage soup is fantastic. I was curious about the amount of marjoram and the addition of ketchup, but the flavors came together beautifully. The broth is light and aromatic, and it's just what we needed after so much time apart.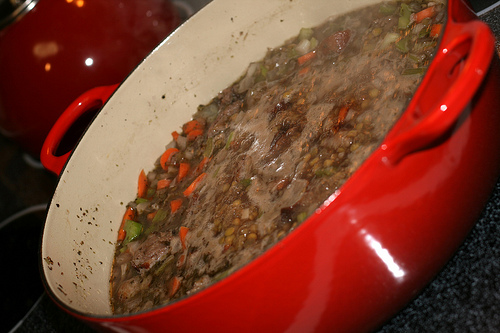 Ingredients
1 1/2 cup French green lentils
2 bay leaves
3 Tbsp olive oil, divided
3 or 4 sausages made with garlic and/or herbs
1 large white onion, chopped
4 cloves garlic, minced
1/2 cup red wine
3 stalks celery, chopped
1 Tbsp dried marjoram
5 carrots, chopped
4 cups beef stock
3 Tbsp ketchup
2 cups spinach
1/4 cup parsley, chopped
Salt and pepper, to taste
Directions
Boil water in a medium saucepan.
Heat 2 Tbsp of oil in a Dutch oven or stock pot with bay leaves. Add sausages and cook thoroughly. Remove sausages, slice into 3/4″ pieces, and set aside.
Rinse lentils in cold water two or three times and add to the boiling water. Stir lentils and cook over medium heat while you chop the vegetables. Add more hot water if lentils start to look dry.
Add 1 Tbsp oil into the pot previously used for the sausages. Sauté onions and garlic over medium heat, stirring occasionally. Push cooked onions aside and add wine. Cook for a minute or two to deglaze the pot.
Add lentils and 1/2 cup of the cooking water. Then add stock.
Add celery, carrots, marjoram, sausage slices, salt, and pepper. Stir well. Simmer for 15 minutes. Add more water, if necessary, to prevent lentils from sticking.
Add ketchup and stir well. Cook an additional 10 minutes until carrots are tender.
Add spinach and parsley. Adjust seasonings. Cook another 10 minutes until soup is very hot.
Serve with a hearty loaf of bread and butter.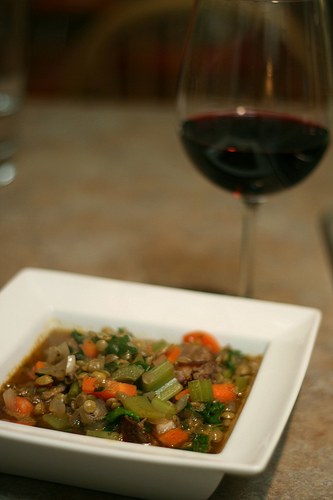 (adapted from food52)