Continuing the honeymoon recaps …
Another of our favorite places on the beach was a hut over the water that housed yoga practice on Wednesday morning and heavenly full body massages on Thursday morning.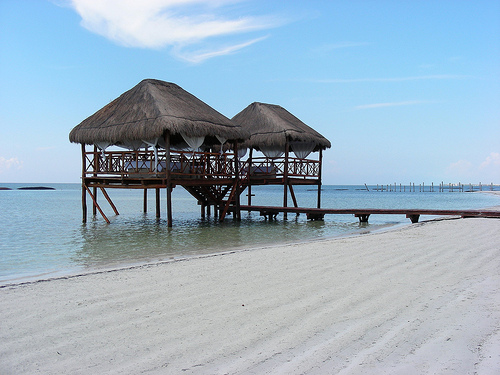 Nick discovered his favorite Mexican breakfast dish on Thursday morning just begore our massages: Chilaquiles, which are fried corn tortillas piled high with chicken, queso, refried beans, and salsa roja.
For lunch we joined other resort guests under the pavilion for a Fish Fry. It included pescada rojo frito (fried red snapper), mahi mahi, and salmon prepared right on the beach. The server placed a whole red snapper on Nick's plate! And, between the two of us, we finished every bite.
We visited one of the two swim-up bars several times each day. Both were stocked with top shelf liquor, and the knowledeable bartenders proudly shared their insights on tequila.
Tequila is produced from the agave plant and aged in barrels or casks. Our favorite brands were Agavero (a liqueur) and 1800 Anejo (aged for over a year in an oak barrel).
Our favorite bartender, Caesar, knew our drinks of choice by our third day at the resort: Tamarindo Margaritas, Banana Mamas, Mudslides, and Tecates.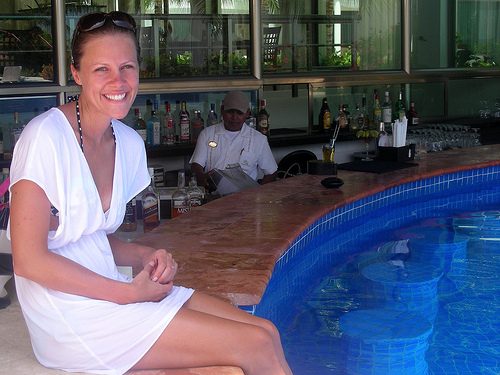 On Thursday night we took a cab 20 minutes south to Playa del Carmen. We saw several "tequilerias" with more varieties of tequila than we imagined were available. We browsed elegant hand painted dishes and chose several to take home as souvenirs. We also purchased a hand carved Mayan mask and turquoise earrings, thanks to Nick's bargaining skills.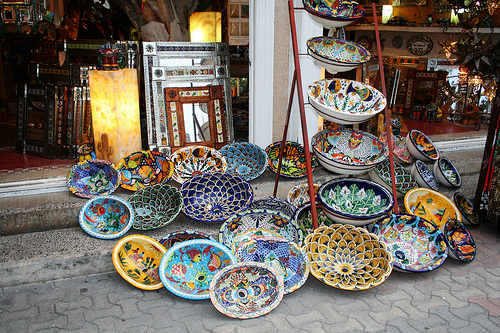 Next: Believe it or not, there's still food to consume.