Warning: If you are hungry, I recommend eating before reading.
As we approached the final days of our lovely honeymoon, we filled our bellies as fast as the good folks at El Dorado could cook. Mexican-style eggs were on the menu on Friday morning.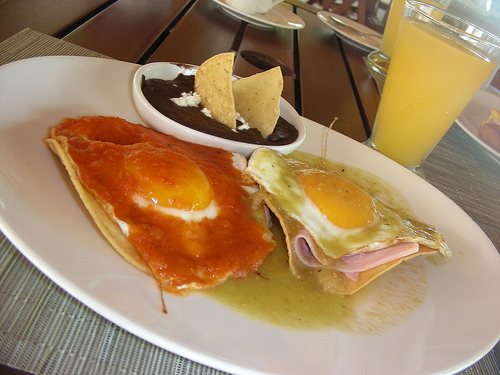 And that afternoon we enjoyed a Beach BBQ with ribs, chicken, beef, and spicy chorizo.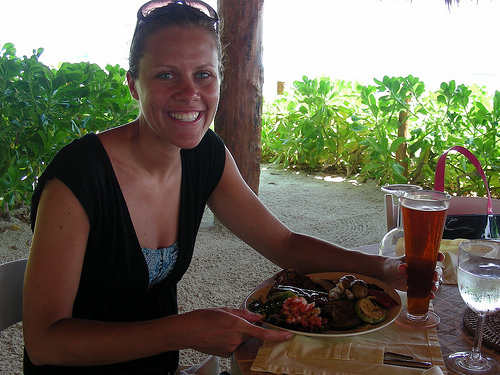 We spent the remainder of the day between the beach and the pool – always with cocktails in hand.
On Friday night we had dinner at Mio, the resort's Italian restaurant.
Appetizer: Shrimp with Garlic-Parsley Vinaigrette and Polenta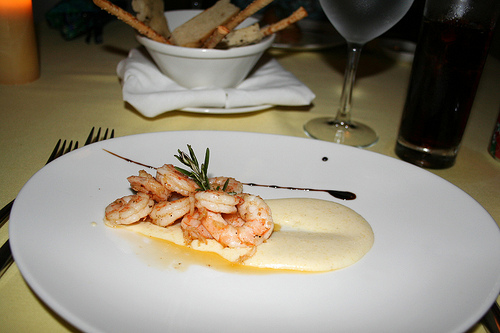 Emily's Pasta Course: Ricotta and Spinach Tortellini with Pecan Cream Sauce and Shaved Parmesan Cheese
Emily's Main Course: Beef Tenderloin with Sicilian Potato and Green Pepper Demiglace Sauce with Red Wine Reduction
Nick's Pasta Course: Spaghetti Carbonara with Pancetta, Parmesan, and Egg Yolk Cream Sauce
Nick's Main Course: Chicken Stuffed with Smoked Provolone Cheese and Green Asparagus with Polenta and Porcini Sauce
It was the only night during the week that we felt incredibly full when we walked out of the restaurant – must have been all of the rich, hearty, homemade pasta.
Next: Our Final Day in Paradise