There are probably hundreds of regional varieties of Wursts (sausages) in Germany. We were limited by what is available here in central Pennsylvania, but we were able to find a few of the more common versions to serve at our party.
Weisswurst (white sausage): A true Bavarian Wurst composed of minced veal, pork, and seasonings. To follow proper German etiquette, the Weisswurst should be eaten without the casing, should be served with a German susse Senf (sweet mustard), and eaten before noon.
Bratwurst: Probably the most well known Wurst of Germany and Wisconsin, it consists of veal, pork, or beef. It can be prepared several ways, but our preferred method is to cook it in a beer broth and then sear it on the grill. It goes especially well with sauerkraut.
Frankfurter: This Wurst has obvious origins in Frankfurt, Germany, but is very closely related to the hot dog. It is usually made of pork and is traditionally served with bread, mustard, and horseradish.
We cut our Wursts into bite size pieces so our guests could try them all.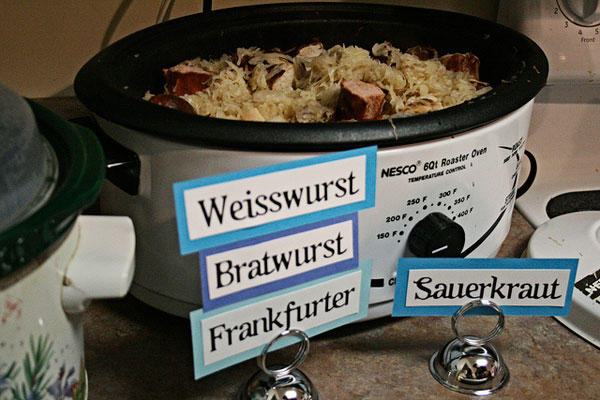 Sauerkraut and Rotkohl (red cabbage) were also served, as well as Brot and a selection of Käse.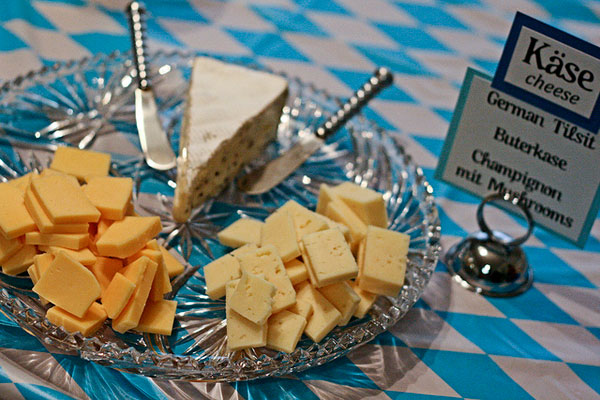 What else was on the table?
Pretzels
Schnitzel Bites
Potato Salad
Black Forest Cherry Cookies
German Chocolate Cupcakes