Germans like meat almost as much as they like beer. In fact, on the morning of our Oktoberfest party, our fridge was stocked with five pounds of pork for schnitzel, two pounds of elk for goulasch, three types of wursts, and two packages of bacon. And keeping cool in the garage were three cases of beer.
Now we were pretty certain that all of our guests would grab a beer when they arrived. But we knew not everyone would eat meat. So I cut the bacon out of one of the potato salads and had a crock pot of red cabbage untouched by pork. (There were also plenty of pretzels, cupcakes, and cookies.)
In addition to Nick's favorite potato salad roasted with paprika, thyme, and rosemary and dressed with mayonnaise, Dijon mustard, and Worcestershire sauce, I also made a simple and classic German version.
It includes white vinegar, white sugar, and parsley and can be served warm or cold.
For our vegetarian friends!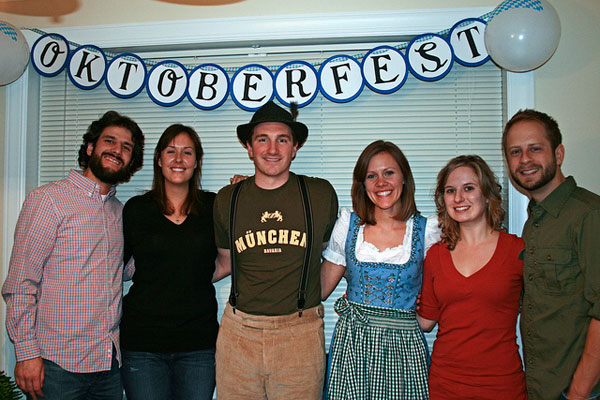 German Potato Salad
Ingredients
6 medium potatoes, peeled and diced

1 small onion, diced

2 teaspoons olive oil

1/4 cup white vinegar

2 tablespoons water

3 tablespoons white sugar

1 teaspoon salt

1/8 teaspoon ground black pepper

1 tablespoon chopped fresh parsley
Directions
Place the potatoes into a pot with enough water to cover them. Bring to a boil, and cook for about 12 minutes, or until easily pierced with a fork. Drain, and set aside to cool.
In a skillet, add onion and oil and cook over medium heat until browned. Add vinegar, water, sugar, salt, and pepper. Bring to a boil, then add potatoes and parsley. Heat through, and transfer to a serving dish. Serve warm or cold.
(adapted from AllRecipes.com)