Taking a break from regularly scheduled programming today (a.k.a. road trip recaps) to share two recipes from this past weekend. (Also debuting a new printable recipe feature! See below.)
We hosted two sisters, two nephews, and two dogs for three days.
We played Bananagrams and read books and ran around the playground and watched Avatar. Nick's comment after our guests left on Saturday afternoon: "I'm exhausted." My reply: "Just wait until we have kids of our own."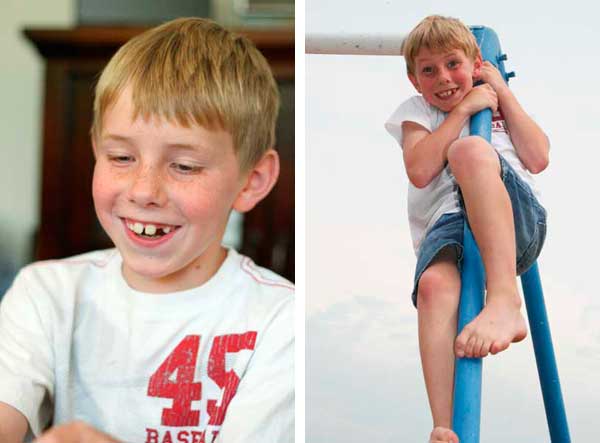 We served our favorite stir fry on Thursday night and prepared traditional picnic dishes for a Friday night cookout, including burgers, sweet corn, and roasted potato salad.
We first tasted this potato salad on Memorial Day at Lake Anna. I tend to gravitate towards warm versions of the popular summer side dish made with herbs and mustards. More German than American, of course. And this recipe is right up my alley – Nick's, too.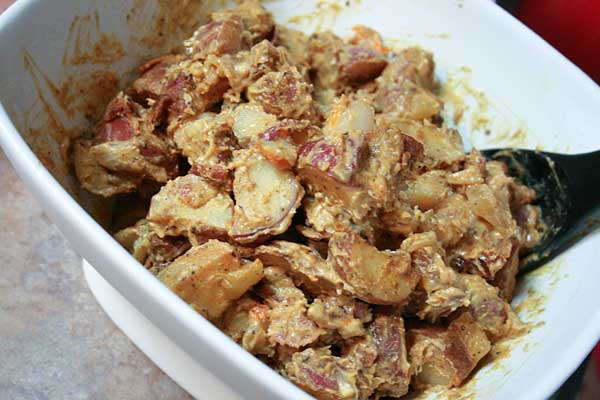 How do you like your potato salad?
Roasted Potato Salad
Ingredients for Potato Salad
8 bacon slices
4 medium red potatoes, cut into 3/4-inch cubes
1 large white onion, cut into 1/2-inch-thick strips
1 Tbsp olive oil
Potato Salad Dry Rub (listed below)
Potato Salad Dressing (listed below)
Chopped fresh parsley for garnish
Ingredients for Potato Salad Dry Rub
2 tsp salt
1 1/4 tsp pepper
1 tsp paprika
1 tsp garlic powder
1/4 tsp dried thyme
1/4 tsp dried crushed rosemary
1/8 tsp celery seeds
Ingredients for Potato Salad Dressing
5 1/2 Tbsp mayonnaise
2 Tbsp Dijon mustard
2 tsp Worcestershire sauce
Directions
Preheat oven to 375°.
Cook bacon, in batches, in a large skillet over medium-high heat for 8-10 minutes or until crisp. Remove bacon, and drain on paper towels, reserving drippings in skillet. Crumble bacon and set aside.
Add potatoes, onion, and Potato Salad Dry Rub to hot drippings in skillet, toss to coat. Remove potato mixture and place in a large casserole dish with 1 tablespoon olive oil. Bake in preheated oven for 30 minutes or until tender.
Transfer mixture to a large bowl. Add Potato Salad Dressing, and toss to coat. Stir in bacon. Garnish with chopped fresh parsley. Serve warm.
Source
Mrs. V.