Have you watched Jamie Oliver's Food Revolution? It premiered on primetime television earlier this year, and Nick and I were totally engrossed.
The series follows world-renowned chef Jamie Oliver on his quest to bring healthier food choices into public schools. (It's an issue that's very close to the First Lady's heart, as well.) Jamie started the revolution in Huntingdon, WV — the "fattest" city in our nation. He met with cafeteria cooks, teachers, administrators, students, and parents in an effort to replace pizza and chicken fingers and French fries with healthier, tastier options.
A version of this stir fry recipe was featured in the episode when Jamie was challenged to teach 1,000 Huntingdown residents how to cook a wholesome meal.
Our stir fry includes peppers from our garden, mushrooms, onions, and a variety of Asian oils and sauces. You could also substitute carrots, broccoli, green beans, or peas, among other seasonal options. And you can easily make this a vegetarian dish by substituting tofu for the pork.
Stir frying happens fast, so I suggest preparing all ingredients before heating the wok.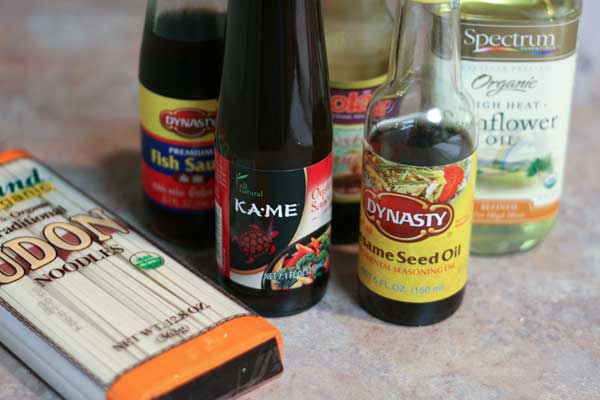 Get ready to drop, toss (if you're so talented — Nick is), and stir. Once you start cooking, the dish comes together quickly.
We've made this meal at least four times over the past two months. It's spicy and flavorful and pairs well with Traminette.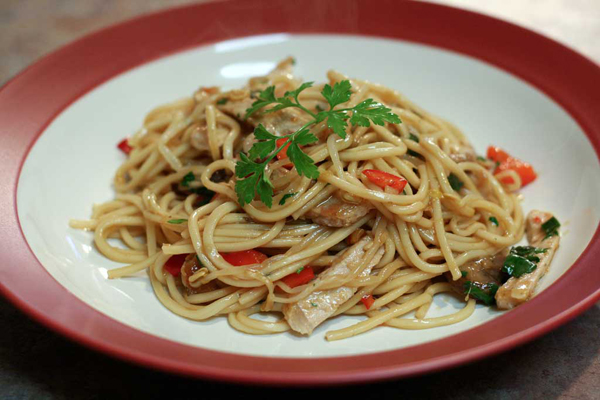 And a vegetarian version made with tofu instead of pork, which we actually liked better!
(Find out how to join Jamie Oliver's food revolution.)
Oriental Stir Fry
Ingredients
5 boneless pork fillets or 1 package extra firm tofu
freshly crushed peppercorns
2 teaspoons sesame oil
2 tablespoons sunflower oil
2 tablespoons freshly grated ginger
1 chili pepper, seeded and chopped
2 banana peppers, seeded and chopped
1 red pepper, seeded and chopped
1 package of mixed mushrooms (oyster, shitake, portobello), wiped and roughly chopped
1 bunch of spring onions, trimmed and sliced
3 cloves of garlic, peeled and finely chopped
1 1/2 cups bean sprouts
Oriental noodles
2 teaspoons fish sauce
6 tablespoons oyster sauce
1 small bunch of fresh cilantro, chopped
2.5 oz chicken stock
dark soy sauce
Directions
Rub the crushed peppercorns onto the pork fillets. Cook in a frying pan over medium-high heat and set aside.
Cook the Oriental noodles according to the directions on the package.
Meanwhile, heat the wok. Pour the sesame and sunflower oils into the hot wok and fry the ginger, peppers, and mushrooms for a minute until slightly colored. Add spring onions, garlic, and bean sprouts and stir-fry until wilted. Add cooked noodles, fish and oyster sauces, cilantro, and stock. Stir-fry for 2-3 minutes until noodles are steaming hot. Add pork and heat through. Taste and season with soy sauce.
Source
Jamie Oliver