Today I begin my 28th year. I'm celebrating in Quebec City and Montreal — possibly with poutine and hopefully with beavertails.
If I was home in the U. S. of A., I would bake myself a cake.
Not a traditional chocolate cake with fluffy white frosting, but one involving my favorite fruit.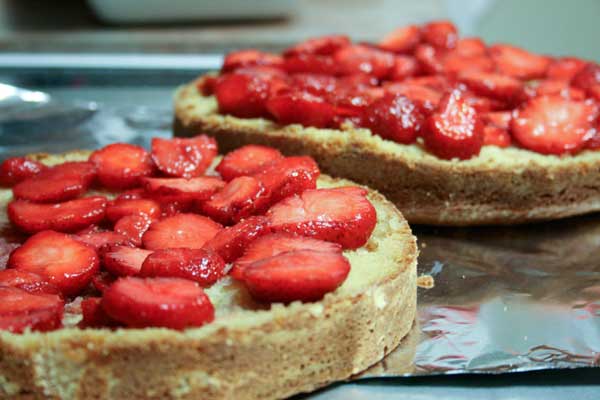 Strawberry shortcake traditionally consists of macerated berries atop an old fashioned biscuit with a dollop of whipped cream or a splash of milk, depending on your preference.
This recipe takes the same sweet, classic concept and turns it into a tasty two-layer cake.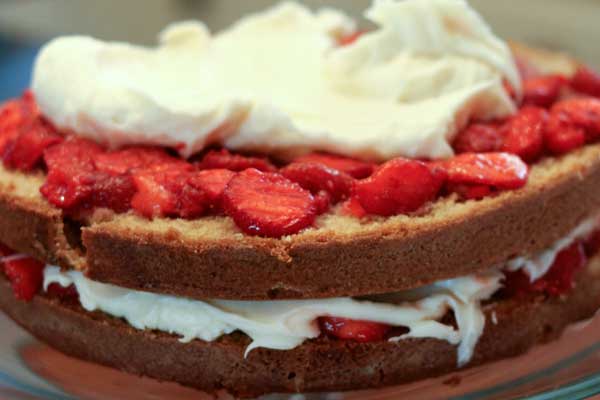 As the juicy berries soak into the cake, it becomes sweet and moist. And the simple four-ingredient frosting is decadent, but not overwhelming.
Yes, if I was near my KitchenAid stand mixer today, I would first raid my neighbor's freezer for local berries (that I regretfully did not preserve while they were in season,) and then I would bake my favorite cake.
What's your favorite cake?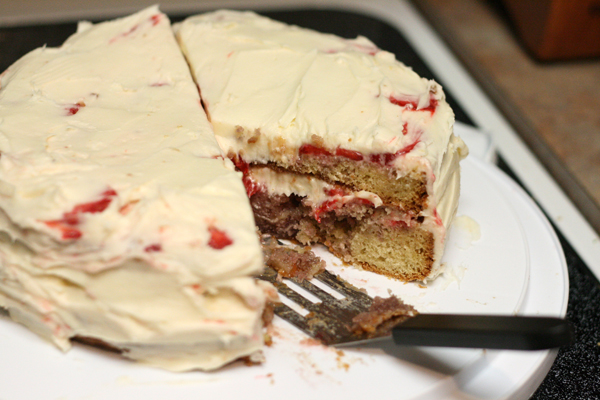 Strawberry Shortcake Cake
Serves 12.
Ingredients for Cake
1 1/2 cups flour
3 tablespoons corn starch
1/2 teaspoon salt
1 teaspoon baking soda
9 tablespoons unsalted butter, softened
1 1/2 cups sugar
3 large eggs
1/2 cup sour cream, room temperature
1 teaspoon vanilla
Ingredients for Icing
1/2 lb cream cheese, room temperature
2 sticks unsalted butter
1 1/2 lb powdered sugar, sifted
1 teaspoon vanilla
1 lb local strawberries
Directions
(Important Note: Use a cake pan that's at least 2 inches deep. Before baking, the batter should not fill the pan more than halfway.)
Sift together flour, salt, baking soda, and corn starch.
Cream 9 tablespoons butter with the sugar until light and fluffy. Add eggs one at a time, mixing well each time. Add sour cream and vanilla and mix until combined. Add sifted dry ingredients and mix on low speed until just barely combined.
Pour into greased and floured 8-inch cake pan. Bake at 350 degrees for 45 to 50 minutes. Remove cake from pan immediately, and place on a cooling rack to cool completely.
Stem and slice strawberries. Place into a bowl and sprinkle with 3 tablespoons sugar. Stir together and let sit for 30 minutes. After 30 minutes, mash the strawberries in two batches. Sprinkle each half with 1 tablespoon sugar and allow to sit for another 30 minutes.
For icing: Combine cream cheese, 2 sticks butter, sifted powdered sugar, vanilla, and a dash of salt in a mixing bowl. Mix until very light and fluffy.
Slice cooled cake in half through the middle. Spread strawberries evenly over each half (cut side up), including all juices. Place cake halves into the freezer for five minutes to make icing easier.
Remove cakes from freezer. Use a little less than 1/3 of the icing to spread over the top of the strawberries on the bottom layer. Place the second layer on top. Add half of the remaining icing to the top layer. Then spread the rest of it around the sides.
Garnish with more strawberries and serve slightly cool. (For best results, store in the fridge!)
(source: The Pioneer Woman)