Last summer we discovered a roasted potato salad recipe with paprika and rosemary and Dijon mustard, and we made it at least five times. We obviously both enjoy it, although we tend to prefer sweet potatoes over white potatoes. So this summer we figured that we better add a sweet potato salad to our picnic repertoire.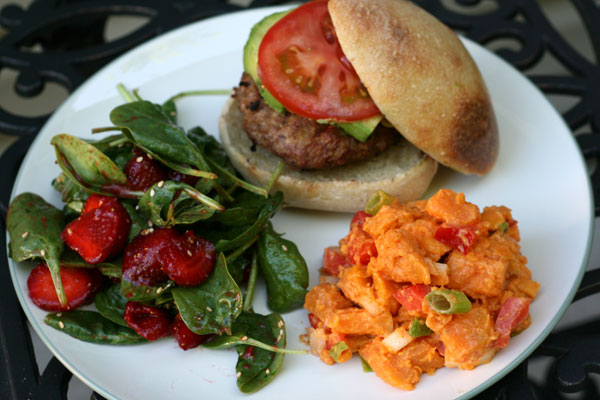 This recipe was inspired by Pat and Gina Neely (whose show I don't particularly like, but whose food usually sounds so comforting and appealing). In addition to the sweet potatoes, the salad includes red peppers, onions, scallions, and parsley with a sauce of mayonnaise, orange juice, and spices.
Pairs nicely with a turkey burger and strawberry-spinach salad!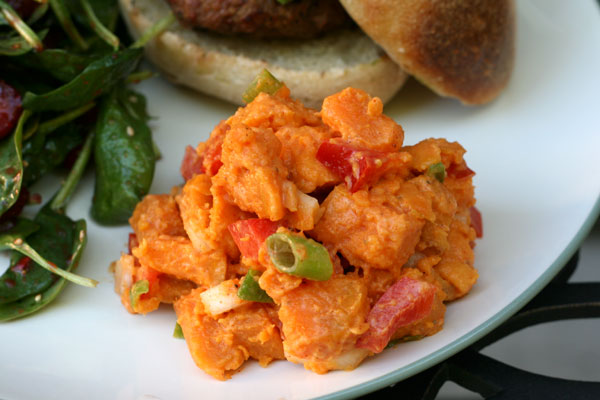 What's your favorite summer picnic salad?
Sweet Potato Salad
Makes 6 servings.
Ingredients
2 lbs sweet potatoes, peeled and cut into cubes
1/2 onion, finely chopped
1 red pepper, seeded and finely chopped
4 scallions, thinly sliced
1/2 cup parsley, roughly chopped
1/3 cup mayonnaise
2 Tbsp orange juice
1 tsp smoked paprika
1 tsp ground cumin
1/2 tsp cayenne pepper
1/4 tsp salt
Directions
Add sweet potatoes to a large pot of cold salted water. Bring to a boil over medium-high heat and cook potatoes until tender, about 15 minutes. Drain and cool completely in a colander.
Transfer cooked and cooled potatoes to a large serving bowl and add onion, red pepper, scallions, and parsley
In a separate bowl, add mayonnaise, orange juice, smoked paprika, cumin, cayenne pepper, and salt; whisk to combine. Pour dressing over potatoes and mix thoroughly. Refrigerate for 1 hour before serving.
(Adapted from Pat and Gina Neely)