I've mentioned before that no Wiley can resist the combination of chocolate and peanut butter. So what better dessert to serve after our cookout than one featuring this duo?
The whoopie pie is a Pennsylvania Amish tradition and consists of fluffy filling sandwiched between two small round cakes. My grandma has been baking these little treats for years, but recently they've become almost as trendy as cupcakes. In fact, there are now cookbooks totally devoted to "making whoopie."
Also important to note: Whoopie pies are always washed down with a glass (or sippy cup) of milk.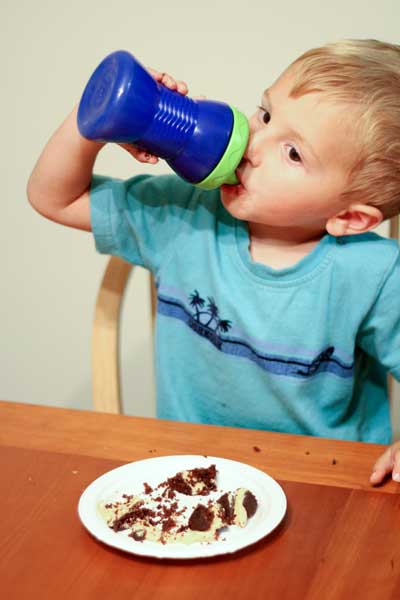 Chocolate Whoopie Pies with Peanut Butter Filling
Ingredients for Pies

1 2/3 cups all-purpose flour
2/3 cup unsweetened cocoa powder
1 1/2 teaspoons baking soda
1/2 teaspoon salt
4 tablespoons unsalted butter, room temperature
4 tablespoons vegetable shortening
1 cup packed dark brown sugar
1 egg
1 teaspoon vanilla
1 cup milk
Directions for Pies

Preheat oven to 375 degrees. Line baking sheets with parchment paper.
In a bowl, sift together, flour, cocoa, baking soda, and salt.
In another bowl, beat butter, shortening, and sugar with a mixer on low until just combined. Increase speed to medium and beat for about 3 minutes. Add egg and vanilla and beat for two more minutes.
Add half of the flour mixture and half of the milk and beat on low until incorporated. Repeat with remaining flour and milk and beat until combined.
Using a tablespoon, drop batter on baking sheet two inches apart. Bake for about 10 minutes each or until pies spring back when pressed gently.
Remove from oven and cool for about five minutes before transferring them to a rack to cool completely.
Ingredients for Filling

3/4 cup creamy peanut butter (or crunchy)
3/4 cup unsalted butter, room temperature
3/4 cup confectioners sugar
1/2 teaspoon salt
Directions for Filling

Beat peanut butter and butter on low until creamy using a mixer.
Add sugar and salt and beat on low to incorporate. Increase speed to medium and beat for about four minutes until the filling is light and fluffy.
Spread filling on flat side on one cooled cake. Top it with a second cake and press gently.
Source
Whoopie Pies via Bakerella