We commonly cook with beer. We pour it into chili. We combine it with garlic and broth to boil brats. We even add it to cupcakes. So why not cook with root beer now that there's a pregnant lady in the house?
Nick first tasted root beer glazed pork chops while I was in Massachusetts last month. And, being the sweet husband that he is, he recreated the dish for me when I got home.
His recipe was inspired by Emeril Lagasse, so you know it has some kick. The spice blend includes paprika, garlic powder, black pepper, onion powder, cayenne pepper, oregano, and thyme. But the thick, sweet root beer glaze mellows out the dish.
Nick served the pork chops on top of sweet potatoes mashed with brown sugar and molasses alongside steamed broccoli. Good work, husband! You made your wife a very happy lady.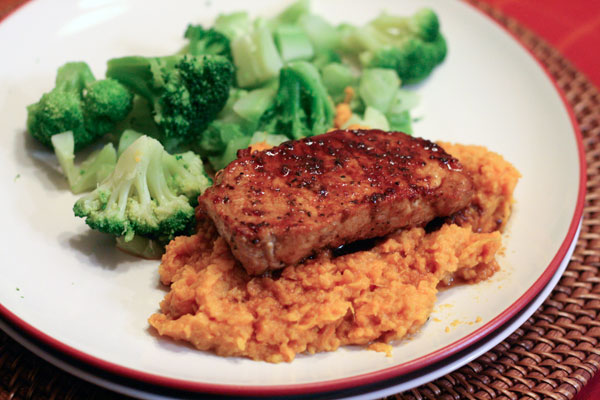 Do you cook with beer … or root beer?
Root Beer Glazed Pork Chops
Ingredients
2 cups root beer
2 cups beef stock
4 pork chops
Creole spice blend (see ingredients below)
4 teaspoons olive oil
Creole Spice Blend
2 1/2 tablespoons paprika
2 tablespoons salt
2 tablespoons garlic powder
1 tablespoon black pepper
1 tablespoon onion powder
1 tablespoon cayenne pepper
1 tablespoon dried oregano
1 tablespoon dried thyme
Directions
To make the glaze, combine root beer and stock in a medium saucepan. Bring to a boil over medium-high heat. Reduce heat to medium-low and simmer until reduced to a thick syrup, about 1 cup, about 50 minutes to 1 hour. Remove from heat.
Preheat a grill pan to medium-high heat. Season each chop on both sides with 1 teaspoon of Creole spice blend. Place in grill pan and cook for 6 minutes on each side until done.
Place chops on top of mashed sweet potatoes and drizzle with root beer glaze.
(adapted from Emeril Lagasse)