HER PERSPECTIVE
Best Moment: I spent the weekend in Massachusetts with my favorite ladies – my favorite ladies who now know our exciting news! I had tentatively planned to tell them on Sunday after the festivities, but they coaxed the news out of me before we even boarded the plane.
Kristen H said, "Em, do you have news?" To which I hesitantly replied, "No, no news." Then she proceeded to tell me that she had visited a tarot card reader earlier that week and was told there is a pregnancy in her life. She said to me, "Are you sure you don't have any news?" I couldn't contain it in any longer, and I had barely said, "OK, I can't lie," before both she and Mary were squealing and hugging me. Right there in terminal C of the BWI airport.
Kristen H and Mary covered for me all weekend. They conspicuously filled my cup with punch while the others enjoyed champagne cocktails. And they quickly polished off my jell-o shots when nobody was looking. Then, on Sunday, when Kristen W's celebratory weekend was drawing to a close, I finally filled her in. Though, apparently we weren't as sneaky as we had thought, because she totally noticed I was drinking water at the bar. What? I thought it could pass as vodka on the rocks.
Symptoms: Heartburn. I know spicy chili and dark chocolate cake only make it worse, but I can't resist. So I bought more Tums instead.
Cravings/Aversions: Mary introduced me to Fiber One oats and chocolate bars on our trip, and I think I'm hooked. Hey, it's better than a candy bar, right?
What I Miss: My always skinny black jeans from Gap. I barely squeezed into them on Saturday night for the bachelorette party. I believe, sadly, it's time to retire them to the back of my closet.
What I Can't Wait For: Our first ultrasound next week!
Milestones: "Crown to rump" length is barely the size of a kumquat, and Peanut has completed the most critical portion of development. Now it's time for the tissues and organs to grow and mature. Kidneys, intestines, brain, and liver are in place and starting to function.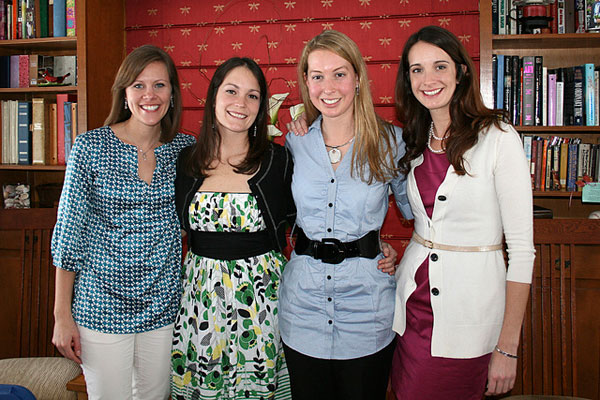 HIS PERSPECTIVE
Best Moment: While Emily was away with her favorite ladies, I was enjoying a weekend of debauchery with my cousins, Justin and Jordan. We were out past midnight on both Friday and Saturday! This is very uncharacteristic of me these days.
Symptoms: So far I have matched Emily's weight gain pound-for-pound. I'm starting to get a little concerned. For all you fathers or soon-to-be fathers out there, is this normal?
Cravings/Aversions: I went to Bill Sell's Bold for dinner on Saturday with the Altoona Wileys, and I had a delectable paella with black tiger shrimp, shredded chicken, Spanish rice, chorizo, and green peas. Mmmm… although I think the hit of the night was the root beer-glazed pork tenderloin that Uncle Frank and Justin ordered. I can't stop thinking about it. I think I'm going to try re-create it for Emily this week. What a good husband I am.
What I Miss: To be honest, I missed Emily quite a bit this weekend. She seemed so far away. But that's too mushy. Let's suffice it to say that I missed her cooking. 
What I Can't Wait For: I, too, am excited for the ultrasound in the coming week. I know Emily's pregnant, but for some reason it just doesn't quite feel real yet. I need a picture.

Milestones: A kumquat, really? That's not even native to the U.S. Who comes up with these arbitrary fruit comparisons? Let's just say that Peanut is the size of a chestnut this week.