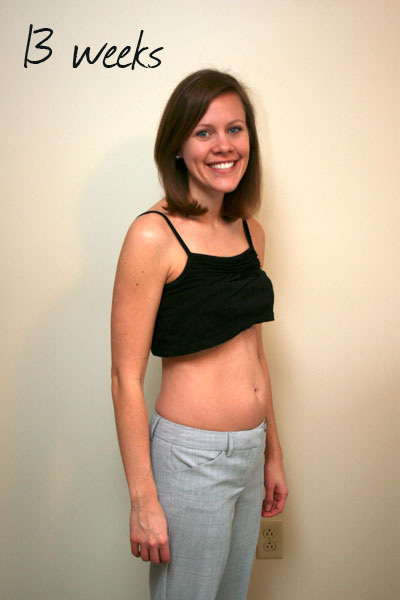 (We are now officially caught up with our pregnancy posts! Week 14 began on Saturday, so you can expect weekly updates from this point forward. Thanks to those of you who followed along last week — I told you it was going to be all about the baby!)
HER PERSPECTIVES
Best Moment: After finally sharing our big news last week, we felt completely overwhelmed by love and support this week. We've received more cards and phone calls and Facebook comments than we can count. Peanut is already such a lucky little one!
Peanut also got its first sweet little onesies, booties, bibs, hats, books, towels, and more — from the excited grandparents and our friends, Quinn and Dave. Nick can't believe how tiny the clothing is. Of course, I can't believe I'm going to grow something that big in just 6 months!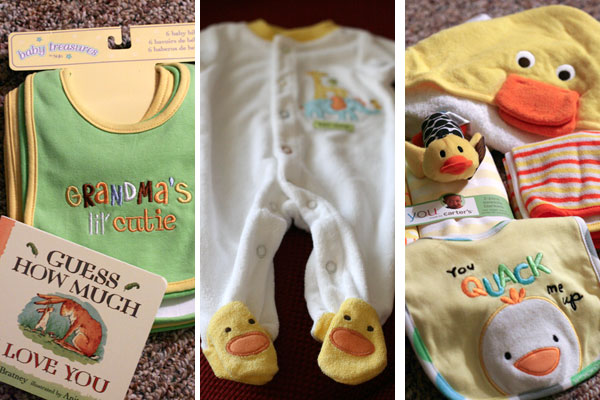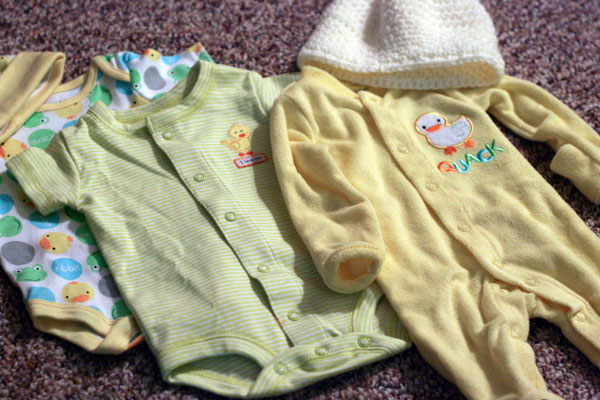 On Saturday night, we met our friends, Anna and Ryan for dinner. Anna must have been paying attention to my cravings posts because she brought the most delicious peanut butter and jelly bars for me. I had one as soon as we got into the car after dinner and another when we got home — with a tall glass of milk, of course.
Finally, my girlfriend, Mary, sent a little something for the Mama-to-be: a gift card to "expand my wardrobe with my expanding belly." And it really couldn't have come at a better time.
We really can't thank everyone enough for sharing in our excitement!
Symptoms: This is the first week I felt some minor ligament pain, specifically when I cough or stand up after sitting for awhile. I definitely think Peanut went through a growth spurt this week — just wait until you see my week 14 belly shot! I almost have a legitimate bump.
Cravings/Aversions: I was really craving a cinnamon crunch bagel with hazelnut cream cheese on Wednesday, but when I finally got to Panera that afternoon, they were sold out. So guess what we did at 8am on Saturday?
What I Miss: Both Nick and my sister have been talking about sushi lately. It's not something I typically crave, but now that I know I can't have it, of course I want it.
What I Can't Wait For: I took advantage of Gap's 30% off Friends & Family discount over the weekend and ordered a few things from there and Old Navy. I'm especially looking forward to having at least one more pair of jeans that fit.
Milestones: Fingerprints have formed. Veins and organs are visible through his or her thin skin. And Peanut is 3 inches long and weighs 1 ounce!
HIS PERSPECTIVES
Best Moment: Ditto the above. Thanks for the love, everyone.
Symptoms: I also have some ligament pain, and my legs and lower back are aching. I've started my workout regimen to become an in-shape daddy, and my first leisurely 5k run was more painful than it used to be.
Cravings/Aversions: I've weened myself off my daily Guinness with dinner, but now I'm hooked on the Appalachian Brewing Company root beer that I got for Emily.
What I Miss: A little piece of me will miss writing these blog posts every night; it's been more fun than I anticipated. But don't worry, I'll be back next week to throw in my two cents.
What I Can't Wait For: Emily to get her Gap/Old Navy order; it's all that she's been talking about the last few days.
Milestones: Thus far we've been working our way through the produce aisle, so I don't want to disappoint this week — Peanut is now the equivalent of a medium-sized persimmon! (This also happens to be my favorite fruit.) Peanut's noggin is disproportionately large, but it's just as it should be. Fun fact: the tiny pancreas is starting to produce insulin!