Since there are just two of us sitting down to dinner most nights, we often face days worth of leftovers. And, personally, I can only eat the same meal for two days before my taste buds get bored. The trick is to inject new flavors into leftovers.
Between the Pulled Pork BBQ that Nick made before the holidays and the double batch we prepared for Andrew's farewell party, we were left with quite a surplus in the freezer. Yes, we could have picked up a fresh pack of buns from the store and thawed the meat for sandwiches, but I had other plans in mind. How about using the meat for quesadillas?
This recipe is a nice spin on the traditional Mexican dish, often made with corn tortillas and several types of cheese. Originally, Nick planned to dip his quesadilla quarters into BBQ sauce, but once he tried the combination of sour cream, guacamole, and Pico de gallo, he didn't look back.
Great as an appetizer or a dinner for two.
Ingredients
1/2 lb pulled pork BBQ
1/4 cup chopped fresh cilantro
5 green onions, minced
4 (6-inch) flour tortillas
1 cup shredded fresh Cheddar cheese (or Monterrey Jack cheese)
butter
Toppings: sour cream, guacamole, Pico de gallo
Garnish: fresh cilantro sprig
Directions
Combine pork, cilantro, and green onions. Spoon pork mixture evenly on 1/2 of each tortilla, and sprinkle generously with cheese. Fold tortillas in half, pressing gently to seal. Spread butter on both sides of quesadillas.
Heat a nonstick skillet over medium heat, and cook quesadillas 2 to 3 minutes on each side, or until browned.
Cut each quesadilla in half or quarters, and serve with desired toppings and garnish.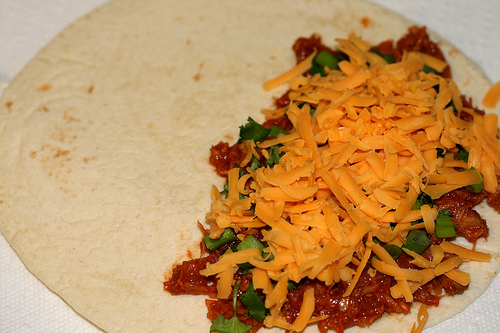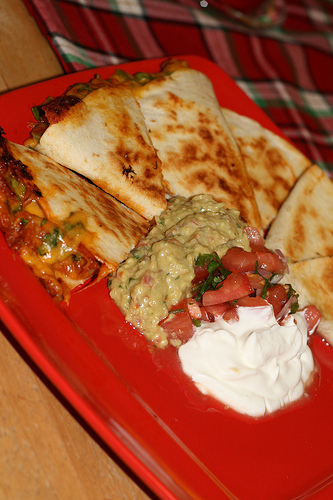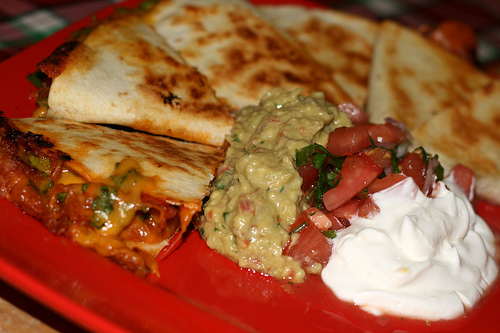 (adapted from my recipes)