Nick tracked down this family recipe and served it to his hungry wife last weekend. The recipe comes from the Lawn Fire Company Ladies Auxiliary cookbook, which was given to Nick's mother by her grandmother over 30 years ago!
According to Nick, Great Grandma Irene Eckert was a spunky lady with red hair. (She dyed it until the day she died). She loved the rollercoasters at Hershey Park and would squeal up and down the hills. Her husband, Percy, helped to bring the first fire truck to Lawn, which is located outside of Lancaster, PA.
This BBQ is as good as any you will find at your local fire hall. It would be excellent choice for an open house or picnic, as you can keep it warm in a crockpot. It also freezes well — we currently have four servings in our freezer!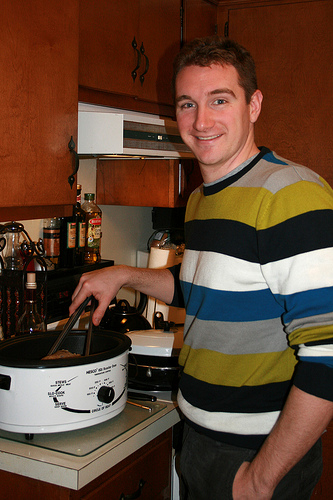 Ingredients
1-2 lbs pork, beef, or chicken
1 cup onions, chopped
1/2 cup BBQ sauce (sweet or spicy)
1 cup ketchup
1 tsp Worcestershire sauce
1 Tbsp vinegar
3 Tbsp brown sugar
1 tsp mustard
dash of salt
Directions
Cook meat. (We put our pork roast in the crockpot and let it cook on low all day.)
Sauté onion in butter. Add pulled meat and remaining ingredients. Simmer 1/2 hour.
Serve on warm bun.