My little brother moves to London tomorrow! And so, naturally, we hosted a proper farewell party for him last Saturday.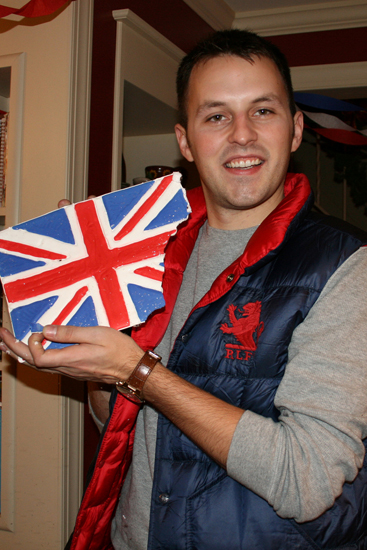 The Culinary Couple cooked a variety of American and British dishes for close to 50 guests. The local food choices were easy: Firehouse Pulled Pork BBQ and All American Meatballs. Both were made in mass quantities (I'm talking 8 lbs of pork and 160 meatballs) and required very little preparation on the day of the party.
The British dishes, however, were tricky.
I spent a semester during college in Manchester, England, and the food was not something I emailed home about. British cuisine has a reputation for being bland and boring and heavy. Think shepherds pie, bangers 'n' mash, Yorkshire pudding. And every meal in the university's cafeteria — from morning toast to evening roast — was served with beans. (No offense, mates! I did thoroughly enjoy fish and chips wrapped in newspaper and served with spicy mayonnaise, and I certainly learned to appreciate cream and sugar in my tea.)
The most memorable meals I ate in Manchester were along the "Curry Mile." The neighborhood of Rusholme was just a few blocks from my flat and was home to over 70 neon-lit takeaways and restaurants, from Indian to Pakistani to Bangladeshi. Here, my tongue first tasted naan, tandoori, tikka masala, and aloo saag.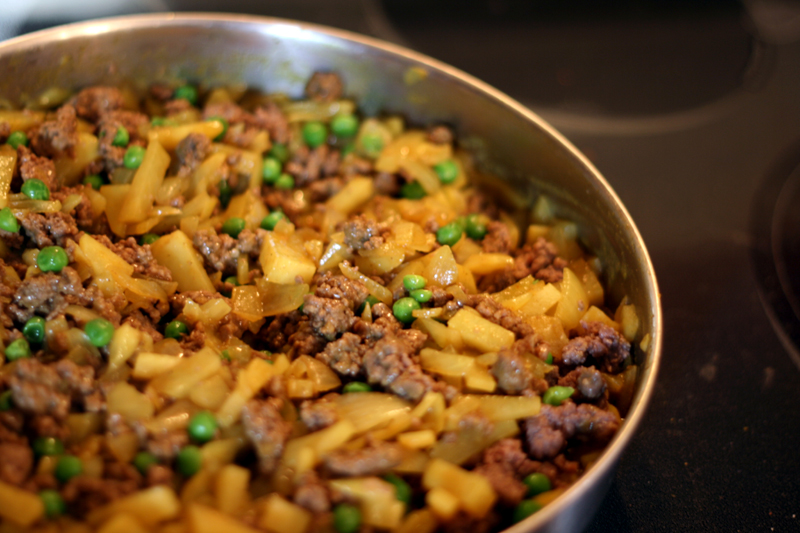 Indian food is very popular in London, too, and so I searched high and low for a dish that combined the traditional meat and potatoes with curry spices. I give you "Clerkenwell Curried Beef Pies" (named for the neighborhood where Andrew will live).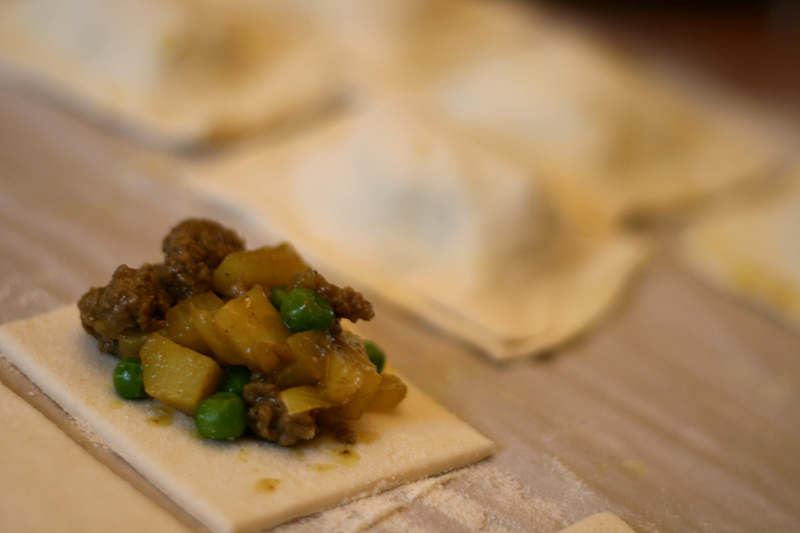 We doubled the recipe to yield 90 small pies — 90 handmade pies. (I sure do love my brother!) And, to keep our sanity, we assembled the pies, brushed them with egg wash, and covered and refrigerated them on Friday. This allowed us to bake them throughout the afternoon and evening on Saturday. They can also be prepared and frozen for up to one week.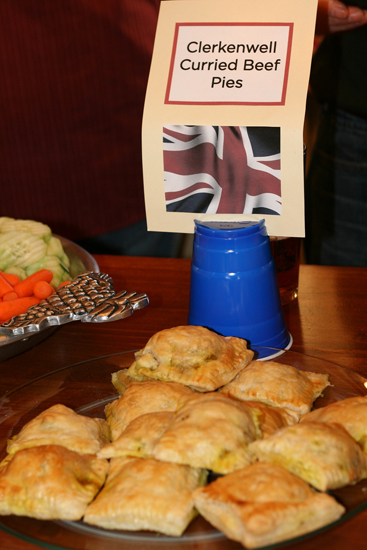 Curried Beef Pies
Makes about 40 pies.
Ingredients
1/2 lb ground beef
1 Tbsp soy sauce
1/2 tsp sugar
1/4 tsp salt
1 tsp vegetable oil
1 medium onion, chopped
1 Tbsp curry powder
1 large russet potato, peeled and cut into 1/4-inch pieces
6 Tbsp water
1/4 cup frozen peas, thawed
2 (17 1/4 oz) packages frozen puff pastry sheets, thawed
1 large egg, lightly beaten with water to make egg wash
Directions
Combine beef, soy sauce, sugar, and salt with your hands until combined well.
Heat oil in skillet over moderately high heat. Add beef, stirring occasionally and breaking into small pieces, until browned, about 4 minutes.
Drain beef in a colander set over a bowl and return beef drippings to skillet.
Heat drippings over moderately high heat until hot. Add onion and cook until softened, 3 to 5 minutes.
Add curry powder and potatoes and cook until potatoes are translucent, 3 to 5 minutes more.
Add water and cook, stirring and scraping up any brown bits from bottom of skillet, until liquid is absorbed and potatoes are tender, about 1 minute.
Return beef to skillet and stir in peas. Cool filling, stirring occasionally, about 30 minutes.
Preheat oven to 400°F. Line 2 large baking sheets with parchment paper.
Roll out one sheet of dough into a 16-inch square on a lightly floured surface with a lightly floured rolling pin. Cut 12 (4″ x 4″) squares.
Mound a heaping spoonful of beef and curry filling onto each square, leaving a narrow border around edges. Brush edges lightly with egg and cover with another square, gently stretching to cover filling completely. Press edges with tines of a fork to seal, then transfer pies to baking sheet. Repeat with remaining sheets of dough and filling.
Brush tops of pastry lightly with egg wash and bake until pies are deep golden brown and puffed, 25 to 30 minutes. Cool pies to warm, about 10 minutes, or room temperature. (You can also cover and refrigerate the unbaked pies over night or freeze them for up to one week.)
(adapted from Epicurious)