In addition to serving a creative twist on a traditional British dish at Andrew's going away party, we also wanted to serve one familiar to everyone. We considered fish 'n' chips, but settled on bangers 'n' mash. Some guests who have tasted authentic bangers 'n' mash declared this one to be much more flavorful. It's likely the addition of lots of red onions and mustard seeds.
To add even more depth to the dish, Nick expertly prepared the brats in accordance with his favorite method. Again, we doubled this recipe to yield two casseroles. One was served early in the day, and the other was reserved for later in the night. In my opinion, the second casserole was better because it had more time to meld in the refrigerator.
Cheers!
Ingredients
1 1/2 lbs potatoes, peeled and cut into 2-inch cubes
1/2 cup sour cream
2 Tbsp butter, divided
2 Tbsp mustard
1 can beer (water may be substituted)
2 cloves garlic
8 bratwursts
3 Tbsp olive oil
1 Tbsp mustard seeds
3 large red onions, sliced thin
salt and pepper
2 Tbsp flour
2 tsp granulated sugar
3 Tbsp balsamic vinegar
1 tsp thyme, dried
2 cups beef broth
3/4 cup French-fried onions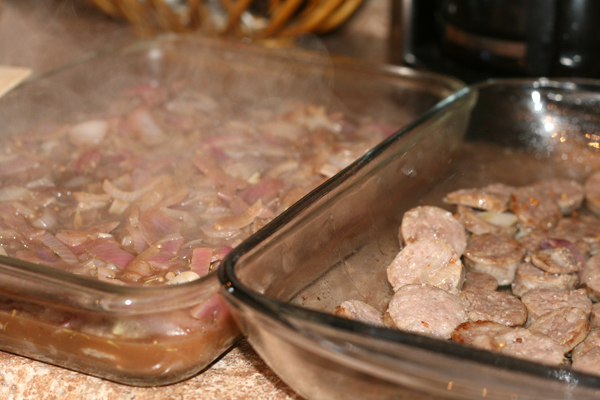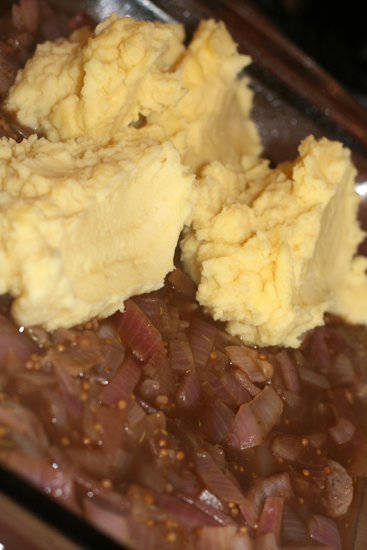 Directions
To prepare potatoes:. Cook in water until tender, about 20 minutes. Thoroughly drain. Add sour cream, butter, and mustard. Mash until smooth and creamy.
To prepare sausages: Pricking several times with a fork. In stock pot, bring garlic, beer, and about 4 cups water to a simmer over medium heat. Add the sausages and cook for 10 minutes. Removes sausages from pot and discard beer/water.
Heat oil and mustard seed in large skillet over medium heat. Add onions, sausages, salt, and pepper. Cook until onions are tender and sausages are light brown, about 5 to 6 minutes (stirring often to avoid scorching the onions).
Remove sausages, slice into bite-size pieces, and place in a casserole dish.
Add flour to pan, stirring until well combined. Stir in sugar, balsamic vinegar, and thyme. Cook for 2 minutes. Pour in beef broth, bring to boil, and cook for 5 to 10 minutes until gravy thickens.
Pour onion gravy over sausages, top casserole with mashed potatoes, and sprinkle French-fried onions on the top.
Just before serving, bake uncovered at 350 degrees for about 25 minutes until top is golden brown.
(I apologize that there's no photo of the finished product. It didn't look like much, really, but it sure did taste good!)
(adapted from Recipeezar)