I'm resurrecting Favorite Finds with a special installment. Like any young married couple preparing to move (in 11 days!) into their first shared home, Nick and I have both taken to stalking the interwebs for ideas and items to fill our new place. Here are a few things we bookmarked over the weekend.
Organico bed linens for the master bedroom (from Crate and Barrel):
Months ago, before we created our wedding registry, we came across a beautiful organic duvet cover at Crate and Barrel. It was khaki colored with hints of sage and chocolate. It was delicate enough for me and subtle enough for Nick. (Anybody else notice how hard it is to find a bed spread with both feminine and masculine qualities?) Unfortunately, the cover was discontinued and nothing else we found compared to it. Until last weekend when I browsed the C and B in Towson and came across this beauty. In addition to the duvet cover, we also want to get the matching blanket. The textures are fantastic (hard to see in the photos), and we plan to add decorative pillows with punches of color.
Apothecary jars for the master bathroom (from The Container Store):
I still adore these jars from C and B, but this set from The Container Store is more affordable. It will be nice to have enough counter space (double sinks, yes!) to organize and display all of my necessities: cotton balls, Clinique face wash, Japanese Cherry Blossom body lotion, etc.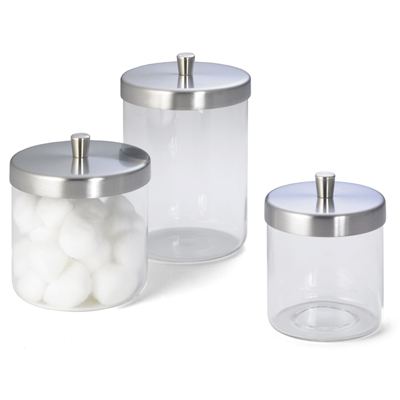 Inspiration for the bookshelf Nick plans to build (from Overstock):
Two years ago, Nick sketched a bookshelf based on this one from Target, complete with measurements and a list of building materials. Finally, we'll have enough space to display it. Plus, we found a version we like even more. It's simple and symmetrical. And, not to worry, we'll find more charming items to arrange on the shelves — a wooden duck to remind us of Nick's farmhouse in Hershey, a souvenir from the Pennsylvania Grand Canyon where Nick took me before he proposed, a Mayan artifact from our Mexican honeymoon, and more.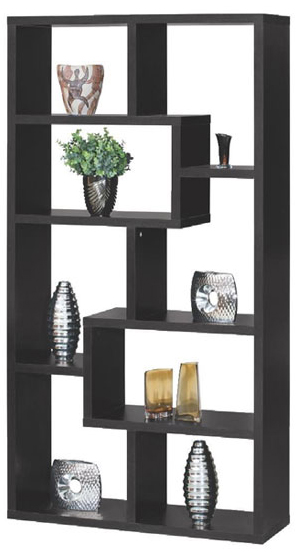 Inspiration for our future dining room table chairs (from Amazon):
When I moved into our current apartment three years ago, I bought a table and four chairs for $75 at a yard sale. The set has served me well, but it's in need of a makeover. Fortunately, Nick brings into the marriage a solid dining room table from Pottery Barn. He left the chairs with a previous roommate — fine by me because they were quite mod — which gives us the opportunity to spruce up the solid Windsor chairs from my old set. We'll stain the seats cherry to match the table and paint the remainders black. Eventually, we'll need to get two more chairs, possibly with colorful slipcovers.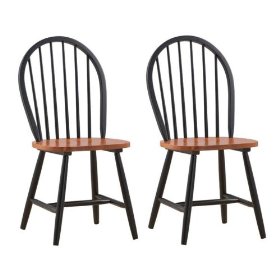 Linen Closet Love (from Apartment Therapy):
I'll have a real true linen closet for the first time in my adult life — two to be exact! Luckily, Nick and I both have stockpiles of wicker baskets, which will keep our belongings neat and orderly. And our bath towels — in green tea and chamomile — will look lovely stacked on the shelves.
Instant Mudroom (from Young House Love):
There is a small section of empty wall space between our front door, our garage door, and the entrance to our kitchen. Although there is a closet for coats, I think Nick is more likely to hang his from a convenient hook rather than change direction, open a closet door, and pull out a hanger. I'm just sayin', I know my husband. Plus, I can use my scarves and purses as decorative elements. An Ottoman that doubles as a storage chest may be in order, too.
Where do you go for home inspiration?