Every little girl dreams of the perfect wedding day. And the perfect marriage proposal. Last weekend Nick made one of those dreams come true. And the other isn't far behind.
He arrived in State College late Friday night — with surprises. He brought ingredients for breakfast, a box of brownie mix, and "Love Actually." We curled up on the couch while the sweet smell of chocolate filled the apartment.
On Saturday, after breakfast and coffee from matching mugs (and more surprises — a pumpkin spice candle and our scrapbook), we headed to Penn's Cave. It was a gorgeous day to see America's only all water cavern. We laughed at the tour guide's imaginative descriptions of the stalactites and stalagmites. There was the Statue of Liberty, an organ, and of course the Nittany Lion.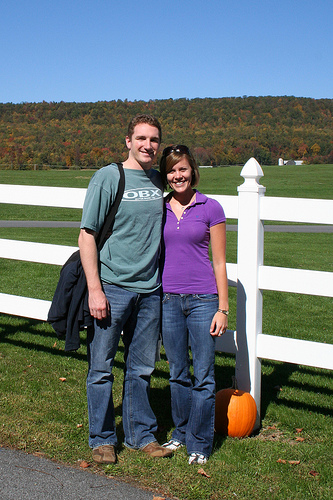 Afterwards we enjoyed brisket and brews at Elk Creek Cafe in nearby Millheim. And we browsed the antique shop across the street before heading to Wegman's to pick up ingredients for dinner. We selected packages of salmon on cedar planks with a brown sugar spice rub. We also chose mushrooms, zucchini, and eggplant, along with a a box of brown rice with roasted garlic and pecans.
When we got home Nick sneaked out to to his car yet again for more surprises. (I teased him about his "trunk full of tricks.") He told me to close my eyes and hold out my hands. In them he put a bottle of white wine and a bottle of red wine. He also brought "The Best of Pavarotti" CD and speakers for my laptop. We poured glasses of red wine, turned on the music, and started to cook.
I followed Nick outside to fire up the grill. After a few minutes, I decided to check on the veggies roasting inside, which is when I realized I had grabbed the wrong set of keys! (Not part of Nick's plan, but unique to us nonetheless.) I panicked! But Nick kept his cool. (Just one of the many reasons I love him.) "I'll just lift you onto the roof," he said. And so I climbed onto the railing, then into his hands, and sprung onto the roof. I had to make a small slit in the screen so I could push open the window. By that point we were both laughing, and Nick grabbed the camera to capture the moment.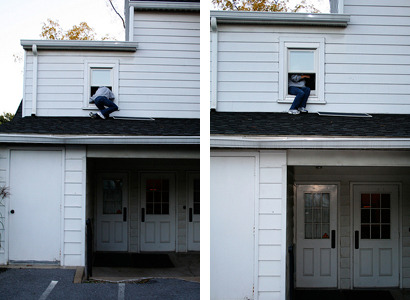 Post break-in we chugged the rest of our wine and enjoyed the smoky, woody, honey, wonderful scent of salmon. And it tasted even more amazing! It's definitely a repeat dish. The night was capped off with another Penn State win!

We went to Panera on Sunday morning, then headed north to the Pennsylvania Grand Canyon. The drive across 287 was just beautiful! Nick couldn't have picked a more perfect autumn day — my most favorite time of year. The reds and golds and greens were spectacular. The park, however, was very crowded. Not to mention the Harley convention that was in town. Nevertheless we parked and hiked into the Canyon. At the bottom we enjoyed our picnic lunch of ham sandwiches, raspberries, and brownies.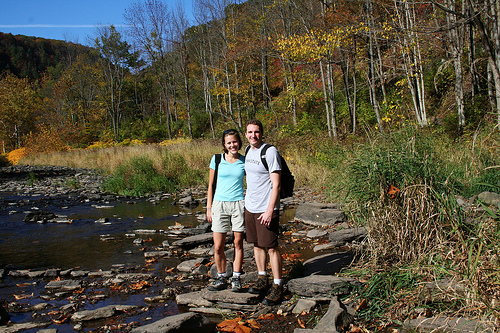 Little did I know the ring was in the backpack the entire afternoon! But Nick decided the park was too crowded and the setting not quite private enough for the perfect proposal. So we headed back to State College and got ready for dinner.
We returned to Otto's — the place where it all began, the site of our very lengthy first date. And Nick did actually say "I'm excited to return to the place where it all began." This is the only point during the weekend that I was slightly suspicious. I mean, we'd been to Otto's at least 20 times, and he'd never once said something so sentimental. But nothing out of ordinary happened while we enjoyed our favorite beers and mango habanero wings.
We returned to the apartment around 10 p.m., and while I was in the bathroom, I heard commotion coming from the living room. I walked out and into a candlelit room. Nick took my hands and told me he had one more surprise. My heart was racing! And after a few affectionate and genuine words, he told me to close my eyes. I heard him lower to one knee, and the tears started to fall. When I opened my eyes he said, "Emily Jean, I want to spend a lifetime of perfect days with you. Will you marry me?" He slid the ring onto my finger as I nodded my head vigorously and dropped to the ground to join him. We hugged and kissed before I realized I hadn't yet said "YES" out loud. And he pointed out I hadn't even looked at the ring.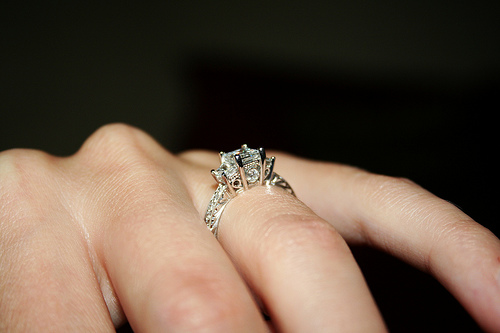 Oh the ring. It's stunning. And there's a story. A few months ago Nick casually invited me to a quaint jewelry store in Lancaster. He wanted my opinion on rings. The saleswoman showed us several trays of beautiful bands. First I was drawn to a simple and classic platinum band with a trellis setting.
But then the second tray arrived with hand engraved bands. They were elegant and exquisite and unique. And then she placed a princess cut diamond into the setting, and I put it on my finger, and I was speechless.
That was May, and it was now October. And I was staring at the same radiant ring. Then Nick revealed to me that he had gone to that same Lancaster shop twice before he took me. And both times he was drawn to this ring. He only took me to find out if it also stood out to me. It was obviously meant to be!
I am head over heals in love with the man of my dreams. And he couldn't have planned a more personal and perfect proposal. I can't wait for what comes next!