Nick got down on one knee, and Emily said YES!
He proposed on Sunday, Oct. 12 after a perfect weekend full of surprises and adventures. Of course, food was also involved. We are the culinary couple, after all!
On Saturday morning we enjoyed eggs and bacon and coffee from matching mugs. That afternoon, after a trip to Penn's Cave, we indulged in brisket and brews at Elk Creek Cafe in Millheim, PA.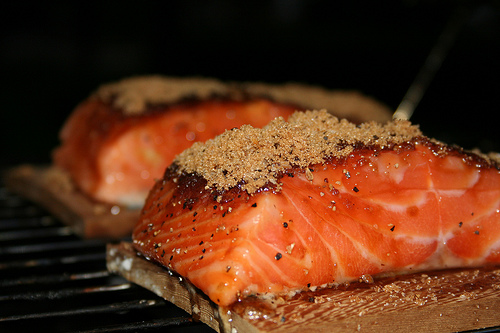 Saturday night we made a fantastic meal with ingredients from Wegman's. We grilled cedar plank salmon with maple glaze, which was served alongside roasted vegetables and rice with roasted garlic and pecans. Nick also surprised Emily with a bottle of fancy red wine.
On Sunday, after chai teas and cinnamon crunch bagels at Panera, we drove two hours north to the Pennsylvania Grand Canyon. It was a fantastic fall day! We hiked into the Canyon and enjoyed a picnic lunch of ham sandwiches, raspberries, and brownies. (Little did Emily know Nick was carrying the ring in his backpack! However he felt it was too crowded for the perfect proposal.)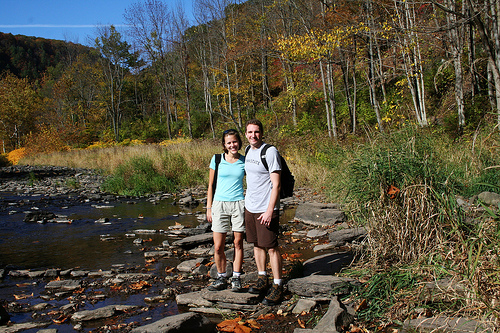 After our hike, we showered and returned to the site of our very first date — Otto's Pub and Brewery. We enjoyed our favorite beers (ale for Emily and stout for Nick) and mango habanero wings. We also shared a salad with maple balsamic dressing and a crab cake sandwich.
Following dinner and a short walk, we returned to Emily's apartment. This is when it happened! Nick lit candles and said words that brought tears to Emily's eyes. It couldn't have been more personal and more perfect.
We look forward to a lifetime of happiness (and culinary adventures) together!