(Due to the demise of yet another external hard drive, wedding video posts are on hold. But, onward we go! And, yes, I'm making it my mission to finish these recaps — and tell you all about our honeymoon, too — before Christmas.)
Nick and I both ranked food high on our list of priorities when planning our wedding. We envisioned a variety of meats grilled on site, a buffet of hot and cold sides, our favorite summertime salad with fruit and a honey vinaigrette. And our caterer, Ed from The Festive Board in York, was equally enthusiastic about our menu. He even offered to make bratwursts, weisswursts, rotkohl, and saurkraut just for the groom.
I give you our festive menu:
European cheese spread with fresh bread, fruits, dips, and mustards
Spinach salad with strawberries, blueberries, and sesame seeds in a light honey vinaigrette
Pit-style pork and beef
BBQ chicken
German sausages
Saurkraut and rotkohl
Broccoli almondine
Garlic grilled corn
Roasted red potatoes
Crab macaroni and cheese (one of Ed's specialties and almost everyone's favorite dish)
The cheese spread was served during the cocktail hour while Nick and I were taking photos. We also offered two signature drinks: Arnold Palmers and Peach Sangria. The Arnold Palmer is a blend of iced tea, lemonade, and vodka. And we mixed the Sangria the morning before the wedding. (Get the recipe from The Culinary Couple.)
We also had on hand lots of red and white wine and three kegs of microbrews from Otto's. The beer list was displayed on chalkboard signs:
Wedding Wheat (a light American wheat ale with the delicate aroma and flavor of apricot)
Bride's Ale (an American red ale, very malty and crisp)
Groom's Lager (a light refreshing American lager with a malty smooth character and low hop bitterness)
Iced tea, lemonade, water, and a selection of sodas were offered, as well.
After we were introduced as Mr. and Mrs. Wiley and we shared our first dance as husband and wife, dinner was served.
The tables were pre-set with spinach salads, and the meats and sides were served buffet-style.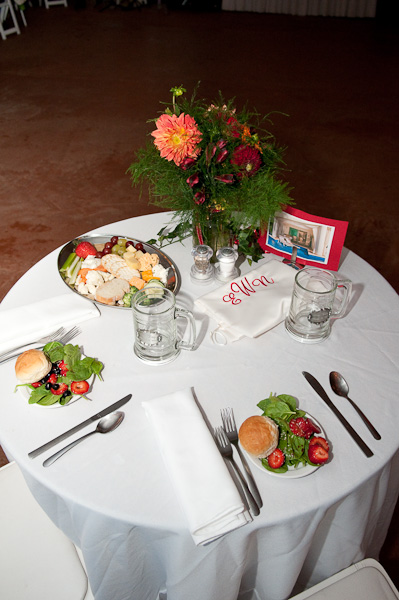 The staff from The Festive Board is so fantastic that they grilled in the rain — with towels draped over their heads.
Nick and I sat at our own sweetheart table and enjoyed visitors between bites. Everyone raved about the microbrews and crab macaroni and cheese.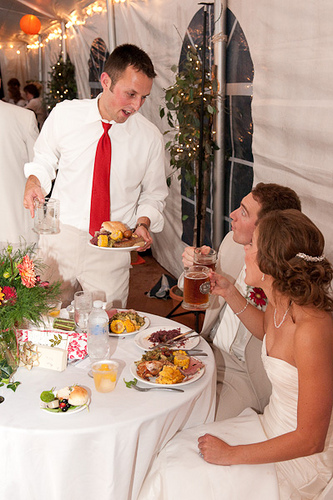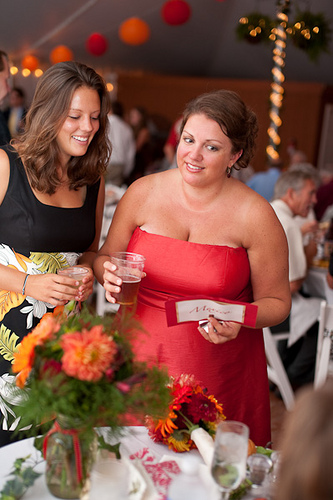 My oldest cousin, Scott, brought us beers.
And my youngest cousin, Sara, gave me a handmade necklace and a pair of earrings — to wear on the honeymoon, she said.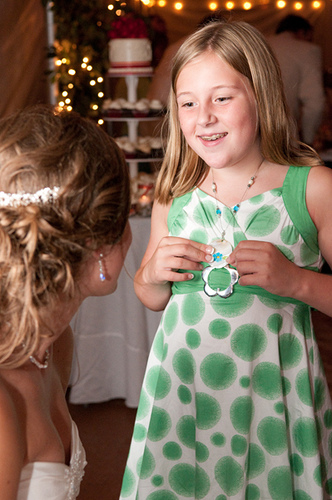 Oh, there were lots of kisses, too. Because that's what happens at a sweetheart table.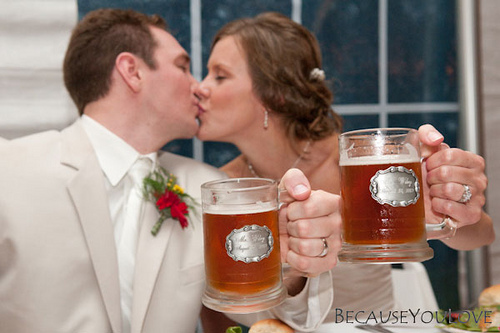 True love is smiles that cause your eyes to crinkle like this …
… and words that cause your lips to quiver like this.
{photos credit to Robert Winton}