I had high hopes of cooking gourmet meals as a married couple and savoring the bites together at our cozy kitchen table. In reality, we have limited counter space and small appliances, our new stock pot and skillets are still in storage at my parents' house, and our kitchen table is often covered with mail and magazines.
And so while we anxiously await a more spacious kitchen (and a dish washer), we turn to quick and healthy pasta dishes during the week.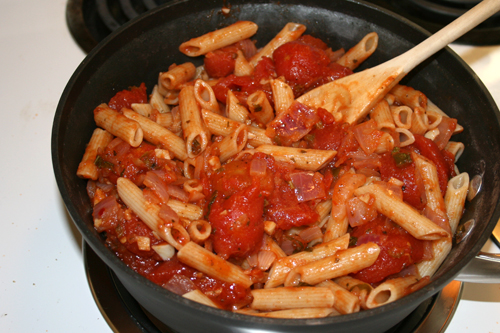 Ingredients
EVOO
1 small sweet onion, chopped
3 cloves of garlic, crushed
fresh basil
dried oregano
crushed red pepper
2 cans of stewed tomatoes
pasta of your choice, cooked according to box directions
Parmesan cheese
Directions
Simmer onion and garlic in EVOO over medium heat.
Add tomatoes and herbs. Simmer for at least 20 minutes (the longer, the better!).
Toss with your favorite pasta and sprinkle with Parmesan cheese.
Check back later this week for two more easy and flavorful pasta dinners!