Looking for a simple and savory dinner recipe on this chilly Monday? Try this spin on our favorite pasta. Nick tossed it together last week (because he knows how much I love shrimp and mushrooms), and we paired it with a local red wine and toasted garlic bread.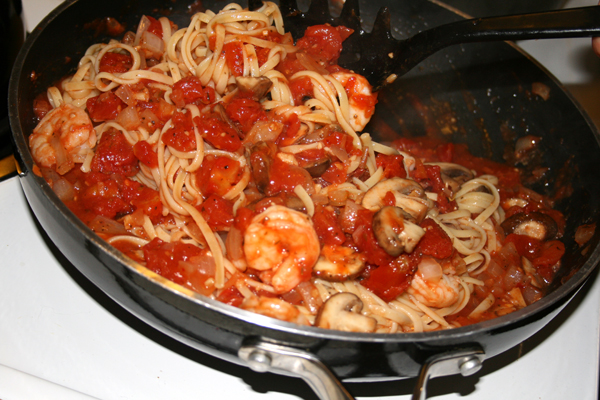 Ingredients
linguine (or any pasta of your choice), cooked according to box directions
3 cloves garlic, crushed
1 small onion, chopped
EVOO
sliced fresh mushrooms
2 cans diced tomatoes
3 Tbsp tomato paste
2 Tbsp fresh basil
1 tsp oregano
1 tsp sugar
crushed red pepper flakes to taste
frozen shrimp
Directions
In a large skillet, saute garlic and onion in EVOO over medium heat.
Add mushrooms, tomatoes, tomato paste, and spices. Bring to a boil and reduce heat to low. Simmer at least 20 minutes.
Add the shrimp and cook, uncovered, for 4-6 minutes or until heated through.
Toss with cooked pasta.