What's the perfect meal to accompany tree trimming and to serve as the test subject of a new 50mm f/1.8 camera lens? Beef minestrone soup, of course.
Smell the savory scent of stewed beef and vegetables while hanging ornaments and sipping White Russians. And snap photos of a colorful ladle of steaming goodness. Then enjoy spoonfuls by the side of a loved one in the glow of your Christmas tree.
(Note: Several ingredients are Wegmans brand, and so I included substitutions if you don't have a store near you. Also, you can prepare this soup in a slow cooker rather than a French oven. Increase the cooking time to 4.5-6 hours on high, or 8-10 hours on low.)
Ingredients
1 pkg (about 1.5 lbs) boneless beef chuck roast, cut into 1-inch cubes
pan searing flour (substitute: Wondra flour)
2 Tbsp EVOO
1 pkg (16 oz) cleaned and cut Minestrone soup vegetables (substitute: potatoes, zucchini, leeks, carrots, celery, onions, and cabbage)
salt and pepper
1 carton (32 oz) beef stock (substitute: broth)
1 can (14.5 oz) Italian-style diced tomatoes
1 pkg (24 oz) seasoned tomato sauce (substitute: 2 cans tomato sauce plus Italian seasonings)
1/2 cup dry Ditalini soup pasta
1 can (15.5 oz) Garbanzo beans, drained and rinsed
1 pkg (6 oz) baby spinach
Directions
Dust beef with pan searing flour, pat off excess.
Heat EVOO in a French oven over medium-high heat. Add beef and sear 10 minutes, or until meat is light brown.
Remove beef from French oven, leaving drippings. Add vegetables, season with salt and pepper. Cook 3 minutes.
Add beef to vegetables. Add stock, tomatoes, and sauce. Cover, cook 1 hour.
Add dry pasta and beans, cook 30 minutes
Add spinach, stir to blend. Cook 5 minutes.
Serve with crusty, garlicky bread, and enjoy by the light of your Christmas tree.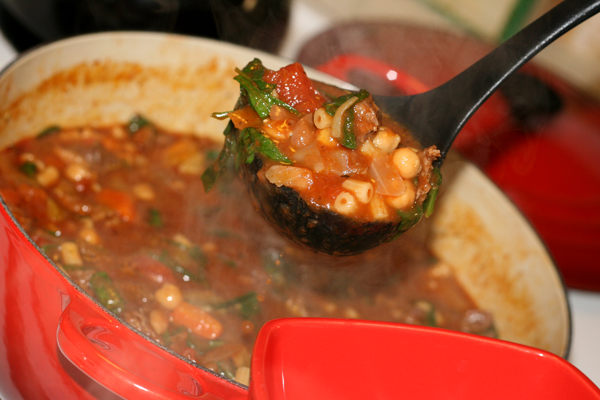 (adapted from Wegmans magazine)