As I've mentioned before, we have a fondness for German traditions. And so every year on December 6th, Nick receives gifts from St. Nikolaus.
In Germany, children place their boots outside of their front door on the eve of December 5th. St. Nikolaus then fills the boots of the good little boys and girls with gifts and sweets. It's no surprise that Nick used to choose his biggest boots for St. Nikolaus to fill. However, he makes out even better at age 27. Now St. Nikolaus fills a flat rate box with Nick's favorite treats and ships it from California to our doorstep.
This year Nick received Gummibärs (did you know gummy bears originated in Germany?), Hershey's kisses, holiday books, and St. Nikolaus ornaments.
And those ornaments came in handy! Because last weekend we also cut down our Christmas tree.
After a quick trip east to pick up our new camera lenses (more about that to come!), we drove back to State College and into a wintry wonderland.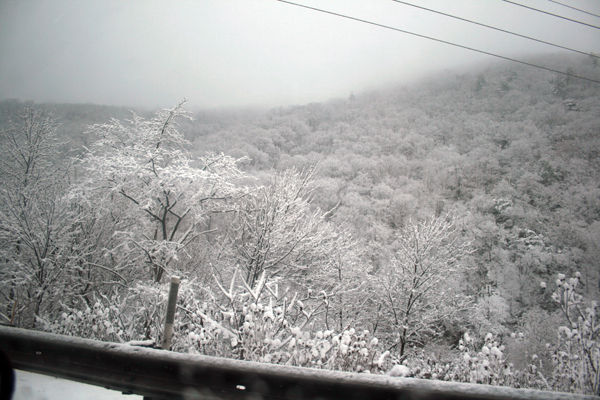 Of course we had to take advantage of the scenery and pay a visit to the Christmas tree farm! This is our second year searching the family-owned farm for the perfect fir for our home. We boarded the wagon of the tractor and were driven to the Frasers and Canaans.
We grabbed a saw from the back of the wagon and set off. There were so many to choose from! And they all looked absolutely beautiful with fresh snow on their branches.
After at least 20 minutes of wandering through the rows, I announced that my toes and nose were getting cold (yes, I'm a wimp went it comes to sub 30 degrees temps). And so we went back to one of our original picks, and Nick got to work. (I proved to be unsuccessful at sawing in 2007.)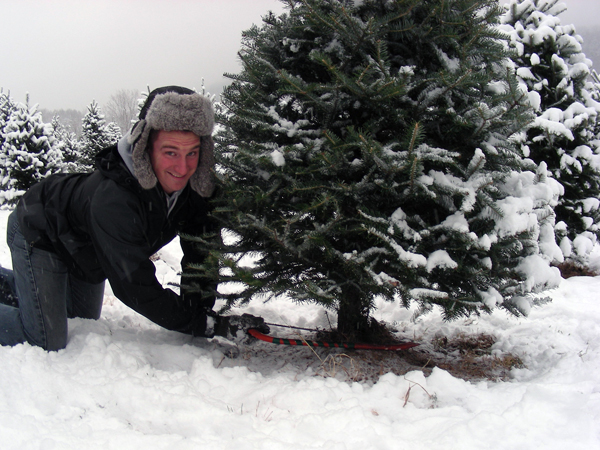 It toppled to the ground in no time.
It fit nice and snug in the Civic, and we transported it to its new home on Locust Lane. The sun had started to set by that time, and so we prepped the perfect meal to accompany tree trimming: beef minestrone soup. While it simmered we ate veggies and drank White Russians — and tested out that new 50mm f/1.8 camera lens.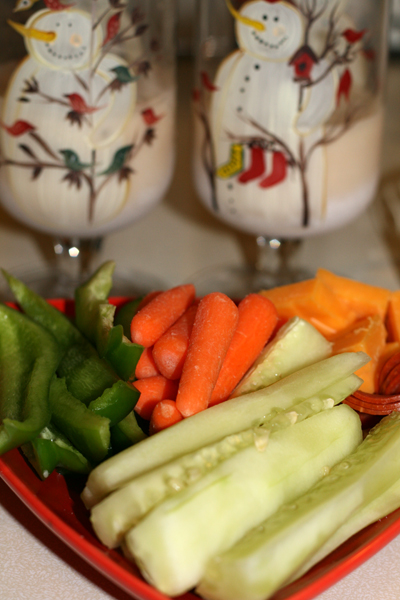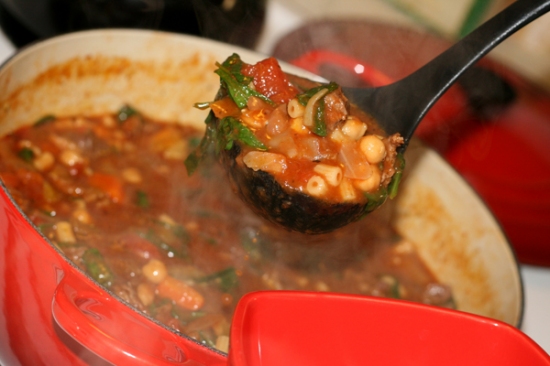 It was the perfect way to spend a December weekend — just the two of us with our Le Creuset, Kahluha, new gadgets, and our Christmas tree. Stay tuned for pictures of that trimmed tannenbaum!
What are your favorite pre-holiday festivities?