It seemed appropriate to serve a refreshing cocktail to our wedding guests on August 28th. We were assuming, of course, that it would be hot and humid, as is typical of summertime in central Pennsylvania. Mother Nature threw us a curve ball, though, and we celebrated our matrimony on a cloudy, cool, rainy day. Of course, that didn't stop our guests from consuming every last drop of Peach Sangria and crowding the dance floor until the DJ packed up the speakers.
Oh, and being the DIY advocates we are, we mixed the Sangria ourselves the day before the wedding. It really was easy, and our caterer was kind enough to transport it to the venue and serve it from large glass infusion jars.
You can substitute the peach flavored vodka and peaches for any sweet liqueur and fruit of your choice.
Ingredients
2 boxes of dry white wine
1 bottle of peach flavored vodka
2 cups white sugar
10 peaches, peeled and sliced
Directions
Mix together all ingredients and let sit for at least 24 hours.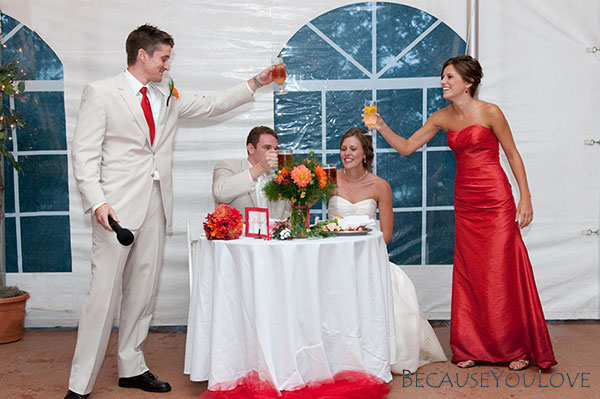 (photo credit to Robert Winton)