The Nittany Lions may have lost to the Buckeyes last Saturday, but we won in the Big House a few weeks ago.
Of course we had to coordinate our first visit to Ann Arbor with a college football game. Nick's brother, BJ, recently moved from Alabama to Michigan to pursue his MBA. Wife Megan, sons Sean and Jackson, and dogs Bailey and Shelby made the move, as well. I think they're the only Northerners who own a sweet tea maker! And the boys are counting down the days until their first snowfall.
Before the game, BJ and Megan introduced us to Zingerman's. The line may have wrapped down the sidewalk and around the building, but we sure didn't go hungry while waiting. (Read more about our culinary experience.)
We enjoyed our monstrous deli sandwiches under a heated tent, and Jackson entertained us with cheers: "Kick It … High!" "Go Blue" To which Nick and I added "And White!"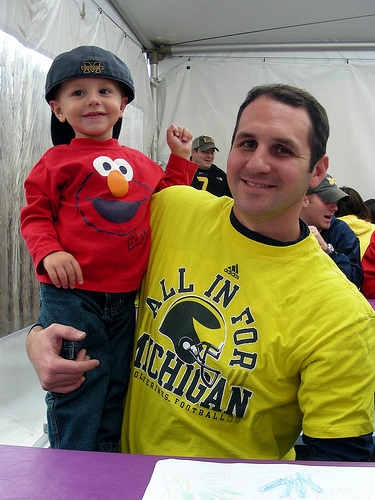 After lunch we headed to "The Bus" to tailgate with the MBA students. Everyone was surprisingly welcoming of two Penn Staters in Wolverine territory. While The Bus — painted blue and maize with speakers on the rooftop — was pretty sweet, the tailgating scene at UM just doesn't compare to the one at PSU. Where are the grassy fields of RVs? Where are the fried turkeys and brats? Where is the cow bell?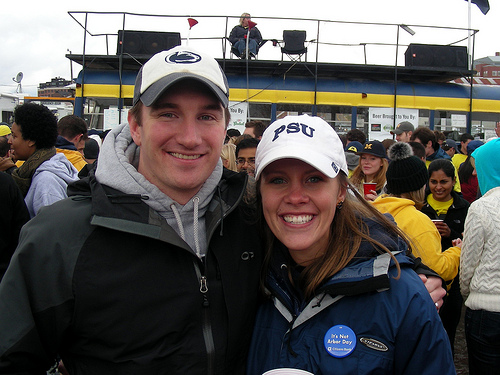 Again, maybe I'm biased, but think Beaver Stadium is way cooler than the Big House. The Big House isn't nearly as impressive in stature or noise. Rather, it's shaped like a wide-mouthed bowl, and the sound just doesn't stay contained. Oh, and our White Out beats their Maize Out. (Do I sound like a conceited alum yet?)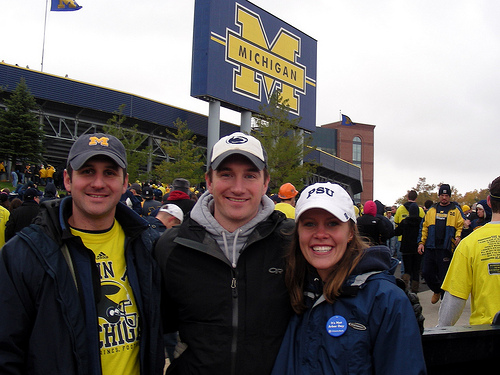 Our seats were located at the very brim of the "bowl," but we were surrounded by blue and white. We could clearly hear the Blue Band and the "We Are … Penn State" cheers.
We joined BJ in the student section for the second quarter, but we quickly returned to the comfort of our own fans.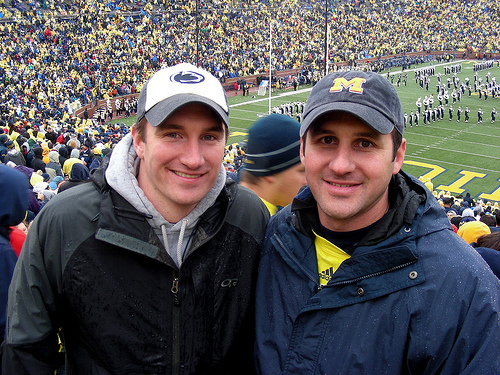 Despite the drizzle that turned to rain and the rapidly decreasing temperatures, we had a blast. It probably helped that we walked out victorious!
Thanks, BJ, for inviting us to the Big House. You're welcome to Happy Valley anytime.