During our trip to Ann Arbor, BJ and Megan introduced us to Zingerman's. With a deli, a bakehouse, a roadhouse, a creamery, specialty coffee, and catering, the place is a powerhouse. But rather than opening hundreds of shops across the country — or even throughout Michigan — Zingerman's chose to focus only on the Ann Arbor market. This decision has allowed them to develop into a reputable — and profitable — institution.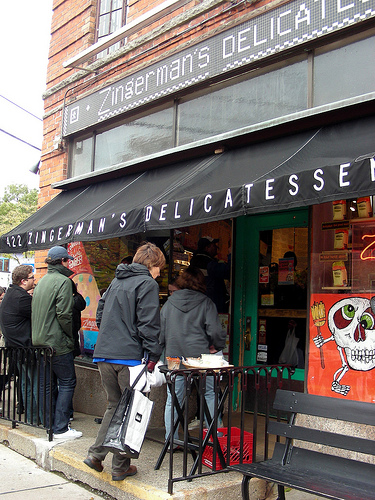 At the Deli, they carry a gourmet selection of meats, cheeses, oils, teas, breads, and more with an approachable attitude. Want to sample the wild boar salami or the Kalamata olives or the chocolate cherry bread? No problem! And you'll get the history of each bite, too, if you're into that — which of course we are.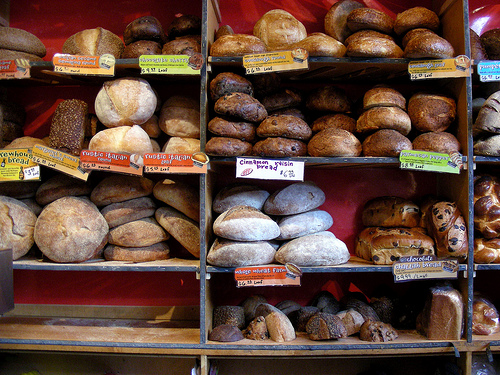 On the particular football Saturday when we visited the deli, the line formed out the door, down the sidewalk, and around the building. But we didn't go hungry while waiting to place our orders. Expert employees carried trays of samples out the door, down the sidewalk, and around the building. We tasted scallion walnut farm bread, Camembert cheese, and duck leg confit. And once inside, we learned about coffee beans from Kenya and fig vinegar from Italy.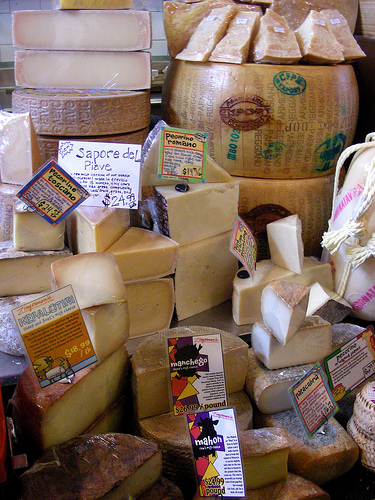 The shop was filled with friendly conversation between staff members and patrons and awesome aromas of cured meats, pungent cheeses, and sour breads. We could have meandered around the tiny space with tall ceilings for hours. But, alas, it was our turn to order.
Nick and BJ chose the famous corned beef Reuben with Switzerland Swiss cheese, sauerkraut, and Russian dressing on grilled, hand-sliced Jewish rye bread. I got an Amish chicken breast with Ligurian pesto, oven-dried tomatoes, and fresh handmade mozzarella on grilled rustic Italian bread. Megan ordered chicken salad with organic sunflower sprouts on lightly toasted pecan raisin bread for herself and grilled cheese and a hot dog for the boys. We all shared a huge helping of macaroni and cheese made with Vermont cheddar, real cream, Dijon mustard, and fresh garlic.
Oh, we are counting down the days until we visit Zingerman's again in December. And I don't care if there's snow on the ground, I am ordering a cinnamon and paw paw gelato from the Creamery.