HER PERSPECTIVE
Best Moment: So many memorable moments this week! First, we gathered in Michigan with the Wileys to celebrate a graduation, two birthdays, and a wedding, too.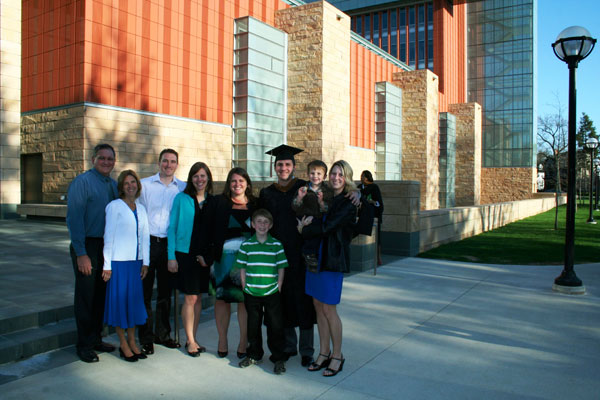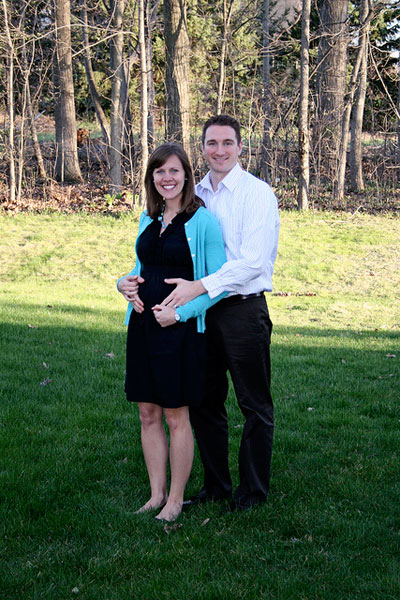 We also found time during our trip to visit buybuy Baby. OMG. And we thought Babies"R"Us was overwhelming! Sister-in-law Megan recommended some of her favorite products and gadgets — from  a bumbo to a wipe warmer to magnetic cabinet locks. And I think I may have also found the perfect glider for the nursery. We (surprisingly) left the store empty-handed, but we do have lots of ideas for our registry. It's actually a good thing we didn't purchase anything, though, because BJ and Megan sent us home with plenty of hand-me-downs! Thank you both for the Baby Bjorn, the travel swing, the breast pump, the books, and more. We (and Peanut) really appreciate your generosity!
Finally — and perhaps the best moment of the week — our second trimester ultrasound!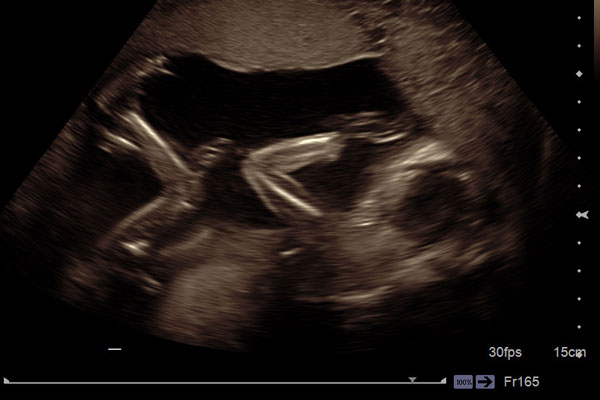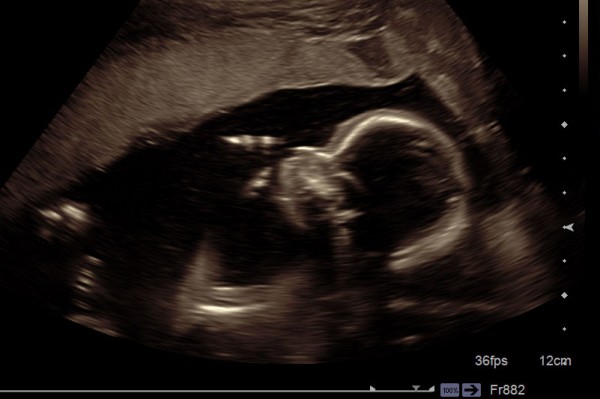 I think Peanut was doing acrobatics in there! And the technician had to turn the screen away from us several times to ensure that we didn't catch a glimpse of the boy/girl parts. But I'm happy to report that Peanut cooperated and kept the secret from us! And by the end of the appointment, he/she had settled in and was content with that sweet little thumb.
Symptoms: 20 weeks down and 10 pounds up! Really, the weight gain doesn't bother me, though this is the most I've ever weighed. And to think I still have 20ish pounds to go! But I'm willing to do whatever it takes to ensure a strong and healthy Peanut.
Aside from my expanding waistline and the slow disappearance of my hip bones, I've felt great this week — even after 13 hours in the car to and from Michigan. Though after two vacation days and one telecommuting day, I forgot how much my back can ache after sitting at my desk for eight hours. I think it's time to invest in a foot stool or an exercise ball. Other suggestions?
Cravings/Aversions: Megan fed us so well in Michigan. My favorites were the hash brown breakfast casserole with bacon and cheese, the guacamole, and the strawberry pretzel salad.
What I Miss: I know it's not yet swimsuit season here in Pennsylvania, but I suspect I'll miss my bikinis this summer. Which reminds me, I need to invest in a maternity suit. Recommendations?
What I Can't Wait For: Still waiting to feel kicks and punches from the outside. Come on, Peanut, I know you want to stretch out those long arms and legs!
Milestones: Peanut is up to 10 ounces this week and was right on target at our ultrasound appointment. This week, he/she is measured from head to toe instead of head to rump, and so baby is about 10 inches, or the length of a banana.
HIS PERSPECTIVE
Best Moment: Our nephew, Jackson, earned his 20th potty training sticker while we were visiting. The look on his face when he had FINALLY earned a trip to Chuck E. Cheese's was priceless.
Symptoms: Exhaustion. Four days with our nephews completely wiped me out. Imagine being stuck in room with a kangaroo and a spider monkey on a sugar high for 16 hours straight — that's what it was like. Do I get to ease into this parenting role? Or will I be jumping in head first?
Cravings/Aversions: Zingerman's deli in Ann Arbor.

What I Miss: It would have been great to get a 4D picture of Peanut, but he/she wasn't positioned right for it. That's alright, though, all I'm asking for is a happy, healthy baby.
What I Can't Wait For: Is it too soon to say I can't wait for this baby to arrive?
Milestones: We're at the halfway point! From the look of the ultrasound, it appears as though the arms and legs have finally caught up to that over-sized baby bobble head, and he/she is actually looking rather human.