After our introduction, we headed straight onto the dance floor, I handed off my bouquet to my sister, and DJ Wild Bill queued our song: "You Are The Best Thing," by Ray LaMontagne.
Nick and I had spent four Saturday mornings with Kevin from Dance Harmony learning the East Coast Swing to accompany the folksy, bluesy style of Ray LaMontagne.
The first time we joined in the middle of the studio's dance floor, I couldn't help but take the lead. I reminded Nick of the footwork while we were moving and counted down the first turn. But when we met in front of 150 of our family members and friends on August 28th, he held my hand with a firm grip and effortlessly guided me through the rock steps and spins.
We hit every beat of our first dance together as husband and wife, and I love that we sang the words to each other.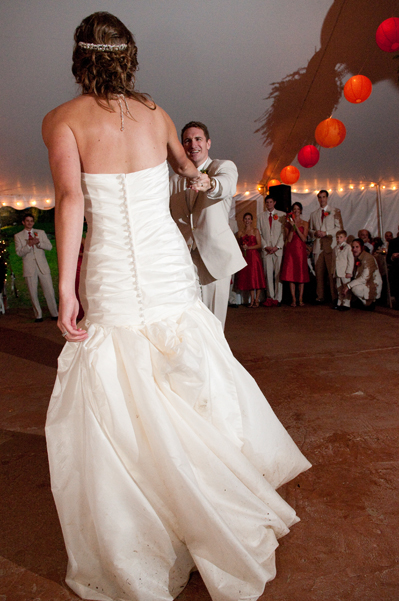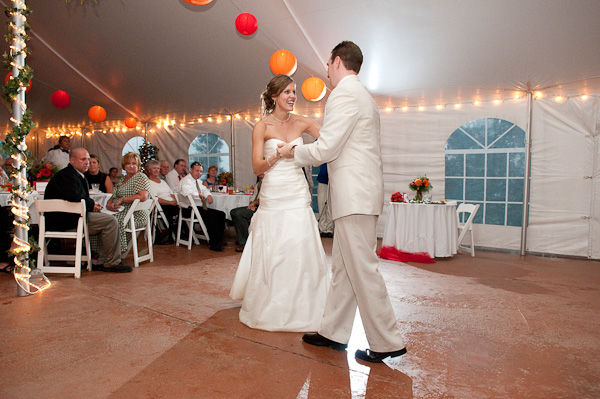 You'll notice that the sides of tent were down due to the weather, and it only got worse. I'm not kidding when I tell you that there was major flooding in central Pennsylvania that night. But nobody complained when the rain started to seep under the tent. We were dry and cozy and surrounded by absolute love.
Next: Watch us in action!
{photos credit to Robert Winton}