Two weeks ago, during our last weekend in New Jersey and before becoming domestic partners in Pennsylvania, we dined at Zum Schneider in Manhattan. Nick had received the recommendation from a German friend who claimed it was the most authentic Bavarian Biergarten in the city. And that it was.
The restaurant is located on a modest corner in the East Village. Inside it's dimly lit with a blue and white striped ceiling, rustic wooden tables, and long benches — our own little slice of Bavaria.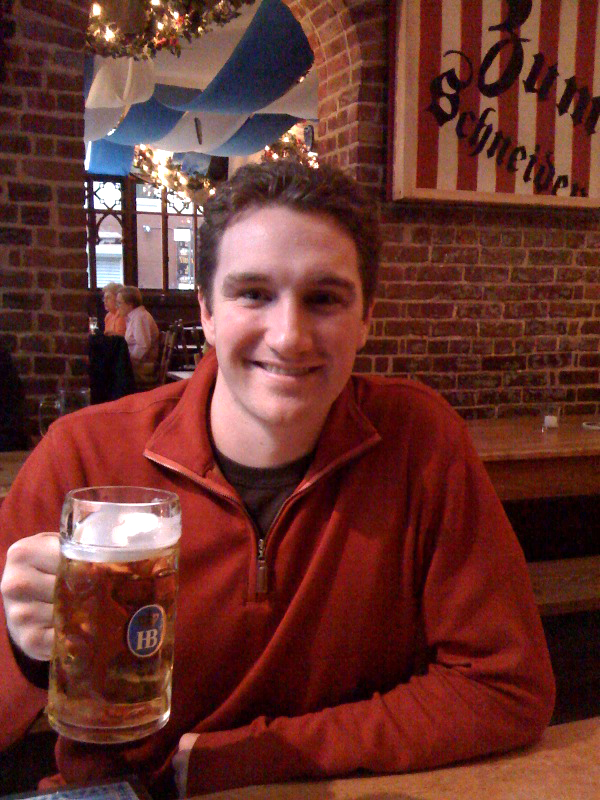 While waiting for our new friends, Julie and Peter to arrive, we ordered half liters of Hofbräuhaus München lagers and Weisswurst to share. The two boiled Bavarian white sausages were served with sweet brown mustard and brez'n, a homemade soft pretzel.
For dinner Nick got the Schweinshaxe, or roasted pork knuckle, with a potato dumpling and red cabbage salad. The pork, which was boiled in beer, had an incredibly crisp skin and meat so tender that it fell off the bone.
My dish, pork tenderloin in mushroom sauce with homemade spätzle, was earthy and savory.
We drank a few more half liters with our dinners, including Hacker Pschoor (a typcial Bavarian lager), Reissdorf Kölsch (a light refreshing beer from the Cologne region), and Schneider Weisse (an amber colored smooth wheat beer).
Then last Thursday we acquainted ourselves with another Bavarian eatery. It was our inaugural Mystery Date Night, and I surprised Nick with a six-pack of Franziskaner and dinner at Herwig's Austrian Bistro in downtown State College.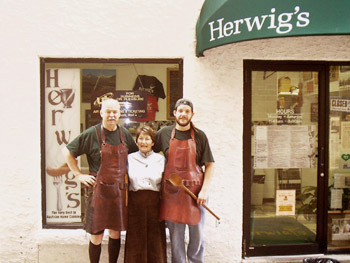 The interior is sparse, but the wait staff is full of personality. They threaten to make you wash dishes if you don't finish every bite on your plate — and let me tell you, there are a lot of bites!
I had the Bratwurstplatte: two homemade all-pork sausages grilled to order (of course I paid extra to receive one Weisswurst) served with potato salad and sauerkraut.
Nick had the Bauernschmaus: an assortment platter featuring roast pork, bratwurst, sauerkraut, and bread dumpling (knödel).
I'm sure Nick thanks his lucky stars daily that he found a woman who can eat heaping helpings of meat and potatoes. Just wait until he sees me eat my way through Germany next year.
Prost!