When Nick revealed the seasonal ingredient of our first Challenge, I immediately thought of pizza. Not pepperoni or mushroom or Margherita, but … pear pizza!
Over the Christmas holiday, we dined at a wine bar in Escondido, California. We ordered glasses of local red wine and no less than five pizzas for the group, including one with artichokes and olives, one with four types of cheese, and one with pears, Gorgonzola, and arugula. And I have not forgotten that pear pizza. It so closely resembles my favorite autumn salad, and I was excited to have a reason to recreate it!
We started with a basic pizza crust from The Pioneer Woman. Nick whipped it up like the bread baking pro that he is, then he set it aside to rise.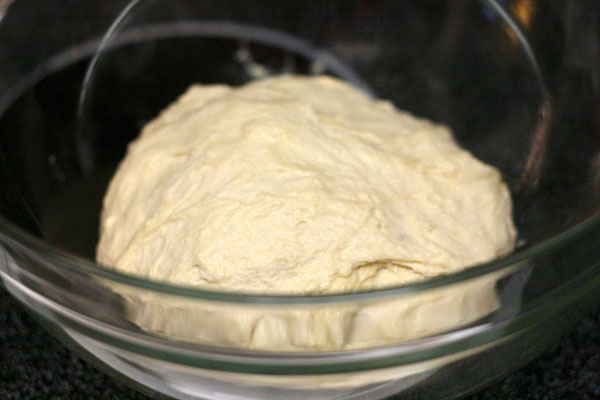 After about two hours, Nick formed half of the dough into two mini pizzas (and put the other half in the refrigerator). He then poked the pizzas with his fingers and drizzled olive oil on top, along with a small sprinkling of kosher salt. (He's a good Sous Chef, that one.)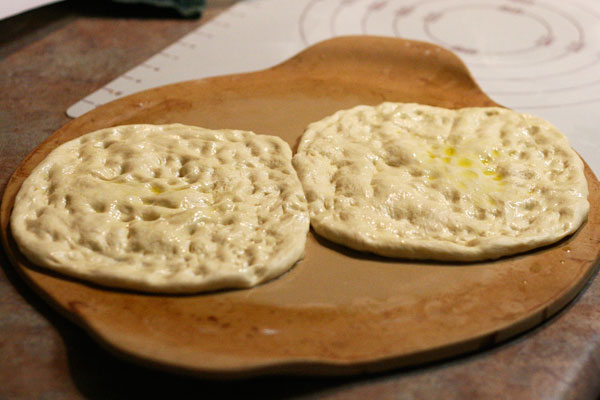 While Nick prepared the dough, I thinly sliced one red onion and tossed the pieces into a skillet with olive oil and butter. I let the onions caramelize for a good 30 minutes, stirring occasionally, until the natural sugars were released to yield a deep purple color and an intensely sweet flavor.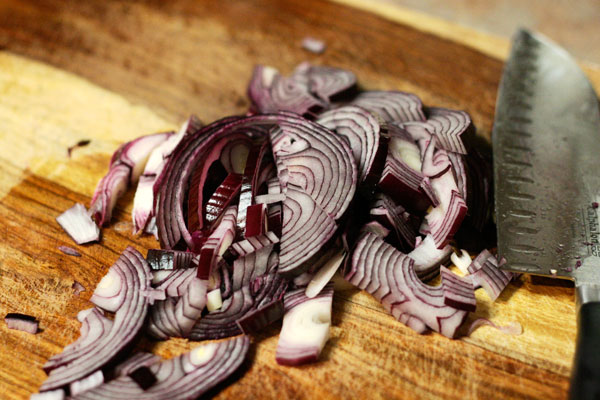 Then we built our pizzas: a layer of provolone cheese followed by the caramelized onions, slices of silky Bartlett and crunchy Seckel pears, crumbles of Gorgonzola cheese, and chopped walnuts. It looked good before it even went into the oven!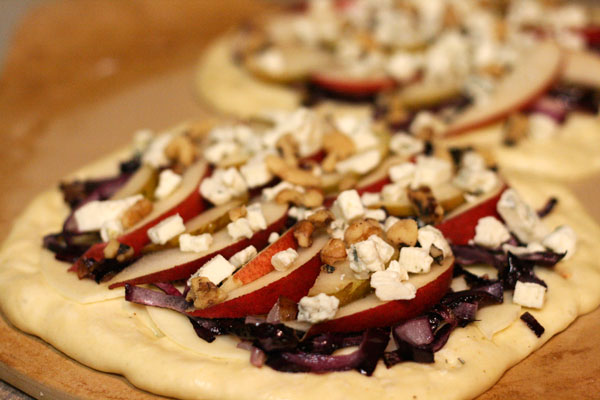 But, oh boy, did it get better. This pizza is the perfect balance of sweet and savory, and it's definitely a repeat dish. (Though next time we might take a suggestion from Kate via Crú Wine Bar and add rosemary to the pizza crust and a balsamic reduction to the pears.)
And this was just the appetizer! Main course and dessert still to come.
Pear Pizza
For the Pizza Crust (makes 2 pizza crusts)
1 tsp instant or active dry yeast
1 1/2 cups warm water
4 cups all-purpose flour
1 tsp kosher salt
1/3 cup olive oil
Sprinkle yeast over 1 1/2 cups warm water. Let stand for a few minutes.
In a mixer fitted with a paddle attachment, combine flour and salt. With mixer running on low speed, drizzle in olive oil until combined. Add yeast/water mixture and mix until combined, and the dough comes together in a sticky mass.
Coat a separate mixing bowl with a light drizzle of olive oil, and form the dough into a ball. Toss to coat dough in olive oil, then cover the bowl tightly with plastic wrap and set aside for 1-2 hours.
Take half of the pizza dough (store the other half in the refrigerator for up to 4 days) and form it into a nice, tight ball. Roll with a rolling pin, or toss it around and pull and stretch it. When the crust is nice and thin, lay it on an oiled baking sheet or pizza pan. Drizzle a little more olive oil onto the dough and spread with your fingers. Sprinkle a little bit of salt on top.
(adapted from The Pioneer Woman)
For the Pizza (makes 1 pizza)
1 red onion, sliced thin
1 Tbsp olive oil
1 Tbsp butter
2 Bartlett pears, sliced thin
4 slices provolone cheese
1/2 cup Gorgonzola cheese
1/2 cup chopped walnuts
Preheat the oven to 375°F.
To caramelize onions: Add olive oil and butter to a sauté pan over medium heat. Add onions and cook for at least 30 minutes, stirring occasionally, until onions are deep brown in color and fragrant.
To build pizza: Start with provolone cheese, followed by onions and pears, and sprinkle Gorgonzola cheese and walnuts on top.
Bake for 15-17 minutes, or until crust is golden brown and toppings are bubbly.