I love beer and bread. One reason is because the use of yeast in these products is perhaps the oldest form of biotechnology. Another reason is that they both taste so darn good!
The problem with both, however, is that they require patience — a virtue I usually lack. Nonetheless, my intrigue for bread took me to the Open Kitchen in Falls Church, VA for a hands-on course in artisanal bread baking.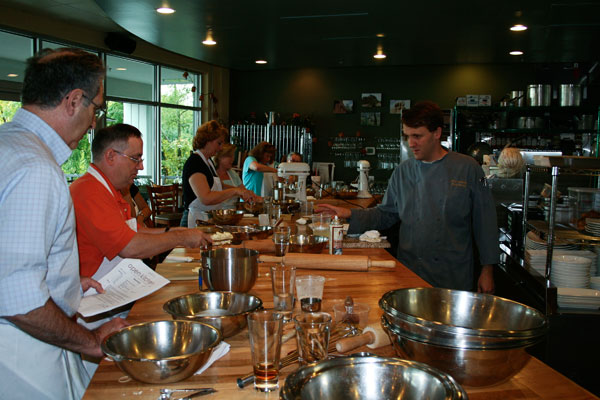 The class was instructed by Chef Matt Finarelli, a businessman turned baker who is as entertaining in the kitchen as he is knowledgeable. In this all day course, we learned how to make a focaccia, French baguettes, San Francisco sourdough, and scones. I was in heaven!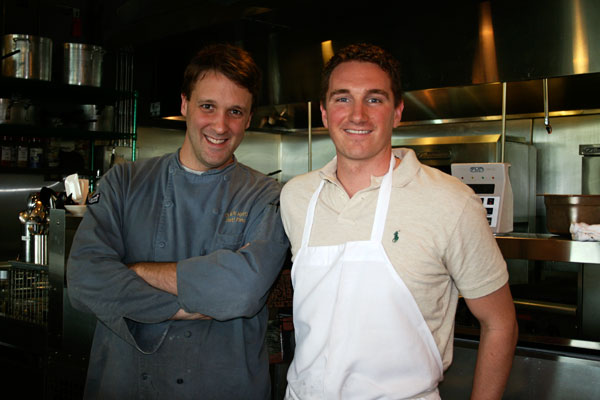 During our class, Chef Matt served a "portabella press" on the traditional focaccia with grilled portabella mushrooms, fresh mozzarella, roasted red peppers, and a vinaigrette. Mmmmm.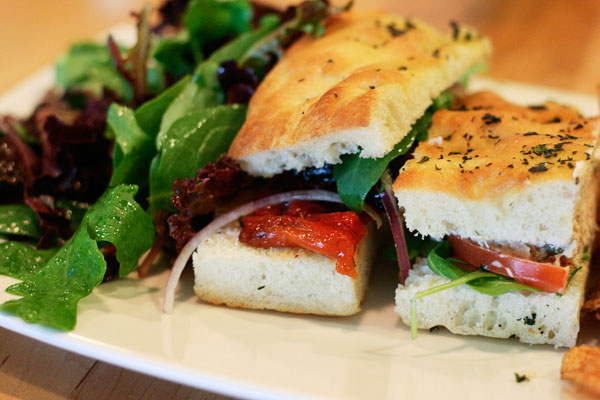 Emmie would say that I haven't put this newly acquired knowledge into practice enough, but I did make a delicious focaccia to accompany our lasagna last week, and she was quite impressed (as was I)! It's really not all that difficult to make yourself. Here's a photo tutorial with written instructions below.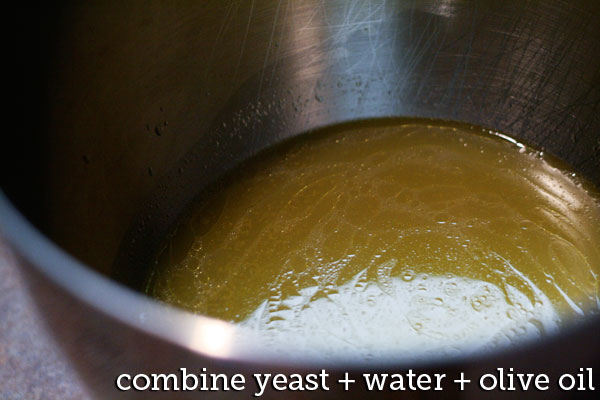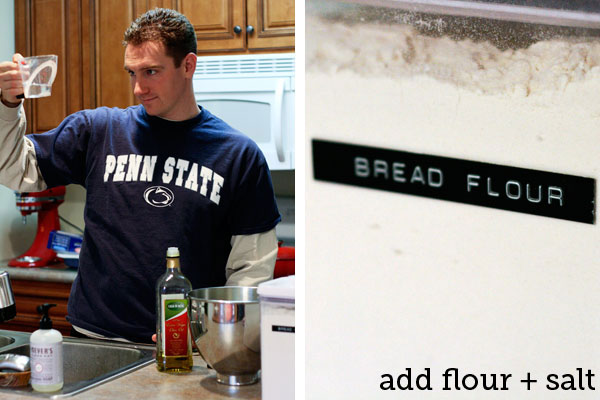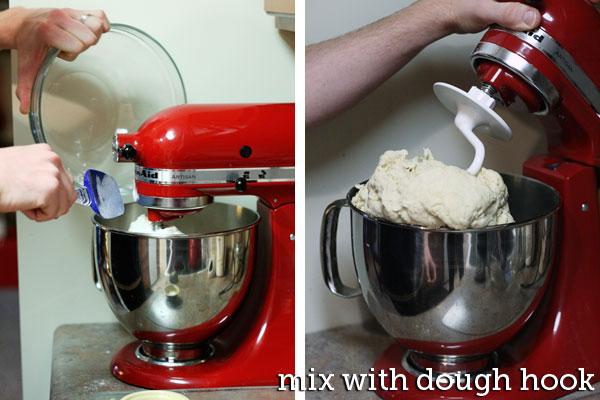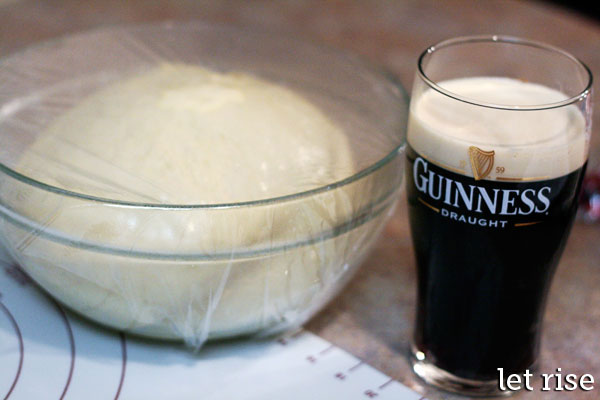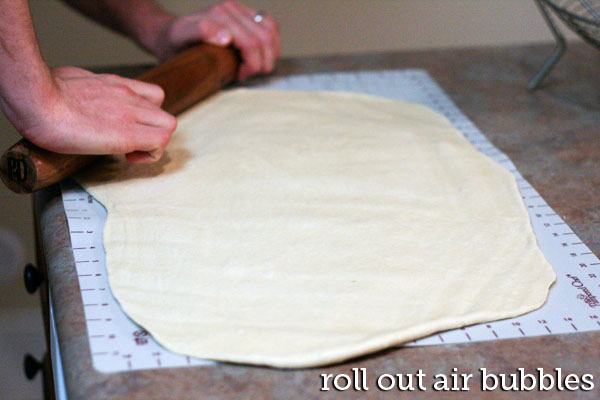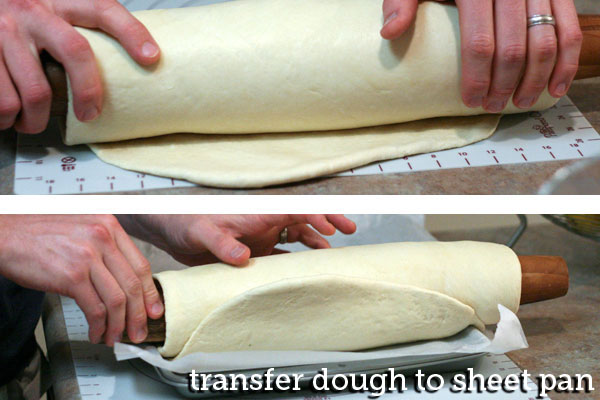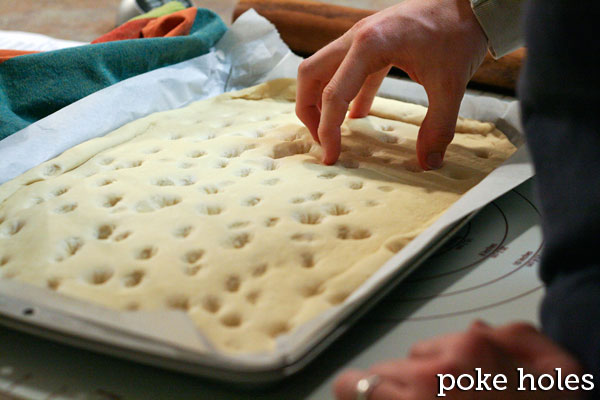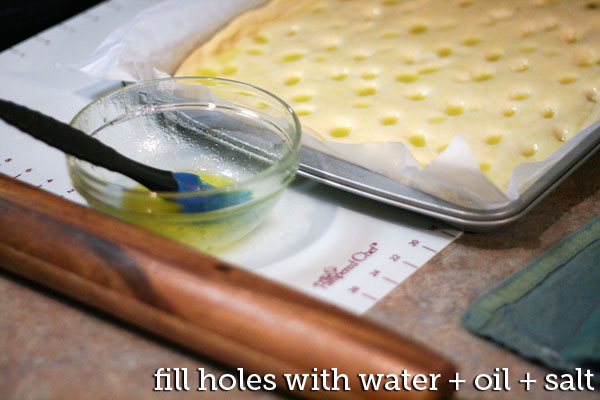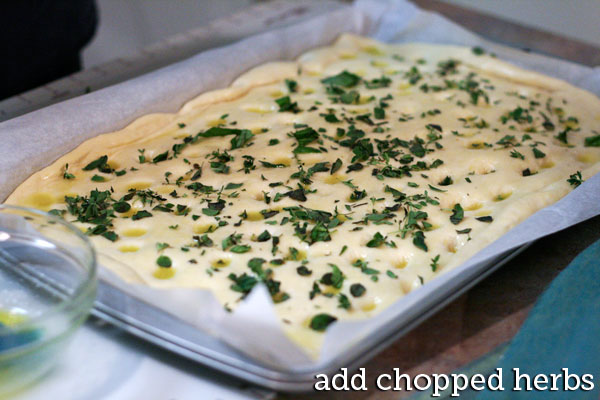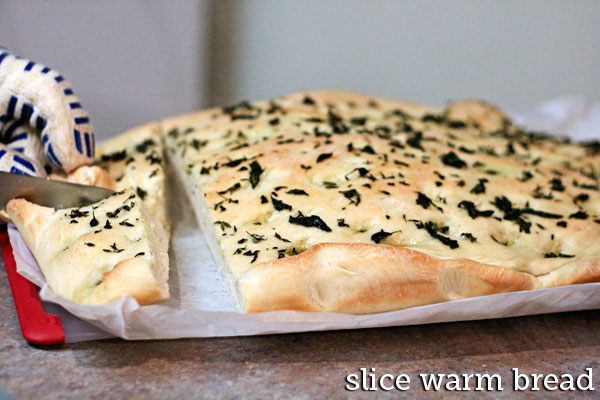 Focaccia
Ingredients for Dough
3/4 Tbsp dry yeast
2 1/4 cups warm water
2 Tbsp extra-virgin olive oil
35 oz bread flour
1 oz plus 1 tsp kosher salt
Ingredients for Rolling/Topping
~ 1/2 cup all-purpose flour
1 Tbsp water
2 Tbsp extra-virgin olive oil
1/2 Tbsp kosher salt
2 Tbsp chopped fresh herbs (like sage, oregano, chives, or thyme)
Directions
Combine yeast, water, and extra-virgin olive oil in the bowl of a stand mixer. Mix with whisk attachment; let sit for 2-3 minutes to allow yeast to proof.
Add flour and salt, and mix dough with bread hook attachment on low speed for 6 minutes.
Dump dough onto table, and knead by hand for a few minutes. Place dough into a separate large bowl coated lightly with olive oil. Cover with plastic wrap, and let rise for about 1 1/2 hours until it has at least doubled in size.
Spread flour onto clean, dry surface. Punch down dough. Pull out onto flour and knead 2 or 3 times to bring dough together. Let dough rest for about 10 minutes with bowl inverted on top of it.
Preheat oven to 400°F.
Roll dough into shape/size of sheet pan, rolling out as many air bubbles as possible.
Transfer dough onto sheet pan covered with Silpat or parchment paper by rolling dough onto rolling pin, then unrolling it onto pan. Spread dough out to corners of pan as best you can. Cover with damp towel and let rise again for about 30 minutes.
Meanwhile whisk together water, olive oil, and salt. Chop herbs.
Remove towel from bread. Then poke holes into surface of bread. Brush water/oil/salt mixture all over dough, filling holes.
Sprinkle with fresh chopped herbs.
Bake focaccia for 12-15 minutes until brown on top.
Remove, cool, and cut as desired. Wrap and freeze extra.
(adapted from Chef Matt Finarelli)