I volunteered to work on Sunday. And by work I mean I helped to plate food and pour wine for WPSU's Wine Celebration. This was the second annual wine festival to benefit my station, and I was happy to be part of the planning committee this year. I was even happier to help Marnie Old on the day of the event.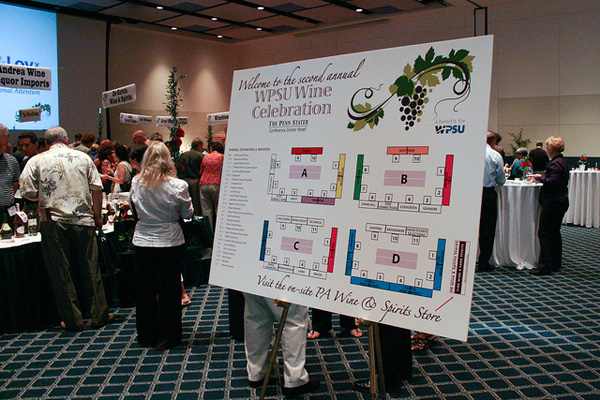 Marnie is a nationally-renowned sommelier, author, and wine educator. According to her website, she is "a breath of fresh air in the stuffy wine world." And, really, this woman is hysterical. You must listen to her debate beer vs. wine with Sam Calagione, founder of Dogfish Head Craft Brewery. The two have also appeared in Food and Wine and co-authored the book He Said Beer, She Said Wine.
Admittedly, I'm more of a hop head than a wino. But at the risk of sounding dramatic, I must say that Marnie's food and wine pairing seminar was enlightening.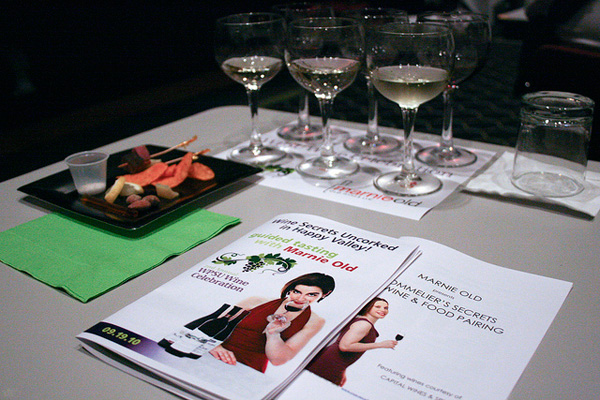 Biggest lesson of the day?
Match the intensity of the wine to the intensity of the dish. My novice self always figured that in order to balance a sweet sip, you should eat a salty bite. But, in fact, it's just the opposite.  Salty, tangy foods like goat cheese and citrus sauces pair best with high acidic wines like dry Albariños and Pinot Grigios. And sweet foods like fresh fruit and seafood taste best with sweet wines like Rieslings and Zinfandels. It's also best to pair full bodied, full tannic, robust wines like Cabernets with full fat, heavily sauced foods like smoked meats and rich stews.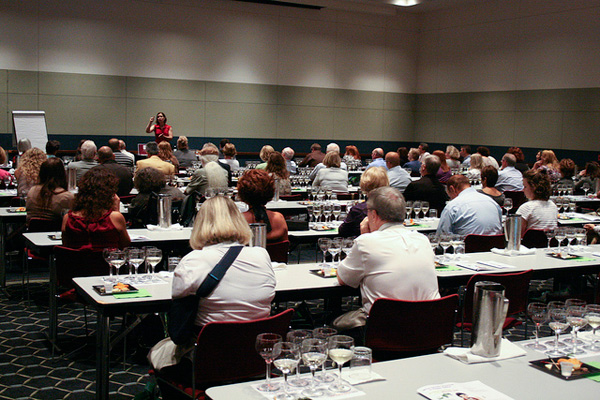 Following Marnie's informative session, I had to purchase her latest book, Wine Secrets. It contains goodies like: how to use leftover wine in the kitchen; how to decide when a wine is ready to drink; and how to act like you know what you're doing when ordering wine in restaurants.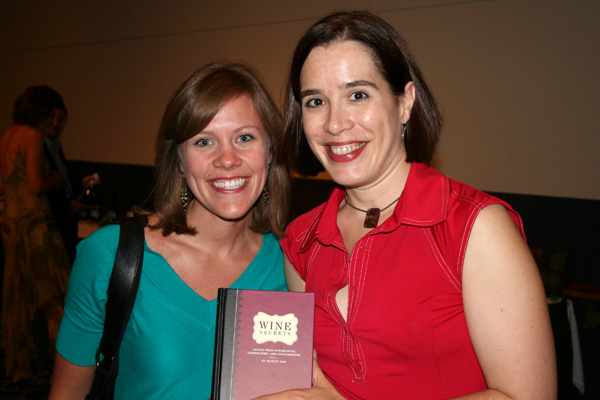 And before I headed home, I wondered through the main festival room and said hello to some old acquaintances: Scott from Seven Mountains; Sandy from Mount Nittany; and Cheryl from Brookmere.
Perhaps I'm becoming more comfortable in the wine world after all. (Though I'm still more likely to reach for a punkin ale.)