My obsession with strawberries is no secret. And I do believe Peanut loves them as much as Momma.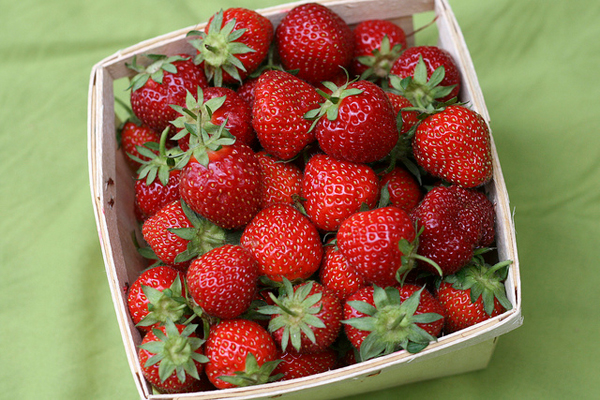 So far this season we've enjoyed them on cereal and swirled into yogurt, in salad, on top of shortcakes and waffles, preserved and spread onto English muffins, and in a (big) bowl sprinkled with sugar. We also have four quarts in the freezer just begging to be thawed and consumed. I'm still waiting for the right opportunity, though, to make this delicious dessert with layers of vanilla cake, sweet berries, and cream cheese frosting. Because I know if I bake it, I will be tempted to eat every slice.
And so during the week when it's just the two of us (plus the ever-growing and always-hungry baby in my belly), I shall make a smaller and simpler, but just as satisfying, strawberry cake. And proceed to eat every slice.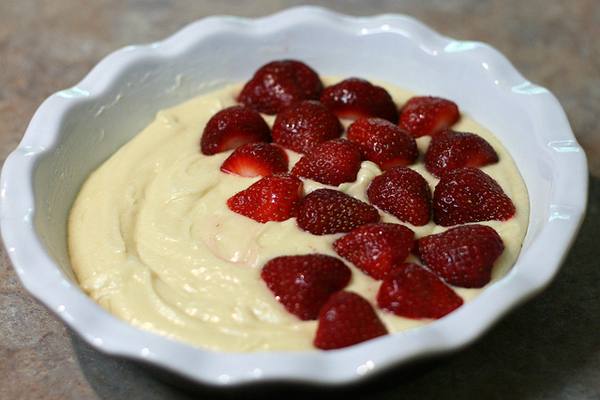 This recipe comes from Smitten Kitchen, one of my favorite blogs. She really has a knack for highlighting fresh ingredients in her seasonal recipes. (Another of my favorites from her repertoire is broccoli slaw with cranberries and walnuts and a light buttermilk dressing.)
This cake comes together quickly — with just butter, flour, baking powder, salt, sugar, 1 egg, milk, and vanilla. The real star is the strawberries, as they should be.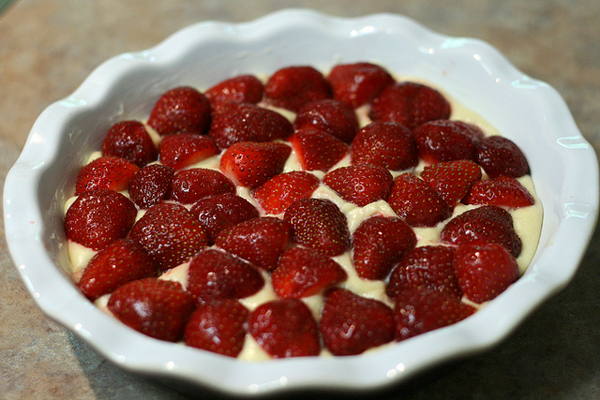 An entire pound of strawberries atop a 9-inch cake. Yes, please! Sprinkled with more sugar to create a nice sweet crust.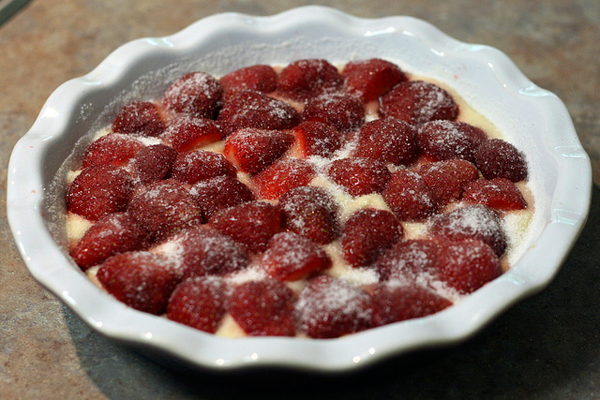 Quick to prepare, but slow to bake. The 50-60 minutes in the oven is well worth the wait, though. I promise!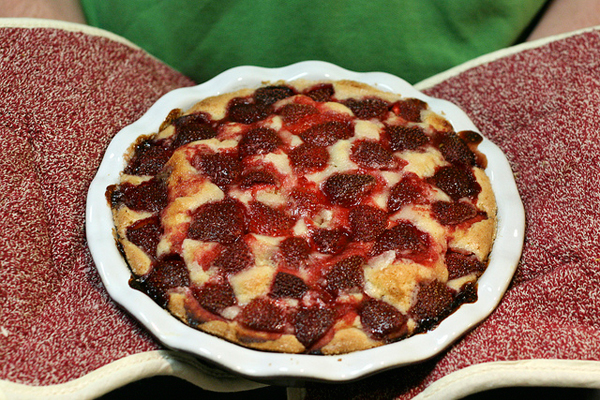 It's best eaten within two days of baking it. But don't be surprised if you finish it all on the first day … You won't be alone.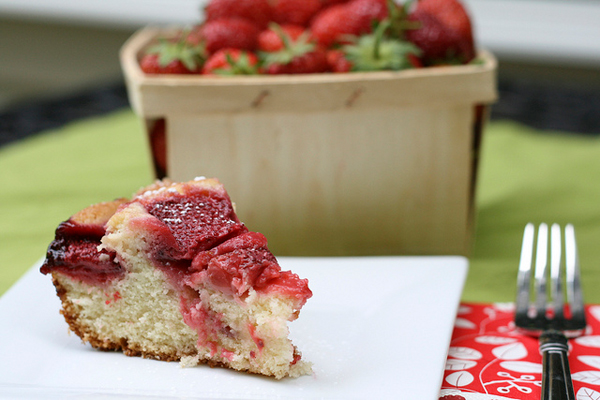 Happy, happy first day of summer!
Simple Strawberry Cake
Makes 8 slices.
Ingredients
6 Tbsp unsalted butter, room temperature, plus extra to grease pie plate
1 1/2 cups all-purpose flour
1 1/2 tsp baking powder
1/2 tsp salt
1 cup plus 2 Tbsp granulated sugar
1 large egg
1/2 cup milk
1 tsp vanilla extract
1 lb strawberries, hulled and halved
Directions
Preheat oven to 350°F. Butter 10-inch pie pan or 9-inch deep-dish pie pan. (I don't have either, so I just poured all but about 1/2 cup of batter into my 9-inch pie dish. If you try to use all of the batter, it will overflow. I assure you.)
Whisk together flour, baking powder, and salt in a small bowl. In a larger bowl, beat butter and 1 cup sugar until pale and fluffy, about 3 minutes. Mix in egg, milk, and vanilla until just combined. Add dry mixture gradually, mixing until just smooth.
Pour into prepared pie plate. Arrange strawberries, cut side down, on top of batter, as closely as possible in a single layer. Sprinkle remaining 2 Tbsp sugar over berries.
Bake cake for 10 minutes at 350°F, then reduce oven temperature to 325°F and bake cake until golden brown and a toothpick comes out clean, about 50 to 60 minutes. (Gooey strawberries on the tester are a given.)
Let cool in pan on a rack. Cut into wedges. Serve with a dusting of powdered sugar or lightly whipped cream.
(Adapted from Smitten Kitchen)