While it would be lovely to jet off to Napa Valley, a romantic getaway weekend along the Susquehanna Heartland Wine Trail is more affordable and convenient, and it is just as educational and enjoyable. Plus I really don't think you'll find more passionate and proud winemakers.
The trail crisscrosses the Susquehanna River through picturesque central Pennsylvania. The area's rich agricultural history remains evident in the neat rows of crops snaking across the rolling hills and the tight hay bales stacked adjacent to the road. We passed red brick churches and railroads and flowering dogwood trees. And then, when we were least expecting it, we discovered a field of grapevines surrounding a reconstructed red barn or a hand built cabin.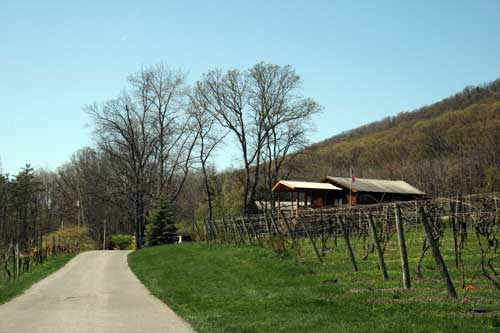 Lots of love went into each of the seven wineries we visited.
Enroute to Brookmere Winery in the heart of Big Valley, we passed at least a dozen horse-drawn buggies before arriving at a 19th century wooden barn. From there we traveled to Seven Mountains Wine Cellars and stepped inside a pine lodge nestled in the woods just a mile from Rt. 322. Next it was onto Mount Nittany Vineyard & Winery and the chalet near our old stomping grounds of State College. Our final stop on Saturday was the family owned and operated Shade Mountain Winery that grows 30 varieties of grapes.
We enjoyed our evening in Selinsgrove with stops at BJ's Steak and Rib House and Selin's Grove Brewery and a comfortable overnight stay at the country chic Selinsgrove Inn.
On Sunday morning we headed north to Spyglass Ridge Winery where farm meets modern viticulture and then onto the remote and tranquil Benigna's Creek. We finished the trail with glasses of red on the porch of Hunters Valley Winery overlooking the Susquehanna River.
Each winery has a fascinating story to tell and equally intriguing wines to taste. Come back to hear all about our libation vacation!
First up: Meet a couple who traded cows for grapes.